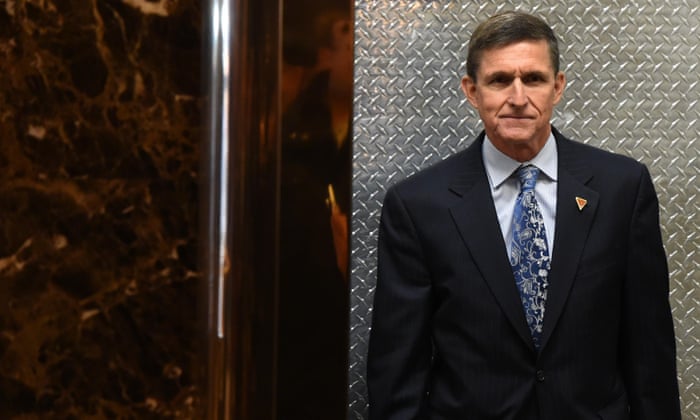 "Donald Trump is facing mounting pressure to explain his ties with Russia after it emerged that he knew weeks ago his national security adviser had misled officials about secret communications with Russian officials but did not fire him.
Retired general Michael Flynn was eventually forced to quit on Monday night after reports that he could be vulnerable to blackmail by Moscow.
Democrats demanded an independent investigation into Flynn's phone calls with the Russian ambassador, what Trump knew about them and when. A senior Republican promised to examine the matter "exhaustively", but others in the party were reticent.
Sean Spicer, the White House press secretary, told reporters how the resignation happened: "The evolving and eroding level of trust as a result of this situation and a series of other questionable incidents is what led the president to ask General Flynn for his resignation."
He added: "There's nothing that the general did that was a violation of any sort. What this came down to was a matter of trust."
Flynn stepped down after just 24 days when it emerged that he had discussed sanctions with the Russian ambassador to Washington before Trump took office, then misled Vice-President Mike Pence and others about the conversations.
Mike Flynn might be done – but Trump's nightmare has just begun
White House officials were reeling from the scandal less than a month after Trump's inauguration amid reports of disarray and dysfunction. They also faced questions over why they did not act more than two weeks ago when first warned by the Department of Justice that the retired general might be vulnerable to Russian blackmail.
Spicer claimed that Trump was first made aware that Flynn had potentially misled the vice-president on 26 January and that the White House legal counsel, Don McGahn, had been investigating the situation since in what Spicer called "a very deliberative process", determining within several days that Flynn had not broken the law. Until 13 February, Flynn continued to have access to top-level information.
Angus King, an independent senator from Maine and member of the Senate armed services committee, said afterwards: "That's a bombshell statement … It's hard to understand why it took so long."
Spicer flatly denied that Trump had asked Flynn to bring up the issue of sanctions in his conversations with Ambassador Sergei Kislyak. Asked whether the president had been aware that Flynn might have planned to discuss sanctions with the Russian envoy, the press secretary replied: "No, absolutely not."
Trump knew for weeks Michael Flynn misled over Russia contact | US news | The Guardian