A collection of opinionated commentaries on culture, politics and religion compiled predominantly from an American viewpoint but tempered by a global vision. My Armwood Opinion Youtube Channel @ YouTube I have a Jazz Blog @ Jazz and a Technology Blog @ Technology. I have a Human Rights Blog @ Law
Tuesday, October 31, 2023
American Muslims Are in a Painful, Familiar Place
By Rozina Ali
"Ms. Ali is a journalist who covers war, Islamophobia and the Middle East.
When President Biden landed in Tel Aviv days after Hamas's Oct. 7 massacre of more than 1,400 people, he told an audience of Israelis that this was not just Israel's Sept. 11, that "it was like 15 9/11s."
The comparison, which emerged widely and immediately, seemed apt on the surface: a brutal attack that shocked a nation and changed the course of its history. Indeed, it's been dizzying to witness the speed at which the same patterns we saw after Sept. 11, 2001, are playing out. The mourning of a terrorist attack has been interrupted by the swift bombardment of civilian neighborhoods. American officials,pundits and companies have quickly rallied around Israel in its war on Gaza, which has rapidly intensified by the day. In the first week of the war, Israel dropped more bombs on Gaza than the United States did on Afghanistan in a year. Civilian casualties in Gaza have climbed exponentially. And in the West Bank, recent images of Palestinians being tied, blindfolded, stripped and allegedly subjected to attempted sexual assault by Israeli soldiers and settlers recall Abu Ghraib.
In the United States, it's as if the country has turned back the clock two decades, but not in the way that Mr. Biden suggests. For those who experienced waves of harassment and government surveillance in the years after Sept. 11, the president's pledge of "unwavering" support for Israel set off alarm bells. I've been speaking with lawyers, community groups and advocacy organizations that worked closely with Muslims after September 2001 about what they're seeing. Not since that time — not even after the election of Donald Trump, who signed an executive order banning visitors from seven Muslim-majority countries within days of taking office — have I heard so many Muslim and Arab community members say they feel isolated. After living through and reckoning with the devastating aftermath of the war on terrorism, it seems the lessons of Sept. 11 have been forgotten.
There seems to be a sense of both resignation — we've been here before — and shock — but we've been here before.
In the wake of Sept. 11, the U.S. government activated the full force of the national security and law enforcement apparatus to prevent another terrorist attack on American soil. And it bore down on one particular group: Muslims in America. Mass arrests and a national registry of immigrant Muslims led to the deportation of thousands. F.B.I. and police informants, sent to monitor mosques and Muslim neighborhoods, were later found to have been overzealous and accused of entrapping people who committed no violent crimes. The government's focus on potentially dangerous Muslims spread to American media and society. According to F.B.I. data, hate crimes against Muslims spiked in 2001. Though that pattern slowed in later years — assaults skyrocketed again in 2015 and 2016 — rates have never dipped back to their pre-2001 numbers.
Today, many Muslims in the United States fear a new outbreak of violence. Days after the attacks in Israel, the Biden administration announced that local and federal law enforcement officers across the United States are "closely monitoring" for connected threats. Within a week of Oct. 7, scattered reports were made to the American-Arab Anti-Discrimination Committee of F.B.I. visits to mosques, and women in hijabs were reportedly being assaulted in several cities.
Though communities were braced for what was to come, no one could have predicted that the first hate crime would be the killing of a 6-year-old Palestinian Muslim boy, Wadea Al-Fayoume, whose mother was rushed to the hospital after also being repeatedly stabbed. Joseph Czuba, their landlord, was charged in the killing. (He has pleaded not guilty.) According to the boy's mother, Mr. Czuba had become violent after the news of Oct. 7 and yelled, "You Muslims must die," before stabbing Wadea 26 times. While speaking at Wadea's funeral, one religious leader, Imam Omar Suleiman, wondered in his remarks: "Have we not learned anything from 9/11? Do we really want to live those dark years again?"
Perhaps because those "dark years" were not so long ago, attacks like the one on Wadea feel as though they are opening a barely closed wound. One Illinois resident told me that community members are now planning patrols for their children, not dissimilar to those started by some mosques after Mr. Trump was elected. "This is exactly what we were afraid of," Abed Ayoub, the director of the American-Arab Anti-Discrimination Committee, told me recently.
What happened to the Muslim community in the United States after Sept. 11 — the surveillance, the targeting, the fear — was intimately tied to many Americans' belief in the righteousness of what our government was doing abroad. As the United States invaded first Afghanistan and then Iraq, both wars that wrought devastating civilian casualties and paved the way for political chaos, the public perception of Muslims in America plummeted to new lows. Within a year of the Iraq invasion, a Pew poll found that a larger number of Americans believed Islam was more likely than other religions to encourage violence. By 2014, Muslims ranked lowest in another Pew poll of how the American public views different religious groups.
That unfounded perception has remained in the years since. The sudden arrival of the Islamic State in Iraq and Syria only deepened the suspicion of Muslims in America as an ever-present threat. Once again, Islam appeared in close connection to terrorism in the American imagination as images of masked figures carrying out gruesome executions reinforced twisted stereotypes of Muslims. The ISIS phenomenon of the Western recruit meant that any wayward Muslim teenager could be a threat and that even the most assimilated people had the potential to become terrorists.
Since the Israel-Hamas war started, these long-held suspicions now appear to be seeping into the public debate again over showing support for Palestinians in Gaza, more than 8,000 of whom have been killed since the bombardment began, according to the Gazan health ministry. The false connection between supporting civilians in Gaza and the terrorist activities of Hamas is manifesting across our country's public institutions. From college campuses to places of work, people are facing retribution for expressing support for Palestinians that is being misconstrued as anti-Israel or pro-Hamas. Companies have rescinded job offers, journalists have been fired for sharing posts, and students whose organizations have signed statements have been smeared publicly. The scale of suppression of speech by social media platforms, such as the shadow banning of Gaza-related posts and the blocking of accounts on Instagram, has been alarming enough that Human Rights Watch has started to document it.
Perhaps the Sept. 11 comparison and the good-guy/bad-guy binary can be evoked successfully because there has been almost no accountability for the failures of the war on terrorism. The oversimplification is made worse by Mr. Biden, who, in the same visit to Tel Aviv during which he cautioned Prime Minister Benjamin Netanyahu's government to avoid the "mistakes" America made after Sept. 11, he also referred to Palestinians as "the other team." There is no call from Israel to win the "hearts and minds" of Palestinians, as George W. Bush claimed to do with Iraqis; there is no call to bring freedom to Gaza, as the United States said it wanted to do in Afghanistan. Instead, Mr. Biden has not publicly admonished the Israeli defense minister for saying that his country was fighting "human animals." And at home, he and other leaders have offered little to assuage the growing fears in the Arab and Muslim community: Last week he had a private meeting with Muslim leaders that the administration never publicly announced. Though the White House released a statement the day after Wadea Al-Fayoume's killing, the president didn't call the boy's family until five days later.
The Oct. 7 attacks didn't happen on American soil, but this is an intimate war for many Americans. Some families wait desperately for scraps of news of their loved ones taken hostage by Hamas. Others search for some sign of their loved ones in Gaza, waiting for the blue checks to show that their WhatsApp messages have been read by family members who are trying to stay alive amid near-constant bombing and a lack of food and water.
The first Friday after Oct. 7, the first holy day for Muslims and Jews since the attacks, New York City and the rest of the country seemed to be on high alert, bracing itself because a former Hamas leader in Qatar had called for protests across Arab nations in support of the Palestinians, a call which was mislabeled as a day of jihad. I decided to visit the Islamic Center at N.Y.U., expecting a tense and nervous congregation. Instead, an imam finished his speech, and the women around me lined up to pray. As we knelt together, all I could hear was sobs.
We've been here before, but we don't have to be here again.
Rozina Ali is a contributing writer at The New York Times Magazine and a contributing editor at Lux magazine. She is also a 2024 New America fellow.
Source photographs by Fadel Senna, Jonathan Ernst, Jim Watson, Tolga Tezcan/Getty Images."
Opinion | American Muslims Are in a Painful, Familiar Place - The New York Times
Monday, October 30, 2023
Study Finds Trump Voters Have Drastically Lower IQ Than Liberals
WASHINGTON, D.C. –
"After Donald Trump was elected President, a group of researchers at the Pentagon set into motion a study unlike any other – they wanted to find out the average IQ of a group that would elect such an unqualified person into office.
Working with over 10,000 confirmed Trump voters and 10,000 confirmed non-Trump voters, researchers gave standardized intelligence quotient tests to each group. There was no time limit to complete the test, and it was given twice over a week-long period.
"The results of the testing, while not at all surprising, prove that Trump voters are drastically behind liberals and non-Trump voters on an intellectual basis," said Dr. Carl Brewner, who headed the study. "The test was 200 questions, and each completed test gave us an average IQ score based on answers. On average, a Trump voter would score in the 30th percentile, or have an average intelligence level of about 71, far below the 90 to 110 that is considered 'normal.' A non-Trump voter would score an average of approximately 96."
The research team claims that their test is 'fairly conclusive,' and they feel that even if they tested every single one of the millions of Trump voters, they'd come up with similar results.
"It was quite obvious to everyone that anyone who would vote for Donald Trump must be pretty stupid," said Brewner. "Just look at the stupid things they say and do in your timeline on Facebook every single day. Now, though, we don't even have to rely on just physical evidence of their stupidity via comments and posts and memes – we have the actual scientific data to back up how dumb they really are."
Study Finds Trump Voters Have Drastically Lower IQ Than Liberals | Empire News
'Hopeless and abandoned': How it feels to be a U.S. citizen trapped in Gaza
"The State Department told this American family in Gaza they'd be able to escape via the Rafah crossing without making sure that they would be.
The Okals, who own a beautiful home in a Boston suburb, are your typical Massachusetts family. Abood earned his Ph.D. from the University of Utah and works for a large pharmaceutical company in Cambridge. His wife, Wafaa, worked for a local nonprofit, focusing on workforce development. They have a 1-year-old son, Yousef, whom they take on playdates with other children. They have a dog named Lilly. They are U.S. citizens. They carry U.S. passports. And they are among the hundreds of U.S. citizens who are trapped in Gaza as the Biden administration, rather than treating them as people who are deserving of urgent action from their government, has allowed them to become more like bargaining chips.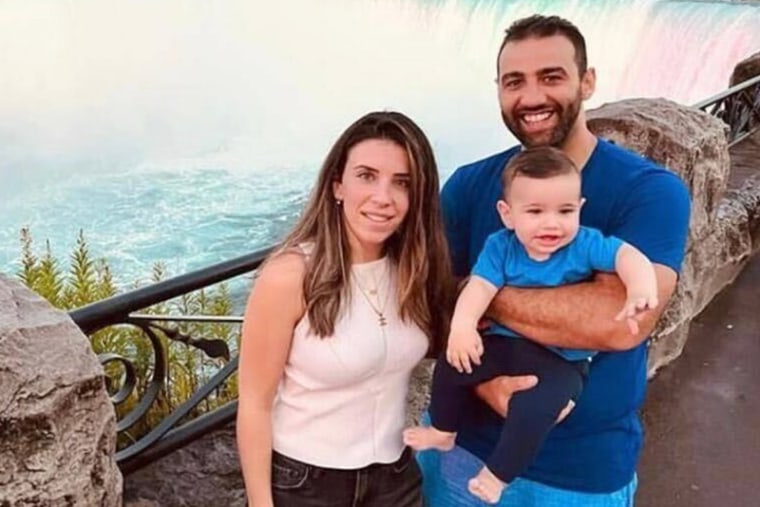 Weeks ago, the Okals, who are friends I've advocated for with the State Department, traveled to Gaza to visit Wafaa's parents and introduce them to their grandson. Based on photographs Abood shared, they went to the beach, visited the sites, gathered with family for meals, and the children played on their iPads during down time. Yousef rode a horse with his dad.
More from MSNBC Daily
Must reads from Today's list
Everything changed on Oct. 7, when Hamas carried out its deadly and brutal attacks on Israelis. Not just for the Okal family, of course, but for everyone, everywhere. But in their case, they've been misled by officials from the U.S. State Department. On Saturday, Oct. 21, the Okals received text messages, a phone call and an e-mail from State Department officials advising them that the Rafah crossing, through which they could get to Egypt, would open at 10 a.m. Minutes before 10, a State Department official sent a message to Abood, stating: "[w]e are ten minutes away, I hope you're there. Please let me know as soon as you make it across."
They arrived at the Rafah crossing before 10. During the six hours they waited, not a single person was permitted to cross. Saturday, Oct. 21, was the third time the State Department alerted the Okals about an opening at the Rafah crossing on a specific date and time, but U.S. citizens weren't allowed passage.
Four hundred U.S. citizens and permanent residents and 400 more of their dependentshave requested help from the State Department to leave Gaza through the Rafah border, a source familiar with the situation on the ground told NBC News for an article published Wednesday.
As Abood shared with NBC News for that article, "airstrikes have intensified in the last few days" and he and Wafaa had run out of milk for Youssef. "It would be his first night ever in his entire life to go to sleep without having milk," he said.
The State Department has accused Hamas militants of blocking the crossing. In a news conference Thursday, five days after the Okal's Oct. 21 attempt to get out, State Department spokesperson Matthew Miller said that "at times on the Gaza side of the border
there has been no one there from Hamas to open the gates
and process people and let them through. And at other times, there have been actually armed Hamas militants standing there, not even letting people approach the gate."
Abood sent me photographs and videos from the Rafah crossing on Oct. 21. There are no militants or government personnel in those photos, except for the Egyptian guards on the other side of a physical gate. In an Oct. 21 e-mail conversation that included State Department and White House National Security Council officials, a State Department official told me that, regarding Americans getting out of Gaza, they still needed "Egypt, Israel, and the DFA [de facto authorities] to all agree" and that they were "very close to agreement with two of the three" and "working the third very hard."
They won't tell me who's who, but this much is clear: The State Department sent its citizens to the Rafah crossing without having secured any agreement from anyone that they could cross. In the same e-mail, the State Department official says, "I have encouraged Consular Affairs not to issue any additional statements advising of opportunities to cross Rafah until we have a clear 'yes' from all three actors."
How was that not the policy before?
(When asked by MSNBC to verify the above email exchange, a State Department spokesperson said in an email, "Due to privacy considerations, we are not able to comment on specific cases, but we have made thousands of phone calls and sent thousands of emails to U.S. citizens in Gaza, their immediate family members, and their loved ones who are inquiring with us on their behalf." )
During that Thursday news conference, Miller, the State Department spokesperson, acknowledged, "As you know, there have been times when we thought that the gates were going to open and we sent messages to American citizens, telling them that it was possible it was going to open, and so if they could make it safely there they should consider doing so. And each of those times, we unfortunately weren't — the gate didn't actually open, for the reasons I just articulated."
As of early Friday evening, there was still no departure option for U.S. citizens in Gaza or a timeline for when they might be able to leave.
For two weeks, the Okal family has been sheltering in a single-family home in Rafah with 40 other people, many of them strangers. According to reports from Abood, they currently live off canned tuna and fava beans, but with each passing day, it's been more difficult to find food. They're out of cooking oil, so they can't have hot meals. Their primary need is clean drinking water. The last time they ran out of drinking water, they relied on saltwater to stay hydrated for a whole day. Their current supply of drinking water was expected to run out Friday night, and they didn't know what they'd drink Saturday.
Yousef's not sleeping. Abood tells me Yousef used to only wake up at the sound of a nearby airstrike or bombing, but now, even in moments of relative calm, he wakes up screaming in the middle of the night from night terrors.
In an audio message he shared with me Thursday, Abood said there'd been three airstrikes within 900 feet of their home. Last week, a nearby airstrike blew out windows and doors where they're staying. All the walls are cracked.
Whether it's from an airstrike, hunger, dehydration or sickness, the Okals and hundreds of other U.S citizens in Gaza might not make it out alive. Understandably, as Abood put it, they feel "hopeless and abandoned."
Speaking of Americans trapped in Gaza, Miller said at Thursday's news conference that "we are going to stay in touch with them, let them know we're working on it. And as soon as we have an update about the — them actually being able to make it through the crossing into Egypt, we will send them that update."
The administration's priorities are backward. A citizen is a citizen, and when it comes to the U.S.'s responsibility in helping them, it should not matter which side of the wall in this conflict they are on. Biden and Secretary of State Antony Blinken should have no bigger priority than bringing all Americans — those held hostage in Gaza and those trapped in Gaza — home safely. If not, I fear we are barreling towards the unconscionable: that an American-made weapon paid for by American taxpayer dollars may be fired by Israel and kill American citizens."
Americans trapped in Gaza feel abandoned by President Joe Biden
Please, Israel, Don't Get Lost in Hamas's Tunnels
"Want the latest stories related to India, Israel and West Bank and Gaza Strip? , and we'll send them to your inbox.
I am watching the Israel-Hamas war in Gaza today and thinking about one of the world leaders I've most admired: Manmohan Singh. He was India's prime minister in late November 2008, when 10 Pakistani jihadist militants from the Lashkar-e-Taiba group, widely believed to be linked to Pakistan's military intelligence, infiltrated Indiaand killed more than 160 people in Mumbai, including 61 people at two luxury hotels. What was Singh's military response to India's Sept. 11?
He did nothing.
Singh never retaliated militarily against the nation of Pakistan or Lashkar camps in Pakistan. It was a remarkable act of restraint. What was the logic? In his book "Choices: Inside the Making of India's Foreign Policy," India's foreign minister at the time, Shivshankar Menon, explained why, making these key points:
"I myself pressed at that time for immediate visible retaliation" against the jihadist bases or against Pakistani military intelligence, "which was clearly complicit," Menon wrote. "To have done so would have been emotionally satisfying and gone some way toward erasing the shame of the incompetence that India's police and security agencies displayed."
He continued, "But on sober reflection and in hindsight, I now believe that the decision not to retaliate militarily and to concentrate on diplomatic, covert and other means was the right one for that time and place."
Chief among the reasons, Menon explained, was that any military response would have quickly obscured just how outrageous and terrible the raid on Indian civilians and tourists was; "the fact of a terrorist attack from Pakistan on India with official involvement on the Pakistan side" would have been lost. Once India retaliated, the world would immediately have had what Menon called a "ho-hum reaction." Just another Pakistani-Indian dust-up — nothing unusual here.
Moreover, Menon wrote, "an Indian attack on Pakistan would have united Pakistan behind the Pakistan Army, which was in increasing domestic disrepute," and "an attack on Pakistan would also have weakened the civilian government in Pakistan, which had just been elected to power and which sought a much better relationship with India than the Pakistan Army was willing to consider." He continued, "A war scare, and maybe even a war itself, was exactly what the Pakistan Army wanted to buttress its internal position."
In addition, he wrote, "a war, even a successful war, would have imposed costs and set back the progress of the Indian economy just when the world economy in November 2008 was in an unprecedented financial crisis."
In conclusion, said Menon, "by not attacking Pakistan, India was free to pursue all legal and covert means to achieve its goals of bringing the perpetrators to justice, uniting the international community to force consequences on Pakistan for its behavior and to strengthen the likelihood that such an attack would not take place again."
I understand that Israel is not India — a country of 1.4 billion people, covering a massive territory. The loss of more than 160 people in Mumbai, some of them tourists, was not felt in every home and hamlet, as the deaths, maiming and kidnapping of roughly 1,400 Israelis by Hamas were. Pakistan also has nuclear weapons to deter retaliation.
Nevertheless, it is instructive to reflect on the contrast between India's response to the Mumbai terrorist attack and Israel's response to the Hamas slaughter.
After the initial horror at the sheer barbarism of the Hamas onslaught on Israeli children, older adults and a dance party, what happened? The narrative quickly shifted to the brutality of the Israeli counterattack on Gazan civilians, among whom Hamas has embedded itself. The massive Israeli counterstrike overshadowed Hamas's terror and instead made them heroes to some. It has also forced Israel's new Arab allies in the Abraham Accords to distance themselves from the Jewish state.
Meanwhile, with some 360,000 reservists called up, Israel's economy will almost certainly be depressed if Israel's ouster of Hamas from Gaza requires months, as predicted. It's already expected to shrink more than 10 percent on an annualized basis for the last three months of the year. This after being ranked by The Economist as the fourth-best-performing economy among O.E.C.D. countries in 2022.
On a personal level, I am appalled by the reaction of those students and progressives who sided with Hamas against Israel — in some cases, even before it retaliated — as if the Jewish people were not entitled to either self-determination or self-defense in any part of their ancestral homeland. This backlash also fails to take into account that Israel, for all its faults, is a multicultural society where almost halfof graduating doctors today are Arabs or Druze. Or that Hamas is a militant, Islamist organization that does not tolerate dissent or L.G.B.T.Q. individuals and has been dedicated to wiping the Jewish state off the face of the earth.
So I have sympathy for the terrible choices that Israel's government faced after the worst slaughter of Jews since the Holocaust. But it was precisely because I closely followed Singh's unique reaction to the Mumbai terrorist attacks that I immediately advocated a much more targeted, fully thought-through response by Israel. It should have called this Operation Save Our Hostages and focused on capturing and killing the kidnappers of children and grandparents. Every parent could understand that.
Instead, Benjamin Netanyahu's government immediately raced into a plan to, as Defense Minister Yoav Gallant put it, "wipe out" Hamas "from the face of the earth." And in three weeks Israel has inflicted easily more than triple the number of civilian casualties and destruction in Gaza that Israel suffered, while committing itself to taking military control of Gaza — an operation, on a relative population basis, that is roughly equivalent to the United States deciding almost overnight to occupy half of Mexico. The Israeli plan, according to Netanyahu, will be a "long and difficult" battle to "destroy the military and governmental capabilities of Hamas and bring the hostages home."
As I said, Israel is not India, and there is no way that it could be expected to turn the other cheek — not in that neighborhood. But what is Netanyahu's plan? The Israeli officials I speak with tell me they know two things for sure: Hamas will never again govern Gaza, and Israel will not govern a post-Hamas Gaza. They suggest that they will set up an arrangement similarly seen in parts of the West Bank today, with Palestinians in Gaza administering day-to-day life and Israeli military and Shin Bet security teams providing the muscle behind the scenes.
This is a half-baked plan. Who are these Palestinians who will be enlisted to govern Gaza on Israel's behalf? What happens the morning after a Palestinian working for Israel in Gaza is found murdered in an alley with a note pinned to his chest: "Traitor,'' signed "the Hamas underground."
Moreover, who is going to pay for Israel's control of, health care for and education of Gaza's 2.2 million people? Please raise your hand if you think the European Union, the Gulf Arab states or the substantial progressive caucus in the Democratic Party in the U.S. House of Representatives will fund an indefinite Israeli oversight of Gaza — while Netanyahu and his band of Jewish supremacists are pledged to annex the West Bank without equal rights for the Palestinians there. The cost of occupying Gaza could overstretch the Israeli military and economy for years to come.
On top of it all, how is Israel going to manage such a complex operation when there is — for good reason — scant trust in Netanyahu? Just last Saturday he pointed to the heads of Israeli military intelligence and Shin Bet as responsible for missing the Hamas surprise attack while excusing himself of any blame. A day later, an outraged Israeli public forced the prime minister to retract his wartime recriminations against his colleagues. But the damage was done.
Netanyahu does not have a team of rivals supporting him. He has a team of people being asked to make excruciating long-term choices while knowing their prime minister is a person of such low character that he will blame them for everything that goes wrong and hog all credit for anything that goes right.
In sum, dear reader, I understand why Israel believes it needs to destroy Hamas and thereby deter others in the neighborhood from ever contemplating such a thing. But the view from Washington is that Israel's leadership does not have a viable plan to win or a leader who can navigate the stresses and complexity of this crisis. Israel needs to know the tolerance of its American ally for massive civilian casualties in Gaza in an open-ended military operation is not unlimited. In fact, we may soon be approaching the limit.
Israel should keep the door open for a humanitarian cease-fire and prisoner exchange that will also allow Israel to pause and reflect on exactly where it is going with its rushed Gaza military operation — and the price it could pay over the long haul.
That is why I raise the Indian example. Because targeted use of force with limited, achievable goals may serve Israel's long-term security and prosperity more than an open-ended war to eradicate Hamas. At least Israel should be asking that question.
Such a pause could also allow the people of Gaza to take stock of what Hamas's attack on Israel — and Israel's totally predictable response — has done to their lives, families, homes and businesses. What exactly did Hamas think it was going to accomplish by this war for the people of Gaza, thousands of whom were going to work in Israel every day or exporting agricultural products and other goods across the Gaza-Israel border just a few weeks ago? Hamas has gotten way too much understanding and not enough hard questions.
I want to see Hamas's leaders come out from their tunnels under hospitals and look their people, and the world's media, in the eye and tell us all why they thought it was such a great idea to mutilate and kidnap Israeli children and grandmothers and trigger this terrible blowback on the children and grandmothers of their Gaza neighbors — not to mention their own.
I have always believed that you can reduce the Israeli-Palestinian conflict since the early 1900s to one line: conflict, timeout, conflict, timeout, conflict, timeout, conflict, timeout, conflict and timeout. The most important difference between the parties is what they each did during the timeouts.
Israel built an impressive society and economy, even if flawed, and Hamas took nearly all of its resources and built attack tunnels.
Please, Israel, don't get lost in those tunnels.
The Times is committed to publishing a diversity of letters to the editor. We'd like to hear what you think about this or any of our articles. Here are some tips. And here's our email: letters@nytimes.com.
Follow The New York Times Opinion section on Facebook, Twitter (@NYTopinion)and Instagram.
Thomas L. Friedman is the foreign affairs Opinion columnist. He joined the paper in 1981, and has won three Pulitzer Prizes. He is the author of seven books, including "From Beirut to Jerusalem," which won the National Book Award"
Opinion | Israel, It's Time to Consider a Cease-fire - The New York Times