Ron DeSantis takes control of Disney's governing district after 'don't say gay' row
"Move comes after Florida governor lashed out at theme park's protest of law restricting sexual orientation discussion in schools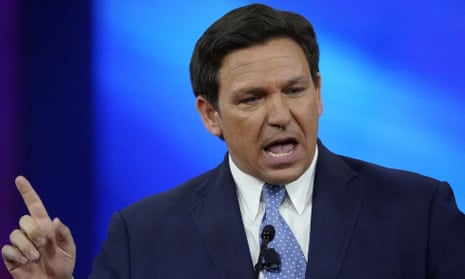 The Republican governor of Florida, Ron DeSantis, has signed a bill that wrests control of Walt Disney World's self-governing district, in a move seen as punishing the company for its opposition to his so-called "don't say gay" law.
"Today the corporate kingdom finally comes to an end," he said at the bill signing in Lake Buena Vista in his trademark bullish style. "There's a new sheriff in town, and accountability will be the order of the day."
DeSantis's head-on dispute with Disney, and the legislation banning classroom teaching on sexual orientation and gender identity that prompted it, are two signature moves by the Republican designed to affirm his status as a culture warrior. He is widely expected to take those credentials to the national stage in next year's presidential election in which he would face another brash Florida Republican – Donald Trump.
The bill gives DeSantis the power to appoint the five members of the board that controls government services for the Reedy Creek district covering Disney's Florida theme park properties that stretch over 27,000 acres (11,000 hectares). It brings to an end the Mouse House's special privileges which had stood for more than half a century, granting the company its own police and fire department and autonomy over zoning and other public functions.
Disney World, with its 75,000 employees, is the largest employer in central Florida. It attracted over 36 million visitors in 2021, according to the Themed Entertainment Association.
The collision between one of the rising stars in the increasingly far-right Republican party and the world-renowned entertainment conglomerate began in March 2022 when DeSantis signed the officially titled "Parental Rights in Education" bill. It barred instruction of gender identity and sexual orientation issues in kindergarten to third-grade classes, spanning the ages of about five to nine.
The "don't say gay" measure formed part of a spate of similar anti-LGBTQ+ billsthat have swept the US amid a rightwing assault on progressive policies they mock as "woke". It provoked an outcry from LGBTQ+ and other groups across the country, with Joe Biden denouncing it as "hateful".
After initially hesitating to be drawn into the affray, Disney's chief executive at the time, Bob Chapek, came out against the changes. He said he had called the governor to express his disapproval and vowed to suspend all political donations in Florida.
DeSantis's retaliation came swiftly. He convened a special legislative session and invited the Republican-controlled legislature to dissolve Disney's self-governing district.
As a further nod to the politicised nature of his action, DeSantis made overt the connection between his hostile move against Disney and his anti-LGBTQ+ legislation. He appointed one of the architects of the "don't say gay" law to sit on the new five-person board controlling services in the Disney area.
The new board member Bridget Ziegler is married to the chairman of the Florida Republican party. She was a founder of the rightwing education group Moms for Liberty.
The other four members of the panel are: Martin Garcia, an influential Republican lawyer in Tampa who donated $50,000 to DeSantis's reelection coffers last year; Brian Aungst, an attorney who is son of a former Republican mayor of Clearwater; Mike Sasso, an attorney; and Ron Peri, founder of the Gathering ministry which espouses Christian nationalism.
At the ceremony ending Disney's special status on Monday, DeSantis portrayed his move not as a culture war tactic but as a question of good governance. "Allowing a corporation to control its own government is bad policy, especially when the corporation makes decisions that impact an entire region," he said.
"This legislation ends Disney's self-governing status, makes Disney live under the same laws as everybody else, and ensures that Disney pays its debts and fair share of taxes."
Speakers at the event included a parent who criticized Disney for speaking out against the state's education bill, saying the company "chose the wrong side of the moral argument". Another person who identified himself as a longtime Disney theme park employee took issue with the company's policies regarding vaccinations.
Associated Press contributed to this report
You've read 9 articles in the last year
I hope you appreciated this article. Before you move on, I was hoping you would consider taking the step of supporting the Guardian's journalism.
From Elon Musk to Rupert Murdoch, a small number of billionaire owners have a powerful hold on so much of the information that reaches the public about what's happening in the world. The Guardian is different. We have no billionaire owner or shareholders to consider. Our journalism is produced to serve the public interest – not profit motives.
And we avoid the trap that befalls much US media – the tendency, born of a desire to please all sides, to engage in false equivalence in the name of neutrality. While fairness guides everything we do, we know there is a right and a wrong position in the fight against racism and for reproductive justice. When we report on issues like the climate crisis, we're not afraid to name who is responsible. And as a global news organization, we're able to provide a fresh, outsider perspective on US politics – one so often missing from the insular American media bubble.
Around the world, readers can access the Guardian's paywall-free journalism because of our unique reader-supported model. That's because of people like you. Our readers keep us independent, beholden to no outside influence and accessible to everyone – whether they can afford to pay for news, or not.
If you can, please consider supporting the Guardian today. Thank you.
Betsy Reed
Editor, Guardian US"
Opinion | Expanding the House of Representatives would help fix U.S. democracy - The Washington Post