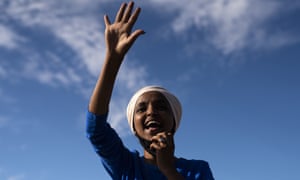 "Representative
Ilhan Omar
of Minnesota survived a stiff Democratic primary challenge Tuesday from a well-funded opponent who tried to make an issue of her national celebrity.
Her win is the latest in a season of victories by a new generation of emboldened progressive lawmakers.
Omar, seeking her second term in November, easily defeated Antone Melton-Meaux, an attorney and mediator who raised millions to run against her.
Omar and her allies gained confidence in her reelection chances after primary victories last week by fellow "Squad" member Rashida Tlaib in Michigan and by Cori Bush, a Black Lives Matter activist who ousted a longtime St Louis-area congressman. They also claimed momentum from the renewed focus on racial and economic justice after George Floyd's death in Minneapolis."
Ilhan Omar sees victory against well-funded Democrat in primary | US news | The Guardian