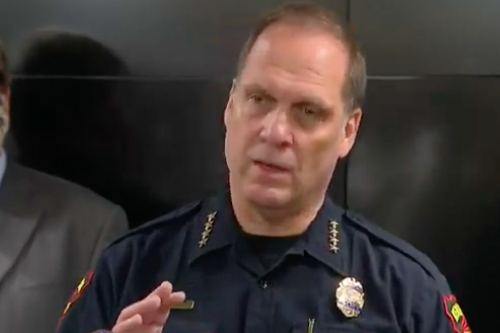 "
On Wednesday, 17-year-old Kyle Rittenhouse was arrested in Illinois on charges of first-degree murder after allegedly shooting and killing two protesters the night before during protests in Kenosha, Wisconsin, in response to the shooting of Jacob Blake earlier this week.
During the Kenosha Police Department's first press conference in response to the Blake shooting and subsequent protests, Chief Daniel Miskinis blamed the unidentified victims in Tuesday night's shooting for their own deaths, saying the violence was the result of the "persons" involved violating curfew:
Persons who were out after the curfew became engaged in some type of disturbance, and persons were shot. Everybody involved was out after the curfew. I'm not going to make a great deal of that, but the point is the curfew is in place to protect. Had persons not been out involved in violation of that, perhaps the situation that unfolded would not have happened."
Kenosha Police Chief Blames Protesters for Their Own Deaths, Defends Vigilante Groups