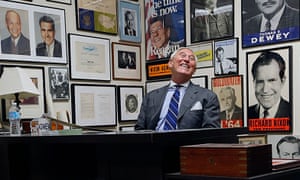 "The Making of the President is billed as an in-depth examination of how Trump, whom Stone calls the "greatest salesman in US history", came to defeat Hillary Clinton in 2016. Stone played a hand in that – he was there at the birth of Trump's campaign as a senior adviser but was forced out, having clashed with other key members of the team.
Among the revelations in the book is the fact that Trump quietly trademarked his catchphrase "Make America great again" within days of Mitt Romney being defeated by Barack Obama in the 2012 race. But its most enlightening quality is what it tells us about the contorted, volatile psyche of its author – and by extension, of his friend Donald Trump.
It's fair to connect the mindsets of the duo because Trump and Stone have for so long had so much in common: they both have an obsession with presidential politics that goes back to Richard Nixon, for whom Stone worked in the White House; they both have an intense fondness for conspiracy theories, most notably the "birther" lie that Barack Obama was born in Africa, of which they were leading proponents; and they both, as we shall see, have a very loose attachment to the truth."
Trump ally Roger Stone: Americans can now choose 'alternative' truths | US news | The Guardian