President Donald Trump's lawyer Rudy Giuliani called the Black Lives Matter (BLM) organization a "domestic terrorist group" led by "killers" who "hate white people" during a television appearance Thursday.
Giuliani, who also served as mayor of New York City from 1994 to 2001, spoke during a segment of Fox & Friends, addressing the 2020 presidential election and his fears about mail-in voting. He told the Fox hosts that the November election will be the most important election of his lifetime.
"We're either going to remain a free enterprise country, or we're going to become some kind of a socialist country," Giuliani said, referencing BLM, antifa, and Vermont Senator Bernie Sanders. "[Joe] Biden has agreed with it, and he's too weak to oppose it. He can't oppose anything. So that's where we're going."
Giuliani asserted that if elected, Biden will continue going "further Left" to satisfy his Democratic base.
"It's a very, very strange society they want to set up, and so far, they haven't said a single word, even when the terrible violence has taken place by antifa or by Black Lives Matter, both of whom are domestic terrorist groups without any doubt," Giuliani said.
Giuliani added that members of antifa and the BLM organization are "killers."
"Stop the nonsense. These are killers, and these are people who hate white people, they are people who hate white men in particular, and they want to do away with a mother-father family. They don't think fathers are necessary," he said.
Co-host Ainsley Earhardt stepped in once Giuliani finished speaking, claiming "there's a difference between the slogan 'Black lives matter' and the group that is yelling, 'Fry 'em like bacon.'" Giuliani pumped his fist and nodded his head in agreement.
Newsweek contacted Giuliani for comment, but did not hear back in time for publication.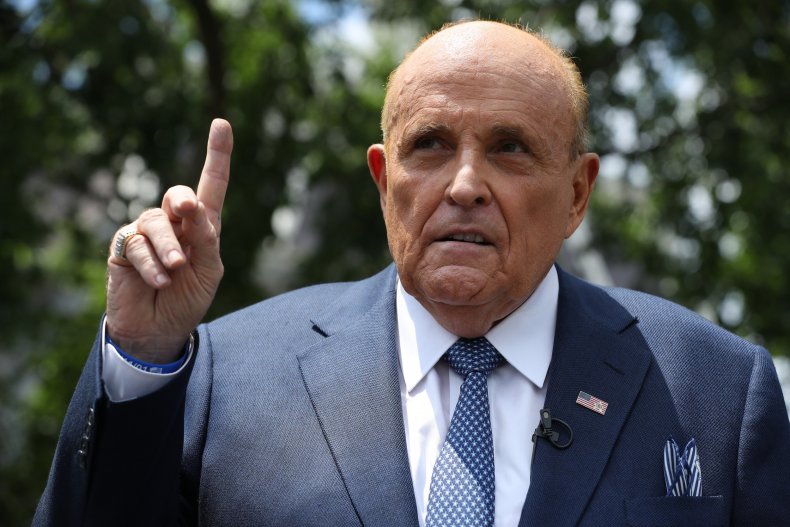 Neither antifa, which is short for anti-fascist, nor the BLM organization have ever been designated by the U.S. as terrorist organizations. But like Giuliani, Trump has frequently referred to protesters as "terrorists," and tweeted in May that U.S. would be labeling antifa as a terrorist organization.
The Southern Poverty Law Center, a non-profit civil rights advocacy group, published a statement June 2 explaining the danger in labeling antifa as such, saying that doing so would grant the federal government broad powers to investigate anyone labeled as antifa.
"President Trump's announcement is rooted in politics, not the present realities of the terror threat in the U.S.," according to the statement.
Black Lives Matter was first founded in 2013 following the acquittal of George Zimmerman, who fatally shot Trayvon Martin, a 17-year-old unarmed Black teenager. BLM is a global organization seeking to "eradicate white supremacy and...intervene in violence inflicted on Black communities," according to its website.
Both members of the BLM organization and antifa have taken to the streets in recent months following the May 25 death of George Floyd, a Black man who died at the hands of Minneapolis police officers. Floyd's death, and the deaths of several other unarmed Black men and women, led to a resurgence of the BLM movement."