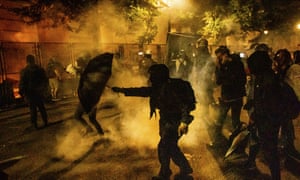 "
The justice department inspector general said on Thursday it would conduct a review of the conduct of federal agents who responded to unrest in Portland and
Washington DC
, following concerns from members of Congress and the public.
The watchdog investigation will examine use-of-force allegations in Portland, where the city's top federal prosecutor and mayor have publicly complained.
In Washington, investigators will look at the training and instruction provided to the federal agents who responded to protest activity at Lafayette Square, near the White House.
Among the questions being studied are whether the agents followed DoJ guidelines, including on identification requirements and in the deployment of chemical agents and use of force.
The investigation was announced amid chaos in Portland, where Mayor Ted Wheeler was teargassed by federal agents as he stood outside the courthouse there.
Local authorities in both cities have complained that the presence of federal agents has exacerbated tensions on the streets, while residents have accused the government of violating their constitutional rights.
Civil unrest escalated in Portland after federal agents were accused of whisking people away in unmarked cars without probable cause. In Washington, peaceful protesters were violently cleared from the streets by federal officers using teargas.
But the actual and potential presence of federal troops in the streets of American cities also threatened to create violence and derail community outreach that local authorities have worked for months to establish as the successive waves of pandemic lockdowns and protests on behalf of racial justice have swept the United States.
The mayors of 15 large cities warned as much in an open letter to Trump this week. The mayors wrote, they said, "to express our deep concern and objection to the deployment of federal forces in US cities, as those forces are conducting law enforcement activities without coordination or authorization of local law enforcement officials."
"We urge you to take immediate action to withdraw your forces and agree to no further unilateral deployments in US cities," the letter said.
The Trump administration so far has deployed unidentified agents in military-style camouflage uniforms in Portland, Oregon, and announced plans to send officers from multiple federal agencies to Chicago and Albuquerque, New Mexico. Lightfoot, the Chicago mayor, expressed provisional openness to the presence of some federal officials – if they acted in concert with local government.
The US constitution gives broad power over policing and public health and safety to the states, as opposed to the federal government. The United States has no federal police force, and it is historically rare, although not unprecedented, for federal troops to be deployed against the wishes of local authorities.
DoJ to investigate federal forces' tactics in US cities as mayors condemn Trump | US news | The Guardian