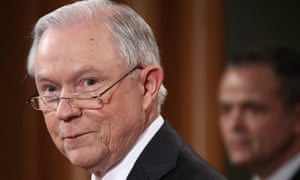 "Sessions, then the US attorney for Alabama's southern district, indicted Mims on criminal corruption charges relating to obscure four-year-old negotiations over a planned recycling plant. Mims was the ninth notable Democrat in the area to be indicted by Sessions since the young Republican was appointed by President Ronald Reagan. He would not be the last.
Opponents concluded that Sessions used his federal prosecutor's office, and the FBI agents who worked for him, as political weapons, according to more than half a dozen veterans of Mobile's 1980s legal and political circles. Some alleged in court filings that the ambitious young Republican actually worked from a "hitlist" of Democratic targets.
"Sessions was a gun for hire," said Tom Purvis, a former sheriff of Mobile County, "and he went after political enemies." Purvis was acquitted of charges against him that Sessions oversaw after Purvis unseated another Outlaw ally from the elected sheriff's position.
The decades-old concerns have been revived by Donald Trump's appointment of Sessions as US attorney general, and the mounting anxiety over his ability to remain even-handed as the nation's most senior law enforcement official given his record of vigorous partisanship. Earlier this week, Sessions was pressured into removing himself from oversight of any FBI investigations into the Trump campaign's contacts with Russia.
Bolstering the claims are the remarkably thin prosecution cases brought by Sessions against some of those Democrats he indicted, which are detailed across thousands of pages of archived court filings that were reviewed by the Guardian."
'Gun for hire': how Jeff Sessions used his prosecuting power to target Democrats | US news | The Guardian