Report finds not one police department in the 20 largest American cities are compliant with international rights laws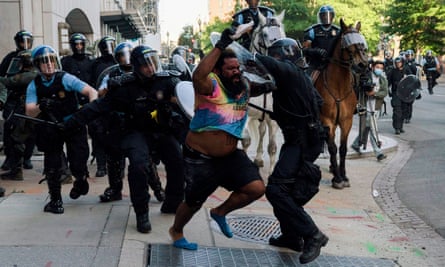 Riot police chase a man as they clear protesters from Lafayette Park in Washington DC.

Photograph: Reuters
Police in America's biggest cities are failing to meet even the most basic international human rights standards governing the use of lethal force, a new study from the University of Chicago has found.
Among the failings identified by the law scholars, some police forces violate the requirement that lethal force should only be wielded when facing an immediate threat and as a last resort. Some departments allow deadly responses in cases of "escaping suspects", "fugitives", or "prevention of crime" – all scenarios that would be deemed to fall well outside the boundaries set by international law.
In other cities, police guidelines failed to constrain officers to use only as much force as is proportionate to the threat confronting them.
Remarkably, the researchers from the law school's international human rights clinic discovered that none of the 20 police departments were operating under state laws that were in accord with human rights standards.
America's biggest police forces lack legality, the study finds, because they are not answerable to human rights compliant laws authorizing the use of lethal force.
"The fact that police forces in the biggest US cities don't meet very basic human rights standards is deeply concerning," said Claudia Flores, the clinic's director.
The Chicago study underlines how far policing in America is adrift from international norms, making the US a lonely outlier on the world stage. Across Europe, policing policies are much more closely aligned with human rights directives.
In Spain, for instance, officers have to use verbal cautions and fire warning shots before they are permitted to aim at anybody. Chokeholds have been banned in Europe for many years.
The Chicago researchers conclude too much deadly discretion is given to police officers in the US. The use of force, they say, is a form of "state-sanctioned violence" that society only grants police officers as part of their responsibility "to protect public safety and enforce the law when necessary".
The need for restrictions on police power has been recognized in international law for 40 years. Two basic human rights are involved: the right to life and personal security, and the right of freedom from discrimination. Those rights have also been enshrined in core United Nations standards. All 193 member nations of the UN, including the US, have signed up to a code of conduct for law enforcement officials adopted in 1979.
When things go wrong, the Chicago study also found that police use-of-force policies fall woefully short on accountability. All 20 city forces were found to have internal systems for reporting the deployment of lethal force, but only two – Los Angeles and Chicago – require independent external investigations to be carried out in tune with international standards.
Houston, San Antonio, San Diego, Austin, Indianapolis, Charlotte, Seattle and El Paso had no external reporting requirements.
Of the 20 cities, the police forces of Chicago and Los Angeles are at the top end of the table in terms of the degree to which they comply with human rights laws. At the bottom is Indianapolis, in the state of Indiana whose governor between 2013 and 2017 was Mike Pence, Donald Trump's vice president.
The Indianapolis PD ranks so badly because it breaches international standards on numerous counts. It allows the use of lethal force to prevent a felony being carried out – without specifying what kind of felony.
Its rules carry no mention of the need for force to be proportional to the danger. It also makes no requirement on police officers to apply an escalating set of measures before they reach the point of lethal force – Indianapolis only talks about issuing a "verbal warning, if feasible".
Americans have had enough ...
... and are marching for justice in unprecedented numbers. In small towns and big cities across the country, thousands of people are giving voice to the grief and anger that generations of black Americans have suffered at the hands of the criminal justice system. Young and old, black and white, family and friends have joined together to say: enough.
The unconscionable examples of racism over the last weeks and months come as America's communities of color have been hit hardest by the coronavirus and catastrophic job losses. This is a perfect storm hitting black Americans. Meanwhile, the political leadership suggests that "when the looting starts, the shooting starts". The president who promised to end the "American carnage" is in danger of making it worse.
At a time like this, an independent news organisation that fights for truth and holds power to account is not just optional. It is essential. Because we believe every one of us deserves equal access to fact-based news and analysis, we've decided to keep Guardian journalism free for all readers, regardless of where they live or what they can afford to pay. This is made possible thanks to the support we receive from readers across America in all 50 states.
Our business model is coming under great pressure from an unprecedented collapse in advertising revenues, and we'd love your help so that we can carry on our essential work.
'State-sanctioned violence': US police fail to meet basic human rights standards | US news | The Guardian