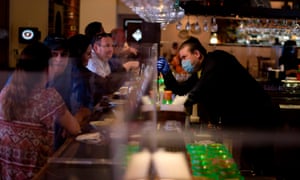 "
More than half of all US states have
reported a rise in new coronavirus cases
, with some breaking daily records. Amid fears of a second wave of Covid-19 infections and deaths, public health officials have warned that the first is far from over.
"I don't think we're going to see one, two and three waves. I think we're going to just see one very, very difficult forest fire of cases."
"It makes us look like we have more cases, especially proportionally, than other countries," Trump tweeted.
Across southern states, health experts have blasted a lack of social distancing as the summer begins. Younger people, officials say, are also more often asymptomatic, putting immunocompromised friends and family members at risk.
The federal Centers for Disease Control and Prevention (CDC) has issued warnings on the need for social distancing and face masks as states reopen, rejecting Trump's notion that an increase in testing is responsible for the spike.
California governor Gavin Newsom has announced that all residents will be required to wear masks. Cases are spiking there, with hospitalizations at the highest rate since the beginning of the pandemic. The state will continue its timeline for reopening.
According to CNN, the CDC will revise its mask-wearing recommendations after studying how masks are "good for source control and keeping you from giving it to others", as well as "protect[ing] you from getting it yourself."
Half of US states see coronavirus spike as officials warn first wave far from over | World news | The Guardian