How a 'Trump train' attack on a Biden bus foreshadowed January 6 – and echoed bloody history
"Kamala Harris could have been on the bus Trump supporters threatened to run off the road in Texas, yet law enforcement barely responded. History shows the fruits of such inaction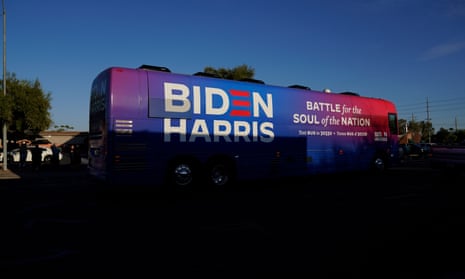 The bane of raw intelligence – and history – is that you can always look back and find the signs, but you can't necessarily look ahead and see where they're pointing. Many questions remain about the intelligence failures that enabled an insurrectionist mob to lay siege virtually unimpeded to the US Capitol. But here's one sign that's been flashing in my head since 6 January 2021.
Four days before the 2020 election, a "Trump Train" of motorists swarmed a Biden-Harris campaign bus on Interstate 35 between San Antonio and Austin. Kamala Harris would have been on the bus but for a last-minute schedule change, according to Wendy Davis, then a Texas congressional candidate and the campaign surrogate onboard. The videotaped vehicular harassment – tailgating, sudden braking, passing the bus within inches – got nationwide coverage, courtesy of participants' back-slapping on social media and Donald Trump's high-five in return. Though no one was hurt, it took little imagination to see how a 20-ton container of flammable fuel moving in heavy traffic could have turned into a highway bomb. But to the Trump Train, one of its founders, Steve Ceh, told me, the razzing of the Democrats was simply "fun" – "like a rival football game".
No local arrests were reported, but the FBI in San Antonio confirmed it was investigating. Presumably (albeit against Trump's tweeted wishes) it was still investigating two months later when the explosion came: a massive incarnation of the Trump Train rioting against President-elect Biden in Washington. It was then that I started getting flashbacks to another historic act of domestic terrorism, one also presaged by a difficult bus ride and lately back in the news.
Sixty years ago, on 15 September 1963, when Ku Klux Klansmen bombed the 16th Street Baptist Church in Birmingham and killed four Black girls attending Sunday school, the shock to the country exceeded the moral language to express it. Both President John F Kennedy and Martin Luther King Jr cast political blame on Alabama's "Segregation forever!" governor, George Wallace. At the time he seemed a pariah, the only "vicious racist" King singled out in his I Have a Dream speech 18 days earlier, at the March on Washington. In fact, Wallace was the spearhead of a proto-Maga minority that more than half a century later captured the White House for Trump. And now political violence is so "normal" that we have a former southern governor, Mike Huckabee of Arkansas (whose daughter, Trump's former spokesperson Sarah Huckabee Sanders, is the current governor), effectively endorsing civil war should the prosecution of Trump over a violent coup attempt derail his return to power.
More often than not, though, the slope is slipperier than the cliff of depraved extremism over which Trump led a "conservative" political party. Instead, it is an inertial slide driven by institutional blind spots and choices that were professionally expedient in the moment. Thus it was, more than 60 years ago in Alabama, that the FBI turned a half-closed eye to harassers of a bus and wound up reaping shockwaves that killed children.
On Mother's Day 1961, a Greyhound bus carrying a protest group of integrated Freedom Riders was chased down the highway by a caravan of white Alabamians, who managed to sideline the vehicle outside Anniston and firebomb it. Meanwhile, a second freedom bus headed toward a Ku Klux Klan ambush in Birmingham. FBI agents there had been told by their Klan informant – the eventually notorious double agent Gary Thomas Rowe Jr – that his klavern was coordinating the attack with local police and city hall. But the bureau did nothing to stop the bloody assault. Nor were any arrests made of Rowe's Klan brothers, certainly not after a widely published news photo showed the informant himself joining in the bludgeoning.
When Rowe's consorts bombed the 16th Street Baptist Church two years later, the FBI was so familiar with them that four or five prime suspects were identified within days. (Rowe was apparently not an active participant.) The first prosecution – of the suspected ringleader, by the Alabama attorney general – did not take place for 14 years and met with stonewalling if not resistance from the FBI. (A couple of decades later, the bureau provided "cooperation from top to bottom," says Doug Jones, the federal prosecutor who won convictions against the last two living Klansmen in 2001 and 2002. He went on to become Alabama's brief Democratic senator before losing in 2020 to Tommy Tuberville, who recently said of white nationalists, "I call them Americans".)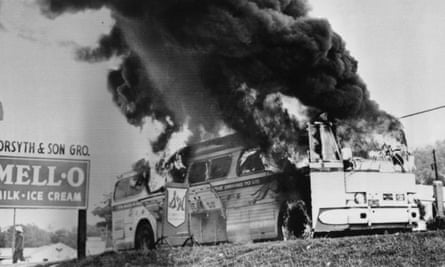 In contrast to the Freedom Rider attacks, which sent multiple victims to hospital, the buzzing of the Biden team had only one known instance of physical contact, a black pick-up videotaped bumping a campaign car in the bus's wake. The owner of the pick-up was Eliazar "Cisco" Cisneros, a middle-aged, long-gun-toting San Antonian who had made news six weeks earlier by driving the same Trump-bedecked truck through a peaceful defund-the-police protest. He was not arrested then, but the FBI did talk to him about the Trump Train, according to his lawyer, the former Republican congressman Francisco Canseco. However, Canseco says it was his client who initiated the call, to complain that "his rights were being violated", meaning the right of Americans "to demonstrate their support for a candidate". Cisneros claimed the Biden car was the aggressor, despite having boasted on Facebook, "That was me slamming that fucker … Hell yea." (The available videotape is not definitive, but the analysis by snopes.com contradicts Cisneros's version.)
Perhaps the FBI had bigger Maga fish to fry than the Trump Train, even though the San Antonio paper reported weeks before the election that the group's raucous Thursday-night parades 30 miles up I-35 in New Braunfels had featured a man dragging a Black Lives Matter flag behind his pick-up. (A social-media post of his surfaced from a few years earlier: "I'm not apart of the kkk … just hate black people.") Some African American residents were reminded of the 1998 white supremacist dragging murder of a black man, James Byrd Jr, 300 miles east in Jasper. But by the time the New Braunfels Trump Train caught up with the Biden bus on 30 October, the bar for actionable political intimidation had been set pretty high. Earlier that month in Michigan, the FBI along with state authorities arrested 14 Maga men in connection with an alleged plot to kidnap the governor, Gretchen Whitmer.
---
Way back in segregated 1961, within hours of the freedom bus burning, the Kennedy justice department found a statute allowing for a politically neutered prosecution: 18 U.S. Code § 33, covering the destruction of motor vehicles engaged in interstate commerce. A paragraph conceivably pertinent to what happened in Texas – on a federal highway – penalizes one who "willfully disables or incapacitates any driver … or in any way lessens the ability of such person to perform his duties as such". At any rate, when even symbolic federal charges failed to materialize, the Biden bus driver, Wendy Davis and two others filed a civil suit against (ultimately) eight Trump Train members, including Cisneros and Ceh, under the Reconstruction Ku Klux Klan Act of 1871. They sued the San Marcos police department separately, as the only force along the route that the complaint says ignored SOS calls – though its alleged abdication was more like "we can't help you" than the Birmingham police's promise to give the Klan 15 minutes to work over the Freedom Riders.
Davis et al filed their suits six months after January 6. While hastening to say that "we can't begin to compare what happened on the bus to that violence", Davis calls it "part and parcel of the same trend". It was intimidating enough to cause the campaign to cancel the rest of the tour. A trial date for the Trump Train case has been set for next year. Two defendants settled separately in April 2023 and have been removed from the suit.
Among the plaintiffs' exhibits included in a court filing on Friday is the transcript of a text chain from late December 2020 about "the March in dc", in which a message purportedly coming from Cisneros's phone discusses delivery dates for bear mace and a collapsible baton. Two other defendants, Ceh and his wife, Randi – named in the complaint as leaders of the New Braunfels Trump Train – were among the faithful in Washington on January 6. Steve Ceh told me they did not enter the Capitol but watched "antifa thugs in black breaking windows" and "people in Trump hats telling them to stop". When I asked if he thought the hundreds of people arrested for their role in the riot were antifa (including a former FBI agent from New Braunfels), he said: "I'm not saying that some people weren't pretty emotional."
Ceh says the FBI contacted him after he was fired from his job (as a supervisor for a large Texas construction firm) in the aftermath of January 6. "There are a lot of liberals, a lot of Satanists, in this town," he told me, explaining that they "doxxed" him. Ceh says he invited the FBI man who questioned him ("a very good guy") to attend the "relevant church" he recently founded. He says the bureau did not seek him out after the Trump Train episode, not even for one of its unofficial "knock and talks", and in their later interview about the Capitol riot, he says, the Biden bus "never came up".
The FBI office in San Antonio declined to make Ceh's interviewer available for comment and, in response to my request for a Biden bus update, said the bureau did not either confirm or deny the existence of an investigation, apparently even one it previously confirmed. That's not the worst policy in the world, as then FBI director James Comey painfully demonstrated in 2016 when he violated justice department guidelines with public statements in the Hillary Clinton emails case, arguably giving us President Donald Trump and thereby helping normalize terrorism the bureau is mandated to prevent.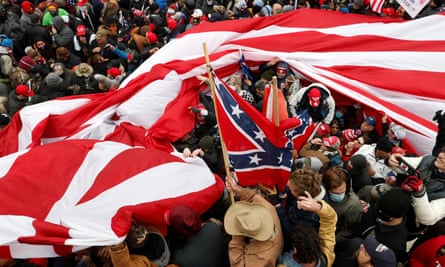 John Paredes, one of the many civil rights lawyers representing the bus plaintiffs, says he does "not read anything into [federal officials'] determination not to bring a prosecution". The US Attorney's Office for the Western District of Texas emailed its refusal to comment on "the existence or non-existence of investigations". Still, I have a sneaking feeling that the FBI's reaction to the vehicular threat on I-35 would have been a little different if, say, those road warriors had been Muslims rather than white Christians.
---
Sixty years ago, the Birmingham church bombing helped unify the country around a consensus that state-sponsored racism had to end and, along with the assassination of President Kennedy two months later in Texas, eased the posthumous passage of the Civil Rights Act of 1964, which abolished legal segregation. Since the domestic terrorism of January 6, though, the partition of hate has only widened. And so, I got a little jolt of hope and change from Ceh's surprise answer to my pro forma question about whether he was supporting Trump in 2024.
"I'm waiting," he said. "We have transitioned."
I wish I could say the quote ended there, but he went on to talk about how the issue is no longer "about what man's in there", because "we've got to turn to God". If I had to interpret those signs, I would take them to mean that things could get worse. Apocalyptic, maybe.
Diane McWhorter is the author of the Pulitzer Prize-winning Carry Me Home: Birmingham, Alabama – The Climactic Battle of the Civil Rights Revolution"
How a 'Trump train' attack on a Biden bus foreshadowed January 6 – and echoed bloody history | The far right | The Guardian