Israel-Hamas war live: hundreds feared dead in Gaza hospital blast; Biden cancels Jordan visit
"Hundreds believed injured at Al-Ahli Arabi Baptist hospital in Gaza City; US president will no longer travel to Jordan after summit cancelled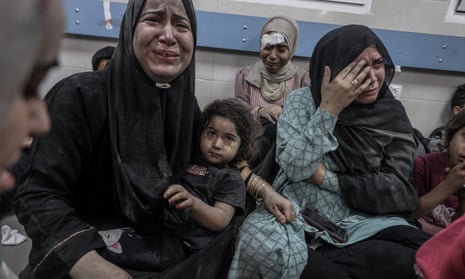 The casualty figures from the blast at Al-Ahli Arabi Baptist hospital are very fluid as reports come out of Gaza.
Between 200 and 300 people were killed in the explosion on the hospital compound, according to a statement from the Hamas-run Gaza health ministry. "Hundreds of victims are still under the rubble," it added.
A Gaza civil defence chief told Al-Jazeera that more than 300 people were killed. At least 500 people were killed and injured, a Gaza health ministry official said. Both departments are under the Hamas-run government.
Israeli military spokesperson Daniel Hagari would not immediately confirm its forces bombed the hospital.
Earlier today, the UN's Palestinian refugee agency said at least six people were killed after a strike on a school in Gaza's al-Maghazi refugee camp."
Israel-Hamas war live: hundreds feared dead in Gaza hospital blast; Biden cancels Jordan visit