'Hopeless and abandoned': How it feels to be a U.S. citizen trapped in Gaza
"The State Department told this American family in Gaza they'd be able to escape via the Rafah crossing without making sure that they would be.
The Okals, who own a beautiful home in a Boston suburb, are your typical Massachusetts family. Abood earned his Ph.D. from the University of Utah and works for a large pharmaceutical company in Cambridge. His wife, Wafaa, worked for a local nonprofit, focusing on workforce development. They have a 1-year-old son, Yousef, whom they take on playdates with other children. They have a dog named Lilly. They are U.S. citizens. They carry U.S. passports. And they are among the hundreds of U.S. citizens who are trapped in Gaza as the Biden administration, rather than treating them as people who are deserving of urgent action from their government, has allowed them to become more like bargaining chips.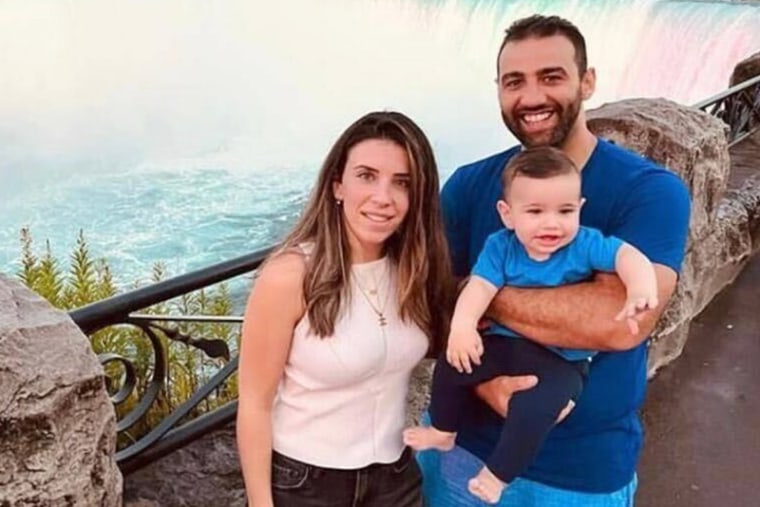 Weeks ago, the Okals, who are friends I've advocated for with the State Department, traveled to Gaza to visit Wafaa's parents and introduce them to their grandson. Based on photographs Abood shared, they went to the beach, visited the sites, gathered with family for meals, and the children played on their iPads during down time. Yousef rode a horse with his dad.
More from MSNBC Daily
Must reads from Today's list
Everything changed on Oct. 7, when Hamas carried out its deadly and brutal attacks on Israelis. Not just for the Okal family, of course, but for everyone, everywhere. But in their case, they've been misled by officials from the U.S. State Department. On Saturday, Oct. 21, the Okals received text messages, a phone call and an e-mail from State Department officials advising them that the Rafah crossing, through which they could get to Egypt, would open at 10 a.m. Minutes before 10, a State Department official sent a message to Abood, stating: "[w]e are ten minutes away, I hope you're there. Please let me know as soon as you make it across."
They arrived at the Rafah crossing before 10. During the six hours they waited, not a single person was permitted to cross. Saturday, Oct. 21, was the third time the State Department alerted the Okals about an opening at the Rafah crossing on a specific date and time, but U.S. citizens weren't allowed passage.
Four hundred U.S. citizens and permanent residents and 400 more of their dependentshave requested help from the State Department to leave Gaza through the Rafah border, a source familiar with the situation on the ground told NBC News for an article published Wednesday.
As Abood shared with NBC News for that article, "airstrikes have intensified in the last few days" and he and Wafaa had run out of milk for Youssef. "It would be his first night ever in his entire life to go to sleep without having milk," he said.
The State Department has accused Hamas militants of blocking the crossing. In a news conference Thursday, five days after the Okal's Oct. 21 attempt to get out, State Department spokesperson Matthew Miller said that "at times on the Gaza side of the border
there has been no one there from Hamas to open the gates
and process people and let them through. And at other times, there have been actually armed Hamas militants standing there, not even letting people approach the gate."
Abood sent me photographs and videos from the Rafah crossing on Oct. 21. There are no militants or government personnel in those photos, except for the Egyptian guards on the other side of a physical gate. In an Oct. 21 e-mail conversation that included State Department and White House National Security Council officials, a State Department official told me that, regarding Americans getting out of Gaza, they still needed "Egypt, Israel, and the DFA [de facto authorities] to all agree" and that they were "very close to agreement with two of the three" and "working the third very hard."
They won't tell me who's who, but this much is clear: The State Department sent its citizens to the Rafah crossing without having secured any agreement from anyone that they could cross. In the same e-mail, the State Department official says, "I have encouraged Consular Affairs not to issue any additional statements advising of opportunities to cross Rafah until we have a clear 'yes' from all three actors."
How was that not the policy before?
(When asked by MSNBC to verify the above email exchange, a State Department spokesperson said in an email, "Due to privacy considerations, we are not able to comment on specific cases, but we have made thousands of phone calls and sent thousands of emails to U.S. citizens in Gaza, their immediate family members, and their loved ones who are inquiring with us on their behalf." )
During that Thursday news conference, Miller, the State Department spokesperson, acknowledged, "As you know, there have been times when we thought that the gates were going to open and we sent messages to American citizens, telling them that it was possible it was going to open, and so if they could make it safely there they should consider doing so. And each of those times, we unfortunately weren't — the gate didn't actually open, for the reasons I just articulated."
As of early Friday evening, there was still no departure option for U.S. citizens in Gaza or a timeline for when they might be able to leave.
For two weeks, the Okal family has been sheltering in a single-family home in Rafah with 40 other people, many of them strangers. According to reports from Abood, they currently live off canned tuna and fava beans, but with each passing day, it's been more difficult to find food. They're out of cooking oil, so they can't have hot meals. Their primary need is clean drinking water. The last time they ran out of drinking water, they relied on saltwater to stay hydrated for a whole day. Their current supply of drinking water was expected to run out Friday night, and they didn't know what they'd drink Saturday.
Yousef's not sleeping. Abood tells me Yousef used to only wake up at the sound of a nearby airstrike or bombing, but now, even in moments of relative calm, he wakes up screaming in the middle of the night from night terrors.
In an audio message he shared with me Thursday, Abood said there'd been three airstrikes within 900 feet of their home. Last week, a nearby airstrike blew out windows and doors where they're staying. All the walls are cracked.
Whether it's from an airstrike, hunger, dehydration or sickness, the Okals and hundreds of other U.S citizens in Gaza might not make it out alive. Understandably, as Abood put it, they feel "hopeless and abandoned."
Speaking of Americans trapped in Gaza, Miller said at Thursday's news conference that "we are going to stay in touch with them, let them know we're working on it. And as soon as we have an update about the — them actually being able to make it through the crossing into Egypt, we will send them that update."
The administration's priorities are backward. A citizen is a citizen, and when it comes to the U.S.'s responsibility in helping them, it should not matter which side of the wall in this conflict they are on. Biden and Secretary of State Antony Blinken should have no bigger priority than bringing all Americans — those held hostage in Gaza and those trapped in Gaza — home safely. If not, I fear we are barreling towards the unconscionable: that an American-made weapon paid for by American taxpayer dollars may be fired by Israel and kill American citizens."
Americans trapped in Gaza feel abandoned by President Joe Biden