Biden worries 'extreme' supreme court can't be relied on to uphold rule of law
"Trump installed three conservative justices, tilting the court 6-3 to the right, which delivered significant victories for conservatives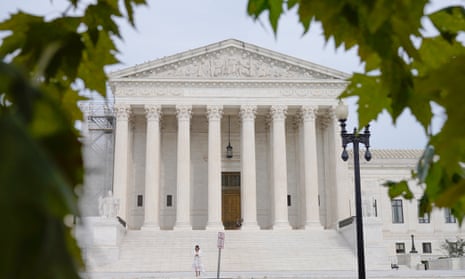 Joe Biden worries that the "extreme" US supreme court, dominated by rightwing justices, cannot be relied upon to uphold the rule of law.
"I worry," the president told ProPublica in interview published on Sunday. "Because I know that if the other team, the Maga Republicans, win, they don't want to uphold the rule of law."
"Maga" is shorthand for "Make America great again", Donald Trump's campaign slogan. Trump faces 91 criminal charges and assorted civil threats but nonetheless dominates Republican polling for the nomination to face Biden in a presidential rematch next year.
In four years in the White House, Trump nominated and saw installed three conservative justices, tilting the court 6-3 to the right. That court has delivered significant victories for conservatives, including the removal of the right to abortion and major rulings on gun control, affirmative action and other issues.
The new court term, which starts on Tuesday, could see further such rulings on matters including government environmental and financial regulation.
ProPublica reporting has stoked a growing ethics scandal concerning Clarence Thomas and Samuel Alito, two older rightwing justices, and their ties to rich rightwing donors with business before the court.
Biden is a former chair of the Senate judiciary committee, who in 1991 presided over Thomas's hugely controversial confirmation amid accusations of sexual harassment.
He told ProPublica: "I do think at the end of the day, this court, which has been one of the most extreme courts, I still think in the basic fundamentals of rule of law, that they would sustain the rule of law."
But regarding the brewing ethics scandal, the president said: "The idea that the constitution would in any way prohibit or not encourage the court to have basic rules of ethics that are just on their face reasonable is just not the case."
Alito and Thomas deny wrongdoing in not declaring gifts from rich donors.
Supreme court justices are nominally subject to the same ethics rules as other federal judges but in practice govern themselves.
John Roberts, the chief justice, has resisted calls to testify on ethics matters. Democrats in the Senate have advanced ethics reform but it stands little chance of success, given Republican opposition.
Nonetheless, calls for meaningful action are growing. This week, more than 40 watchdog groups wrote to Roberts, demanding he take action.
Caroline Ciccone, president of Accountable.US, which coordinated the letter, said: "While a full-blown ethics crisis looms and public trust hits record lows, the supreme court is set to take up a slew of consequential cases in its new term.
"It's far past time that Chief Justice Roberts clean up his court – and it's the very least the justices can do to restore some semblance of credibility and integrity."
Biden worries 'extreme' supreme court can't be relied on to uphold rule of law | US supreme court | The Guardian