"An employee admitted he had the wrong address after he checked the permit, but the company has taken no other action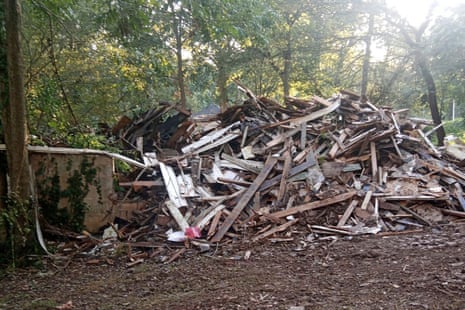 A homeowner is mulling the next step after a company mistakenly demolished a home she owned in south-west Atlanta.
Susan Hodgson said in an interview on Saturday with the Associated Press that she found a pile of rubble in place of what used to be her longtime family property when she returned from vacation last month.
"I am furious," Hodgson said. "I keep waking up thinking, 'Is this all a joke or something?' I'm just in shock."
She said a neighbor called her while she was away and asked if someone had been hired to tear down the vacant house.
"I said 'no' and she said, 'Well, there's someone over here who just demolished the whole house and tore it all down,'" Hodgson recalled.
When the neighbor confronted them, Hodgson said, the workers got nasty.
"He told her to shut up and mind her own business," Hodgson said.
She sent a family member over to see what was going on and who asked to see a permit. When a person in charge at the site checked his permit, Hodgson said he admitted he was at the wrong address.
"It's been boarded up about 15 years, and we keep it boarded, covered, grass cut, and the yard is clean," she said. "The taxes are paid and everything is up on it."
Hodgson said she had filed a report with police and had talked with lawyers but that they remain in limbo so far.
"We're still in this process of figuring out what to do," she said. "We keep pressing in different directions to see if something is going to happen."
To this day, she said the Atlanta-based company responsible, You Call It We Haul It, has yet to contact her.
"How do people just go up and tear somebody's property down and then just drive off?" Hodgson said. "How can they think that's OK? I just wish he would come fix the problem that he caused.
"It's just hard to believe someone thinks they have the right to just come and tear something up and walk away from it and didn't come back and say, 'I'm sorry. What do I need to do to fix this? It was an accident.' They didn't give me nothing."
The company did not immediately return a telephone message left on Saturday. In a statement to WAGA-TV, the company said it was investigating and working to resolve the mishap."