Another GOP freshman has been accused of lying on his resume. Blame Trump.
Rep. Andy Ogles has become the third House Republican freshman to face questions about his biography.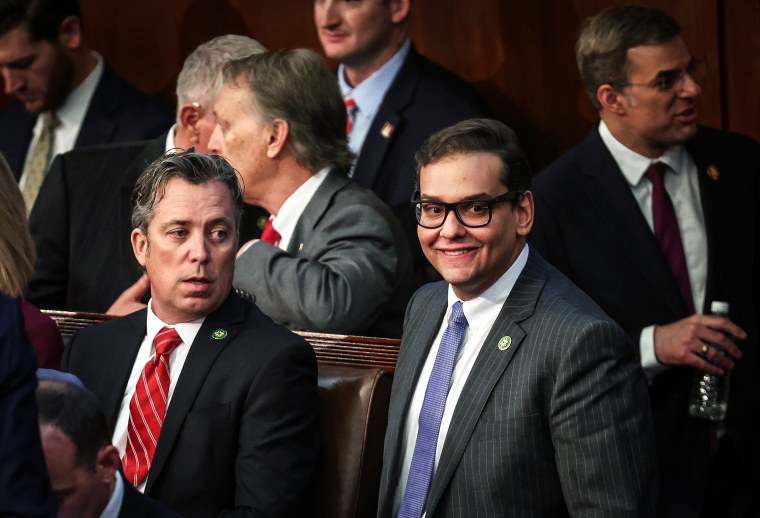 Have you heard about the Republican representative accused of an embellished biography?
No, not George Santos, who lied about graduating from Baruch, working on Wall Street and lending his campaign hundreds of thousands of dollars.
No, not Anna Paulina Luna, whose friends and extended family dispute her accounts of past traumas, including an alleged "home invasion" and an impoverished childhood.
No, the one who, according to a local television station, falsely claimed to be "an economist, a nationally recognized expert in tax policy and health care, a trained police officer, even an expert in international sex crimes."
The life-spanning scale of the Republican freshmen's alleged fabrications — especially Santos' and Ogles' — are nearly unprecedented.
That would be Rep. Andy Ogles, R-Tenn., who in recent weeks became the third of the 40 members in the House GOP's freshman class to face questions about their biographies. Nashville's WTVF has uncovered multiple misrepresentations from Ogles that rival the better known fabrications of Rep. George Santos, R-N.Y. On several occasions, including his first hearing on the House Financial Services Committee, Ogles referred to himself as an economist, even though he had no academic or job training in the discipline. His closest claim to expertise was working as a lobbyist and staffer for two conservative groups, though there's no evidence he produced any economic research.
Both on the campaign trail and in office, Ogles also referred to past work in law enforcement combating "human trafficking." According to WTVF, though, his law enforcement career consisted of just over two years as a volunteer reserve deputy with the Williamson County Sheriff's Office — a position he lost for failing to meet minimum attendance and training requirements. As for the human trafficking portion, that had nothing to do with his deputy position, but a separate job with a nonprofit called Abolition International. Here, too, Ogles' version of events differs from the record. His congressional website says he oversaw the group's "operations and investments in 12 countries." The group's tax returns show he was a part-time employee who was paid $4,000.
Like Santos, Ogles has admitted issues with how he described his resume, but he has stopped short of apologizing. (Luna stands by her account.) More worryingly, also like Santos, Ogles did not fill out the financial disclosure form required of all congressional candidates. So even as House Speaker Kevin McCarthy sought Ogles' vote, there was no way of knowing whether Ogles had any conflicts of interest that might influence the concessions he sought.
A cynic might note that misstating a biographical detail is a depressingly bipartisan practice. But the life-spanning scale of the Republican freshmen's alleged fabrications — especially Santos' and Ogles' — are nearly unprecedented. To find one comparable case to the current crop of conservative fabulists, you have to go back to the mid-1990s, when Oregon Rep. Wes Cooley was accused of lying about his service in the Army Special Forces, his academic awards and even the length of his marriage. To find a second, you have to go back to 1952, when Utah Rep. Douglas Stringfellow fabricated much of his World War II service record.
It is not normal that nearly 10% of new House GOP members are alleged fabulists. Nor is it normal for party leaders to determinedly look the other way.
Furthermore, both Cooley and Stringfellow abandoned re-election bids under pressure from other Republicans. By contrast, neither Ogles nor Luna has faced any questions from their own party. And while local Republicans have called on Santos to step down, McCarthy and other national leaders have stayed silent as Santos has remained defiant.
So, no, it is not normal that nearly 10% of new House GOP members are alleged fabulists. Nor is it normal for party leaders to determinedly look the other way. But both developments are entirely predictable results of handing the party over to Donald Trump.
After all, the former president was no stranger to biographical embellishments. As far back as 1976, he told The New York Times lies large and small: that he graduated first in his class from the Wharton Business School, his grandfather was Swedish and he was worth $200 million. In fact, he didn't even graduate with honors, Friedrich Trump was German, and his taxable income for that year was less than $25,000. He even claimed, in the Times' words, to be "publicity shy."
So it was no surprise that Trump rose in Republican voters' esteem thanks to lies, from birtherism to anchor babies. After all, for years, conservative voices had lied about liberal policies (death panels, anyone?) and politicians (the "Clinton Body Count" conspiracy, for example). Why would their audiences turn up their noses at a few biographical flourishes? Nor was it surprising that, while he was in office, The Washington Post counted more than 30,000 lies from Trump over four years.
More from MSNBC Daily
Must reads from Today's list
As we've been reminded recently, the sordid end of Trump's bid for another term made a lie — the claim that he won the 2020 election — central to Republican politics. On Wednesday, The Washington Post revealed that former Arizona Attorney General Mark Brnovich hid evidence debunking claims of election fraud. Text messages released last week in a court filing showed Fox News executives and anchors knew they were lying when they aired Trump loyalists' claims about election fraud. And earlier this month, audiotapes obtained by the Associated Press showed Trump campaign staffers in Wisconsin planning to "fan the flame" of doubt, even as they admitted Biden's victory among themselves.
This is lying on an industrial scale — from media outlets to government officials to political operatives. The Republican Party long ago decided that veracity is secondary to political success. And when it's so natural to distort the truth to make your opponents look worse, what's wrong with a few fibs to make yourself look better? No wonder the fabulists feel so much at home."
Trump inspired the House GOP's new class of would-be cons