Fears of renewed FBI abuse of power after informant infiltrated BLM protests
'Outraged' senator Ron Wyden urges agency to explain tactics from 2020 protests reminiscent of rogue behaviour from decades past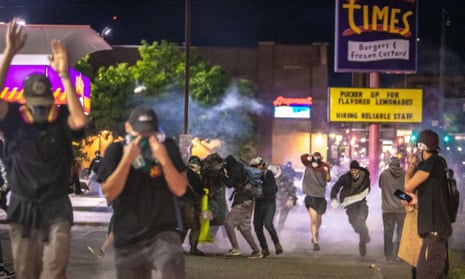 The FBI's use of an informant to infiltrate Black Lives Matter in Denver during the wave of protests over the 2020 police killing of George Floyd has prompted concern in Congress that the federal agency is once again abusing its powers to harass and intimidate minority groups.
Ron Wyden, the Democratic senator from Oregon, is calling for the FBI to explain how it came to recruit a violent felon as an informant who then went on to gain prominence among Denver racial justice activists. The informant is alleged to have encouraged protesters to engage in increasingly violent demonstrations while trying to entrap them in criminal misdeeds.
"If the allegations are true, the FBI's use of an informant to spy on first amendment-protected activity and stoke violence at peaceful protests is an outrageous abuse of law-enforcement resources and authority," Wyden told the Guardian.
Wyden sits on the Senate intelligence committee which has oversight over federal intelligence-gathering agencies, including the FBI. He also fought for public disclosure of Donald Trump's deployment in 2020 of more than 750 officers to his home town of Portland, Oregon, based on what he called "politicised and false intelligence reports".
The FBI's infiltration of Black Lives Matter in Denver "appears to show another instance of the Trump administration trampling on the rights of Americans in order to divide our country and gain a political advantage", Wyden said. "The FBI owes the public a full accounting of its actions, including how anyone responsible for attempting to entrap and discredit racial justice activists will be held accountable."
The Guardian contacted the FBI for a response but did not immediately hear back.
The new revelations of alleged FBI abuses towards Black activists comes at a paradoxical moment, given the efforts of the incoming Republican House leadership. On Thursday Jim Jordan, a staunch Trump loyalist from Ohio, chaired the opening hearing of his subcommittee on the "weaponization of the federal government" which seeks to show that the main victim of federal overreach is not minority and progressive groups but Donald Trump and his far-right supporters.
The actions of the FBI informant, Michael Windecker, or Mickey, as he was known, are revealed in a new 10-episode podcast by the investigative journalist Trevor Aaronson. Drawing on hours of undercover FBI recordings, along with internal FBI reports and interviews Aaronson conducted with genuine racial justice protest leaders, Alphabet Boys pieces together how Windecker inveigled himself into Black Lives Matter from May 2020.
Windecker, who the FBI paid $20,000 to spy on the activists, stood out from the crowd. He was white, while most protesters in Denver were African American, and dressed in military fatigues. He drove an ostentatious silver hearse with a boot filled with AR-15-style semi-automatic rifles and other firearms.
Despite his glaring profile, Windecker managed to convince activists that he was committed to the struggle for racial justice and could help them cope with volatility on the streets. He bragged about having served with the French Foreign Legion and the Kurdish Peshmerga.
As 2020's long hot summer of protests deepened, Windecker became more prominent in the Denver scene. He also became more proactive in his advice, encouraging activists to consider taking the protests to the next level.
He told one Black Lives Matter leader: "I can teach you how to shoot a gun, to hand-to-hand combat, all the way up to like blowing up fucking buildings and guerrilla warfare tactics and sabotage."
Audio clippings from the undercover recordings obtained by Aaronson reveal what Windecker then went on to ask the activist: "How extreme do you want it to go? Do you want to learn to shoot a gun and throw someone around, or do you want to go all the way uptown? If that's what you want to do, I can make it happen."
The podcast reports that Windecker went on to give an activist $1,500 to buy a gun for him, which led to the individual being arrested on weapons charges. Aaronson also alleges that the informant helped to organize a series of demonstrations in August 2020 that led to violent assaults on police stations.
Windecker denied being an FBI informant, but when Aaronson told him about the recordings he fell silent.
Congressman Jordan and his Republican team have taken to calling their "weaponization" subcommittee "the new Church committee". The reference is to the post-Watergate 1970s investigation led by the Democratic senator Frank Church into the rogue behaviour and abuses of power by the FBI and other federal agencies.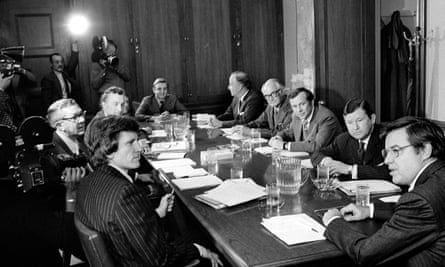 The attempt by Trump-allied Republicans to claim the mantle of the Church committee to justify weakening federal action against far-right attacks on American democracy has incensed those who participated in the 1970s investigation. Gary Hart, the former senator from Colorado who is the only surviving member of the Church committee, told the Guardian that the new House "weaponization" panel was the antithesis of what he and his colleagues had done.
"We did not have a partisan axe to grind, we bent over backwards to ensure the Church committee was not a partisan activity," Hart said. "What is going on in the House today is a purely Republican operation. They are trying to go back to the bad old days by destroying oversight, particularly as it applies to rightwing militias and the insurrection on January 6."
It is perhaps worth remembering what those "bad old days" of the 1960s and 70s invoked by Hart looked like. Before the Church committee succeeded in imposing guardrails on the surveillance and other activities of the FBI, the bureau was largely untethered.
J Edgar Hoover, the FBI's infamous director, ran rampant, instructing agents to "expose, disrupt, misdirect, discredit and otherwise neutralize" dissenting political groups in the US, especially African American ones. Under the vast Counter Intelligence Program, Cointelpro, which ran from 1956 to 1971, informants were used to infiltrate the civil rights movement and the Black Panthers, going so far as to blackmail Martin Luther King in an attempt to cajole him into killing himself.
One of the Bureau's favourite tricks was for its undercover FBI informants to spread rumours that the real leaders of leftwing and civil rights movements were themselves undercover FBI informants. The technique, which had a devastating impact on the Panthers, is known in the trade as "snitch-jacketing".
Alphabet Boys reveals that, in a chilling echo of Cointelpro, the FBI informant Windecker used exactly the same "snitch-jacketing" tactic to sow discord among the Black Lives Matter crowd in Denver during the 2020 summer of protests. At a time when his own cover was in danger of being blown, he planted seeds of doubt about key leaders suggesting they might be cooperating with police.
Hart told the Guardian that he had no special knowledge of the events in Denver. But he said that the podcast's disclosures were a timely warning against complacency.
"The Denver story and other recent stories indicate that in some ways oversight may have become lax," he said. "Maybe – and I don't know this for sure, but maybe – the FBI is slipping back into the old patterns."
I hope you appreciated this article. Before you move on, I was hoping you would consider taking the step of supporting the Guardian's journalism.
From Elon Musk to Rupert Murdoch, a small number of billionaire owners have a powerful hold on so much of the information that reaches the public about what's happening in the world. The Guardian is different. We have no billionaire owner or shareholders to consider. Our journalism is produced to serve the public interest – not profit motives.
And we avoid the trap that befalls much US media – the tendency, born of a desire to please all sides, to engage in false equivalence in the name of neutrality. While fairness guides everything we do, we know there is a right and a wrong position in the fight against racism and for reproductive justice. When we report on issues like the climate crisis, we're not afraid to name who is responsible. And as a global news organization, we're able to provide a fresh, outsider perspective on US politics – one so often missing from the insular American media bubble.
Around the world, readers can access the Guardian's paywall-free journalism because of our unique reader-supported model. That's because of people like you. Our readers keep us independent, beholden to no outside influence and accessible to everyone – whether they can afford to pay for news, or not.
If you can, please consider supporting the Guardian today. Thank you.
Betsy Reed
Editor, Guardian US"
Fears of renewed FBI abuse of power after informant infiltrated BLM protests | FBI | The Guardian