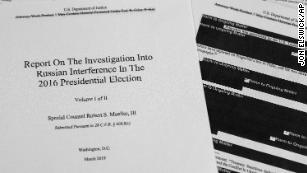 "Rep. Alexandria Ocasio-Cortez said Thursday that she would support impeachment proceedings against President Donald Trump after reading special counsel Robert Mueller's report.
Ocasio-Cortez's comments differ from Democratic leadership opting not to encourage impeachment. The report indicated that Mueller was unable to conclude that 'no criminal conduct occurred' on the issue of obstruction -- and deemed Congress capable of determining that Trump obstructed justice.
"Mueller's report is clear in pointing to Congress' responsibility in investigating obstruction of justice by the President. It is our job as outlined in Article 1, Sec 2, Clause 5 of the US Constitution," Ocasio-Cortez tweeted, promising to sign on to impeachment proceedings led by fellow freshman Democrat Rep. Rashida Tlaib of Michigan.
Ocasio-Cortez added, "While I understand the political reality of the Senate + election considerations, upon reading this DoJ report, which explicitly names Congress in determining obstruction, I cannot see a reason for us to abdicate from our constitutionally mandated responsibility to investigate."
Ocasio-Cortez says she'll sign on to impeachment proceedings - CNNPolitics