US economy going strong under Biden – Americans don't believe it
"Despite a strong economy, an exclusive Guardian poll shows mistrust in media and government means disbelief in both parties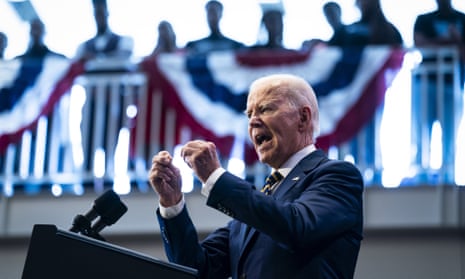 Americans do not trust the government's economic news – or the media's reporting of it – according to a Harris poll conducted exclusively for the Guardian that presents the White House with a major hurdle as it pushes Biden's economic record ahead of next year's election.
The US has roared back from the Covid recession by official measures. But two-thirds of Americans are unhappy about the economy despite consistent reports that inflation is easing and unemployment is close to a 50-year low. And the poll suggests many are unaware of or don't believe the positive economic news the government has reported.
The results illustrate a dramatic political split on economic views – with Republicans far more pessimistic than Democrats. But unhappiness about the economy is widespread.
Two-thirds of respondents (68%) reported it's difficult to be happy about positive economic news when they feel financially squeezed each month (Republicans: 69%, Democrats: 68%).

Two-thirds of Americans (65%) believe that the economy is worse than the media makes it out to be rather than better (35%).

In August the unemployment rate was 3.8%, close to a 50-year low. But the poll found that 51% wrongly believe that unemployment is nearing a 50-year high rather than those who believe it's actually low (49%).
The lack of confidence in the economy has many academics and politicians puzzled. Some have blamed the US's polarized politics and this was illustrated in the poll. But Harris's data also shows that fears are widespread – and reinforced by disbelief of or ignorance about official figures and a mistrust of the media's reporting of them.
Some 82% of Republicans and 66% of independents believe the economy is worse than the media's portrayal. But nearly half of Democrats (49%) also said the media viewed the economy too favorably.
Overall, the poll found widespread despondency about the state of the economy. More than half of Americans (53%) believe the economy is getting worse instead of better or staying the same. Republicans and independents are more likely to think it's getting worse (72% and 58%, respectively, v Democrats: 32%), while more Democrats think it's getting better (32% v Republicans: 8%, independents: 13%).
The results paint a difficult picture for Joe Biden, who is making "Bidenomics" – his economic policy record – a central plank of his re-election platform.
The views of those familiar with Bidenomics showed a perhaps unsurprising party split. Some 60% of Democrats believe his plans are improving the US economy overall compared with 12% of Republicans.
There is a widespread belief that Bidenomics is good in theory but isn't being implemented well – something both Democrats and Republicans agree with (62% v 58%).
Biden supporters have just launched a $13m advertising campaign extolling the president's economic achievements, which include a landmark $1.2tn infrastructure and climate bill, massive investment in domestic microchips production and green energy solutions. His legislative actions are predicted to create 1.5m jobs per year for the next decade.
That message may be hard to sell given the widespread disbelief of and ignorance about the health of the US economy highlighted by the poll.
As well as being wrong about the unemployment data, respondents were unaware of, or chose to mischaracterize, other major economic data points.
The widest measure of economic growth – gross domestic product – increased at a 2.1% annualized rate last quarter and has been steadily improving since the Covid downturn. But more respondents (59%) believe that the US economy is shrinking this year than those who believe it is growing (41%). More Republicans (72%) and independents (63%) believe the economy is shrinking than do Democrats. But still, a sizeable 44% of Democrats believe the economy is shrinking.
The S&P 500 stock market index is up 16% so far this year. But 59% of respondents wrongly said they believe the S&P is down for the year compared with those who said they believe it is up (41%). The majority of all those asked said the S&P was down whether Republican (66%), independent (60%) or Democrat (52%).
US wages are, finally, growing faster than inflation. But 75% of those polled wrongfully believe that wages aren't keeping up with inflation. That view is held by the majority of Republicans (84%), independents (75%) and Democrats (67%).
There was some good news for Biden. The poll found that 75% of respondents support at least one of the four main branches of Bidenomics: improving infrastructure, attracting high-tech electronics manufacturing, building clean energy manufacturing facilities and attracting more high-paying union jobs.
Still, 51% of Americans believe that government spending under the current administration is having a negative impact on the US economy (Republicans: 72%, independents: 54%, Democrats: 30%) rather than a positive impact (21%) or no impact (28%). And only just over a third of Democrats (35%) believe it's having a positive impact (Republicans: 11%, independents: 16%).
"All these perceptual-reality gaps underscore Biden's difficulty in claiming credit for economic gains. Americans either view the economy through their politics or aren't feeling it in real life, or both," said John Gerzema, the CEO of Harris Poll.
This survey was conducted online within the US by the Harris Poll from 1 to 3 September among a nationally representative sample of 2,055 US adults, where 1,063 were familiar with Bidenomics."
Betsy Reed
Editor, Guardian US
US economy going strong under Biden – Americans don't believe it | US elections 2024 | The Guardian