"Trump is effectively 'out of business' in New York, Michael Cohen says, after judge rules business fortune built on rampant fraud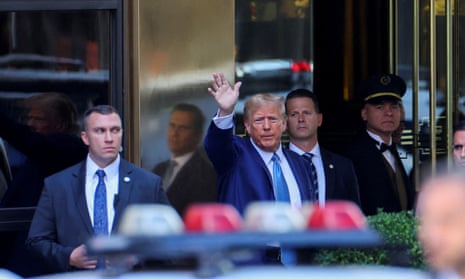 Donald Trump's real estate empire could collapse "like falling dominoes", experts believe, following a New York judge's ruling that the former president's business fortune was built on rampant fraud and blatant lies.
According to Michael Cohen, his former attorney and fixer, Trump is already effectively "out of business" in New York after Judge Arthur Engoron on Tuesday rescinded the licenses of the Trump Organization and other companies owned by Trump and his adult sons, Eric and Don Jr.
"Those companies will end up being liquidated … the judge has already determined that the fraud existed," Cohen told CNN, hailing Engoron's pretrial ruling in a civil case brought by Letitia James, the New York attorney general.
On Wednesday morning, in a confrontational post on his Truth Social website that branded the judge a "political hack", Trump said Engoron "must be stopped".
At a hearing on Wednesday afternoon, Trump's legal team asked Engoron if his ruling meant Trump's assets and businesses must be sold, or if they could continue to operate under receivership.
Engoron said he would address the issue at the non-jury trial beginning on 2 October, and extended to 30 days his original 10-day deadline for both parties to suggest names to act as receivers for the various companies.
The lawyers have said they will appeal the rescinding of the licenses, the appointment of receivers, and Engoron's assertion that Trump and executives lived in a "fantasy world" of routinely, repeatedly and illegally overvaluing property values and his personal net worth to gain favorable loan terms and reduced insurance premiums.
But if the appeals are unsuccessful, the collapse of the Trump empire, upon which the former reality TV host staked his reputation as a successful business tycoon, could be imminent.
It would probably start with the sale of Trump's most prestigious real estate assets, experts say, including Trump Tower in New York, golf courses and resorts around the US, and possibly his prized Mar-a-Lago club in Florida, if it is determined to be a business operation instead of his primary residential home.
In his post on Wednesday, Trump decried the judge's $18m valuation of Mar-a-Lago, claiming it was worth "100 times more than he values it".
William Black, a white-collar criminologist, corporate fraud investigator and distinguished scholar in residence for financial regulation at the University of Minnesota law school, said: "In finance, once the dominoes start falling, it becomes basically impossible to save it.
"These properties are even more damaged goods today because of the success in demonstrating they are massively overvalued. The most likely thing, if you get an honest agent or receiver, they're going to sell the properties at a loss. And when you've got a whole bunch of properties, with the first one you just desperately need to get some action and that gets discounted the most."
Black, who helped expose congressional wrongdoing in the Lincoln Savings and Loans scandal of the 1980s, in which the financier Charles Keating inflated his company's worth to bilk taxpayers for billions, called Engoron's ruling "devastating". He believes Trump insiders and employees would have incentive to come forward with more information if he loses his wealth and influence.
"What we experienced in the Savings and Loan debacle, we would put in an honest manager and employees would start coming to that person over time and say, 'You know, you really ought to look at this,'" Black said.
"Trump is monumentally, stupidly greedy in that he isn't actually paying for a number of key lieutenants in terms of their legal needs, and they're facing financial collapse of their own, [such as] the Rudy Giulianis of this world. But a lot of folks can sink Trump.
"Having this ability to control all these assets, even if they're massively overvalued, meant hope springs eternal among the Trump folks that he can use that money and influence to help them, but if Trump instead ends up bereft of control over the overwhelming bulk of his assets, and has lots of liabilities, sugar daddy goes away."
Engoron's independent court-appointed monitor for the Trump Organization, the retired federal judge Barbara Jones, reported last month she had identified inconsistency and incompleteness in financial disclosures.
Others also see the writing on the wall.
"Donald Trump is no longer in business," David Cay Johnston, author of the Trump-themed book The Big Cheat, wrote in DC Report.
"Barring a highly unlikely reversal by an appeals court, Trump's business assets eventually will be liquidated since he cannot operate them without a business license. The various properties are likely to be sold at fire sale prices and certainly not for top dollar when liquidation begins, probably after all appeals are exhausted.
"I give Trump's chances of prevailing on appeal at somewhere between zero and nothing except perhaps on some minor procedural point, which you can be sure Trump will describe as complete vindication."
Joyce Vance, a retired US attorney and University of Alabama law school professor, called Engoron's ruling "justice".
"This is New York's corporate death penalty, applied to Trump because of years of misconduct," she wrote on X, formerly Twitter.
Black said Trump's downfall would be self-inflicted.
"The key to these frauds is not genius, it's audacity, but Trump never wanted to do it himself, he's too lazy, right?" he said.
"And now he doesn't control the people who have to actually do the deals. So they're now forced into thousands of discussions, first with this judge, now this receiver, and that can't work.
"You won't be able to do the scams, and you won't be able to do things quickly, either. That means a domino effect in credit failings and bankruptcies. As people start taking action against your properties, the liquidity you're boasting isn't going to be there and you're going to get a bankruptcy."