"Jason Aldean is a country music star and a big fan of law and order. He loves the law so much, in fact, that he's willing to take it into his own hands.
If you come to his (imaginary) small town and disrespect a cop or engage in any sort of protest, you will regret it.
Such is the theme of Aldean's new song, Try That in a Small Town, which is all about how the singer and his pals will aggressively deal with unseemly behaviour on their turf. A sample extract: "Cuss out a cop, spit in his face … Well, try that in a small town / See how far ya make it down the road. / Around here, we take care of our own …"
A little later in the song Aldean elaborates further on what might happen if lines are crossed. "Got a gun that my granddad gave me / They say one day they're gonna round up. / Well, that shit might fly in the city, good luck." He is, it would appear, referencing a conspiracy theory that the government is going to confiscate Americans guns to impose martial law.
Try That in a Small Town was released in May but when the music video came out last Friday it generated immediate controversy. The video leaves little doubt as to what Aldean is trying to communicate: it intersperses footage of him singing in front of Maury county courthouse in Tennessee – the site of the lynching of a Black man, Henry Choate, in 1927 – with footage from protests, looting and civil unrest. Small towns are wholesome, the message is. Full of "good ol' boys" who were "raised up right". Cities, meanwhile, are hotbeds of violence … and diversity.
That last bit isn't spelled out – it's not like Aldean yells "I'm a massive racist!" in the middle of the track – but the dog whistles are difficult to ignore. The song has been called "a modern lynching song" by detractors and the video was pulled from Country Music Television (CMT) on Monday. (While CMT has confirmed the video was taken off rotation, it hasn't put out a statement as to why.) Fellow country star Sheryl Crow has also voiced her disapproval. "There's nothing small-town or American about promoting violence," Crow tweeted on Tuesday. She further noted that Aldean should know better, "having survived a mass shooting". Crow was referencing the shooting at Las Vegas's Route 91 Harvest festival in 2017: the deadliest mass shooting by a lone shooter in modern US history. Aldean was performing and got out unscathed. He was lucky. Sixty people were killed and 867 injured. Those people weren't killed and injured by a Black Lives Matter protester. They were killed by Stephen Paddock, an angry white man from Iowa.
Try That in a Small Town has generated a lot of criticism, but it also has fervent supporters. Including, of course, GOP lawmakers. "I am shocked by what I'm seeing in this country with people attempting to cancel this song and cancel Jason and his beliefs," the South Dakota Republican governor, Kristi Noem, posted in a video on Twitter on Wednesday. The Tennessee house GOP leader, William Lamberth, similarly tweeted: "Loved this song since it was released and will continue to fight every day to spread small town values … Give it a listen. The woke mob will hate you for liking this song." Sarah Huckabee Sanders, the governor of Arkansas, also didn't miss the chance to stoke a little culture war. "The Left is now more concerned about Jason Aldean's song calling out looters and criminals than they are about stopping looters and criminals," she tweeted.
Aldean, for his part, is furious at insinuations there is anything racist in his song about shooting outsiders who come to his little country town.
"In the past 24 hours I have been accused of releasing a pro-lynching song," Aldean tweeted on Wednesday, "and was subject to the comparison that I (direct quote) was not too pleased with the nationwide BLM protests. These references are not only meritless, but dangerous. There is not a single lyric in the song that references race or points to it – and there isn't a single video clip that isn't real news footage."
If Aldean isn't trying to make a point about the Black Lives Matter protests, what is Try That in a Small Town about then? Community, apparently. "When u grow up in a small town, it's that unspoken rule of 'we all have each other's backs and we look out for each other,'" Aldean wrote on Instagram when he launched the video. "It feels like somewhere along the way, that sense of community and respect has gotten lost."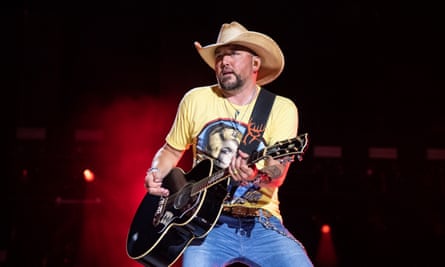 Perhaps you're wondering which quaint small town Aldean grew up in. The answer is: he didn't. Aldean is from Macon, Georgia – a city with a population of around 153,000 people. Now he lives in Nashville, a city with a population of approximately 700,000. The small town he's singing about is a product of his imagination.
But that's conservatives for you. Last month Nikki Haley tweeted about how much better the US used to be back in the days before marginalized people had rights. "Do you remember when you were growing up, do you remember how simple life was, how easy it felt? It was about faith, family, and country," she tweeted.
Was the past really that easy for the former South Carolina governor? By her own admission things have got a hell of a lot better for people who, like her, aren't 100% white. "Years ago I was disqualified from a pageant because they didn't know whether to put me in the white category or the black," she wrote on Facebook in 2012. "I was neither. Tonight I watched my daughter get first place in her school pageant. God has an amazing way of bringing things full circle." God also has an amazing away of depriving people like Haley of self-awareness.
Aldean's song doesn't just epitomize manufactured rightwing nostalgia, it also encapsulates rightwing paranoia. People on the right are obsessed with the idea that big cities are violent hotbeds of crime where you risk your life every time you nip out for a pint of milk. In reality, however, big cities tend to be safer than small towns. A 2013 study by the University of Pennsylvania, for example, found the risk of death from an injury was more than 20% higher in rural small towns than in larger cities. "Cars, guns and drugs are the unholy trinity causing the majority of injury deaths in the US" one of the researchers told NBC News at the time.
The pandemic, to be fair, saw a rise in violent crimes in cities. But even still, you've got a better chance of living a long, healthy life in a city. A 2021 US Centers for Disease Control and Prevention report on mortality data from 1999 to 2019 found people living in rural areas die at higher rates than those living in urban areas. That's because they have less access to healthcare and are more likely to live in poverty.
So what's next for Aldean? Well, I've got some good news for all the Republican lawmakers screeching about how unfair it is that Aldean has been cancelled by the woke mob: he's going to be fine. Indeed, he's going to be more than fine. Country music (and America) has a way of opening its arms to people accused of racism and making them feel right at home. Just look at Morgan Wallen, for example. In February 2021 TMZ published a video of the musician drunkenly yelling the N-word during a conversation with a friend. He was shunned from polite society for a few months but made a rapid comeback. He won album of the year at the Academy of Country Music Awards in 2022. His song Last Night is currently in its 14th week at number one on the Billboard Hot 100. If it sticks there a little longer he'll beat the 19-week record currently held by Lil Nas X's Old Town Road, featuring Billy Ray Cyrus.
While people on the right may be railing about Aldean being "cancelled", the sad truth is that this will probably help his career. He'll go on Fox News and yell about wokeness. He'll wallow in his imagined victimhood. His song will probably be played in rallies for the next Republican nominee for president. Aldean hasn't been cancelled or silenced – his message has been amplified."