Research marks first time largely unregulated subclass of flame retardants called bromophenols found in human breast milk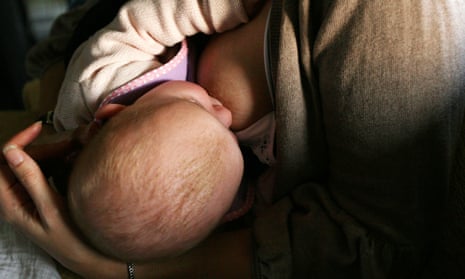 "New peer-reviewed research has identified 25 kinds of toxic flame retardant in human breast milk in the US, and all samples contained at least some level of the dangerous chemicals.
The compounds are part of the brominated flame retardant class, which are commonly used in plastic, televisions, appliances and electronics. The research also marks the first time a largely unregulated subclass of the flame retardants, called bromophenols, have been found in breast milk.
The chemicals are thought to be potent neurotoxins, especially for developing children, and the findings are "disturbing", said Erika Schreder, a toxicologist with Toxic Free Future and a study co-author.
"The production and use of these compounds continues, and they are likely to impact children's health until governments require companies to end their use and switch to safer solutions," the study's authors wrote.
The researchers, also from Emory University, the University of Washington, and Seattle Children's Research Institute, checked milk samples from 50 mothers across the US.
Brominated flame retardants are a class of at least 75 chemicals used to prevent combustion in consumer products and electronics. Some older versions of the chemicals were removed from the marketplace in the 1970s because they were so toxic, and newer iterations have raised health concerns.
Among other issues, many of the compounds are linked to memory impairment, increased impulsivity, impaired motor skills, decreased attention and overall lower measures of intelligence in children. Some of the chemicals may also be carcinogenic. Humans are exposed to brominated flame retardants when the chemicals break off from the plastics, get in dust, and are either breathed in or ingested.
In 2007, some states started enacting bans on polybrominated diphenyl ethers (PBDEs), one commonly used subclass of the flame retardants, prompting some in the industry to stop using or producing them. The new research found concentrations of PBDEs in milk seem to be decreasing over time – median levels in mothers in the Pacific north-west region are about 70% lower than researchers found in a similar study 20 years ago.
The findings show "regulations work for making breast milk safer", Schreder said, but she added that it highlights how unregulated flame retardants are still a problem.
As PBDEs have attracted increased regulatory scrutiny and their health risks have become clear, industry has started switching to bromophenols subclass. Though the two chemicals are structurally similar and used for the same purpose, bromophenols are unregulated because so little is known about their toxicity.
However, like their predecessors, bromophenols have been linked to brain development disorders, and the study found the chemicals in 88% of samples.
The process by which chemical companies slightly alter chemicals' properties to make similar compounds that evade regulation is called "regrettable substitution", and industry's actions with brominated flame retardants is a "classic" case of it, Schreder said.
"The parallels between these chemicals are extremely disturbing, and we're seeing bromophenols building up in breast milk," Schreder said. "I hope we can learn our lesson this time and put policies in place that address the entire class and make sure chemicals used in products are known to be safe."
The European Union and New York recently passed bans of the entire class of brominated flame retardants in electronic displays or enclosures, while the state of Washington this year enacted a wider ban on their use in electronics.
Safer alternatives exist, Schreder added. Best Buy recently stopped using PBDEs in products it manufactures, and did research to find the safest alternative.
"That is an example of how it should be done," Schreder said."