Alert on Non-News Sources such as Newsmax
"In a Scientific American interview shortly after January 6, 2021, I outlined three mechanisms by which the Trump contagion, or the "psychological pandemic" Donald Trump began, could be contained: (1) removal of the offending agent, or the influential person with severe symptoms; (2) dismantling systems of thought control, such as cultic programming; and (3) fixing the socioeconomic conditions that gave rise to a poor state of collective mental health in the first place.
As the megastar of "talk radio," Rush Limbaugh was once the pre-Trump source of contagion of dangerous ideas. Unsurprisingly, Donald Trump gave him much praise, along with an unprecedented awarding of the highest civilian honor, the medal of freedom, with Melania Trump personally putting it on him to a standing ovation before the entire nation during a State of the Union address.
Now, Newmax, surpassing even Fox News in fanatical propaganda or programming of the mind, has been using the spread of symptoms to expand rapidly with fast-growing impact, viewers, and influence. Newsmax has used post-Limbaugh streaming technology to become, essentially, "talk television." Now, dozens of previously unknown, "would-be Limbaughs" compete, alongside Dick Morris, Greta Van Susterin, Mike Lindell, and Alan Dershowitz, as to who can be the most Trumpesque, sensationalist, and outrageous.
The result is considerable factual and psychological harm flowing daily from this Newsmax "talk television" streaming network, already claiming to be the fourth largest in viewership, even though it cannot be watched on any legacy channel. A result is that this manifestation of the Trump contagion is more and more undermining the political and mental health of the nation, along with the foundational structure and the institutional stability of American democracy, thus setting the stage for Donald Trump's protégés to return to the presidential, as well as legislative and judicial, authority and power.
We continue to fail to fix the conditions that gave rise to a mentally-impaired leader. Just as we once cleaned up the sewer system, we need to dismantle the systems that emit "psychological toxins" for the purpose of thought control, such programs that masquerade as "news"—of which Newsmax is only one."
Forensic psychiatrist Bandy X. Lee explains the outgoing president's pathological appeal and how to wean people from it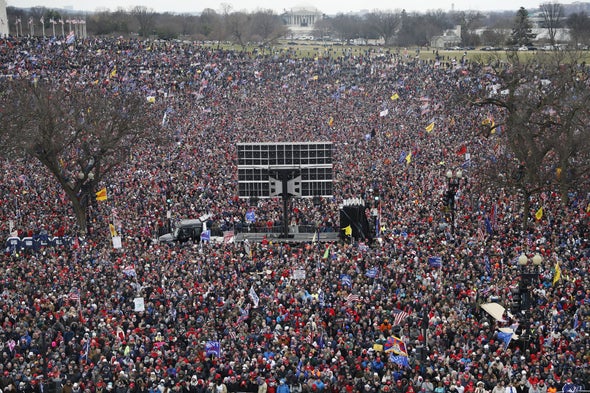 The violent insurrection at the U.S. Capitol Building last week, incited by President Donald Trump, serves as the grimmest moment in one of the darkest chapters in the nation's history. Yet the rioters' actions—and Trump's own role in, and response to, them—come as little surprise to many, particularly those who have been studying the president's mental fitness and the psychology of his most ardent followers since he took office.
One such person is Bandy X. Lee, a forensic psychiatrist and president of the World Mental Health Coalition.* Lee led a group of psychiatrists, psychologists and other specialists who questioned Trump's mental fitness for office in a book that she edited called The Dangerous Case of Donald Trump: 27 Psychiatrists and Mental Health Experts Assess a President. In doing so, Lee and her colleagues strongly rejected the American Psychiatric Association's modification of a 1970s-era guideline, known as the Goldwater rule, that discouraged psychiatrists from giving a professional opinion about public figures who they have not examined in person. "Whenever the Goldwater rule is mentioned, we should refer back to the Declaration of Geneva, which mandates that physicians speak up against destructive governments," Lee says. "This declaration was created in response to the experience of Nazism."
Lee recently wrote Profile of a Nation: Trump's Mind, America's Soul, a psychological assessment of the president against the backdrop of his supporters and the country as a whole. These insights are now taking on renewed importance as a growing number of current and former leaders call for Trump to be impeached. On January 9 Lee and her colleagues at the World Mental Health Coalition put out a statement calling for Trump's immediate removal from office.
Scientific American asked Lee to comment on the psychology behind Trump's destructive behavior, what drives some of his followers—and how to free people from his grip when this damaging presidency ends.
[An edited transcript of the interview follows.]
What attracts people to Trump? What is their animus or driving force?
The reasons are multiple and varied, but in my recent public-service book, Profile of a Nation, I have outlined two major emotional drives: narcissistic symbiosis and shared psychosis. Narcissistic symbiosis refers to the developmental wounds that make the leader-follower relationship magnetically attractive. The leader, hungry for adulation to compensate for an inner lack of self-worth, projects grandiose omnipotence—while the followers, rendered needy by societal stress or developmental injury, yearn for a parental figure. When such wounded individuals are given positions of power, they arouse similar pathology in the population that creates a "lock and key" relationship.
"Shared psychosis"—which is also called "folie à millions" ["madness for millions"] when occurring at the national level or "induced delusions"—refers to the infectiousness of severe symptoms that goes beyond ordinary group psychology. When a highly symptomatic individual is placed in an influential position, the person's symptoms can spread through the population through emotional bonds, heightening existing pathologies and inducing delusions, paranoia and propensity for violence—even in previously healthy individuals. The treatment is removal of exposure.
Why does Trump himself seem to gravitate toward violence and destruction?
Destructiveness is a core characteristic of mental pathology, whether directed toward the self or others. First, I wish to clarify that those with mental illness are, as a group, no more dangerous than those without mental illness. When mental pathology is accompanied by criminal-mindedness, however, the combination can make individuals far more dangerous than either alone.
In my textbook on violence, I emphasize the symbolic nature of violence and how it is a life impulse gone awry. Briefly, if one cannot have love, one resorts to respect. And when respect is unavailable, one resorts to fear. Trump is now living through an intolerable loss of respect: rejection by a nation in his election defeat. Violence helps compensate for feelings of powerlessness, inadequacy and lack of real productivity.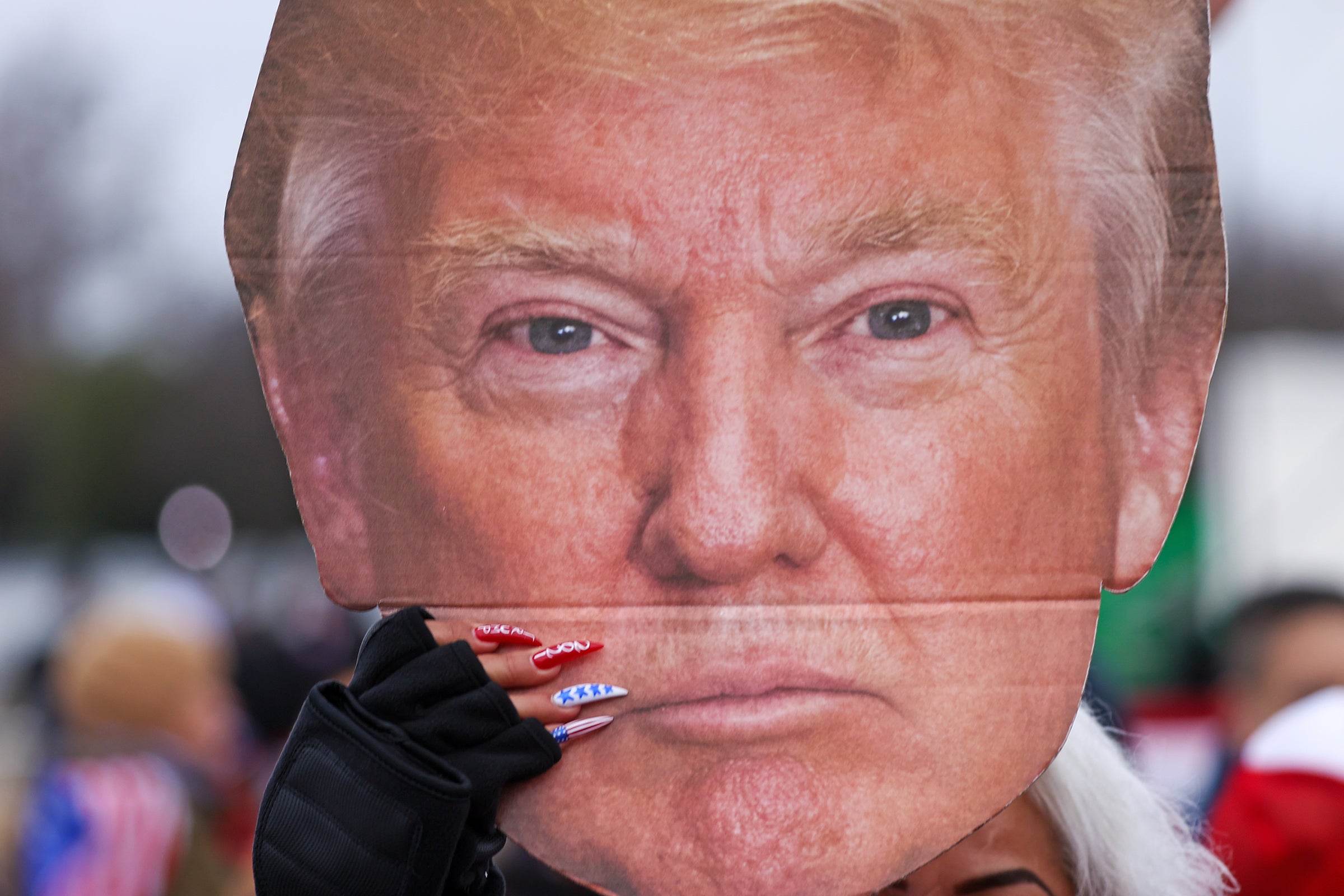 Do you think Trump is truly exhibiting delusional or psychotic behavior? Or is he simply behaving like an autocrat making a bald-faced attempt to hold onto his power?
I believe it is both. He is certainly of an autocratic disposition because his extreme narcissism does not allow for equality with other human beings, as democracy requires. Psychiatrists generally assess delusions through personal examination, but there is other evidence of their likelihood. First, delusions are more infectious than strategic lies, and so we see, from their sheer spread, that Trump likely truly believes them. Second, his emotional fragility, manifested in extreme intolerance of realities that do not fit his wishful view of the world, predispose him to psychotic spirals. Third, his public record includes numerous hours of interviews and interactions with other people—such as the hour-long one with the Georgia secretary of state—that very nearly confirm delusion, as my colleague and I discovered in a systematic analysis.
Where does the hatred some of his supporters display come from? And what can we do to promote healing?
In Profile of a Nation, I outline the many causes that create his followership. But there is important psychological injury that arises from relative—not absolute—socioeconomic deprivation. Yes, there is great injury, anger and redirectable energy for hatred, which Trump harnessed and stoked for his manipulation and use. The emotional bonds he has created facilitate shared psychosis at a massive scale. It is a natural consequence of the conditions we have set up. For healing, I usually recommend three steps: (1) Removal of the offending agent (the influential person with severe symptoms). (2) Dismantling systems of thought control—common in advertising but now also heavily adopted by politics. And (3) fixing the socioeconomic conditions that give rise to poor collective mental health in the first place.
What do you predict he will do after his presidency?
I again emphasize in Profile of a Nation that we should consider the president, his followers and the nation as an ecology, not in isolation. Hence, what he does after this presidency depends a great deal on us. This is the reason I frantically wrote the book over the summer: we require active intervention to stop him from achieving any number of destructive outcomes for the nation, including the establishment of a shadow presidency. He will have no limit, which is why I have actively advocated for removal and accountability, including prosecution. We need to remember that he is more a follower than a leader, and we need to place constraints from the outside when he cannot place them from within.
What do you think will happen to his supporters?
If we handle the situation appropriately, there will be a lot of disillusionment and trauma. And this is all right—they are healthy reactions to an abnormal situation. We must provide emotional support for healing, and this includes societal support, such as sources of belonging and dignity. Cult members and victims of abuse are often emotionally bonded to the relationship, unable to see the harm that is being done to them. After a while, the magnitude of the deception conspires with their own psychological protections against pain and disappointment. This causes them to avoid seeing the truth. And the situation with Trump supporters is very similar. The danger is that another pathological figure will come around and entice them with a false "solution" that is really a harnessing of this resistance.
How can we avert future insurrection attempts or acts of violence?
Violence is the end product of a long process, so prevention is key. Structural violence, or inequality, is the most potent stimulant of behavioral violence. And reducing inequality in all forms—economic, racial and gender—will help toward preventing violence. For prevention to be effective, knowledge and in-depth understanding cannot be overlooked—so we can anticipate what is coming, much like the pandemic. The silencing of mental health professionals during the Trump era, mainly through a politically driven distortion of an ethical guideline, was catastrophic, in my view, in the nation's failure to understand, predict and prevent the dangers of this presidency.
Do you have any advice for people who do not support Trump but have supporters of him or "mini-Trumps" in their lives?
This is often very difficult because the relationship between Trump and his supporters is an abusive one, as an author of the 2017 book I edited, The Dangerous Case of Donald Trump, presciently pointed out. When the mind is hijacked for the benefit of the abuser, it becomes no longer a matter of presenting facts or appealing to logic. Removing Trump from power and influence will be healing in itself. But, I advise, first, not to confront [his supporters'] beliefs, for it will only rouse resistance. Second, persuasion should not be the goal but change of the circumstance that led to their faulty beliefs. Third, one should maintain one's own bearing and mental health, because people who harbor delusional narratives tend to bulldoze over reality in their attempt to deny that their own narrative is false. As for mini-Trumps, it is important, above all, to set firm boundaries, to limit contact or even to leave the relationship, if possible. Because I specialize in treating violent individuals, I always believe there is something that can be done to treat them, but they seldom present for treatment unless forced.
*Editor's Note (1/12/21): This sentence has been revised after posting to correct Bandy X. Lee's current affiliation"