Disney fans are fighting online in response to the company's lawsuit against DeSantis
"Walt Disney World vacation-planning forums have turned into political battlegrounds.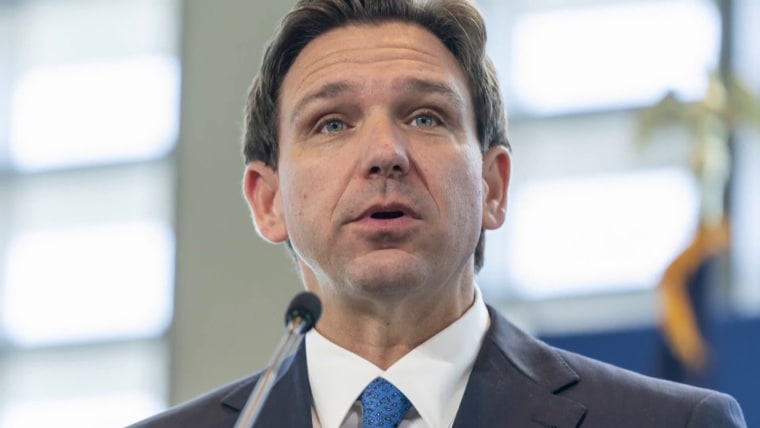 On Disney World vacation-planning blogs and forums, daily discussion usually revolves around ride wait times, crowd density and annual pass rates. But when Disney World sued Florida Gov. Ron DeSantis on Wednesday, conversation turned to the culture wars.
One moderator of the Disney World subreddit wrote, "I've removed at least 40 comments from people being very rude/ hateful towards Desantis and more importantly his children and spouse."
A separate commenter responded to the lawsuit by writing, "Please boycott [Walt Disney World] from June 3rd to June 11th. Thank you in advance."
On Wednesday, the DeSantis-appointed Central Florida Tourism Oversight District board declared Disney's development agreement for future park plans in Orlando "void" and "unenforceable." That same day, Disney sued DeSantis and the board members, alleging a "targeted campaign of government retaliation" that violated the company's protected speech. On Thursday, DeSantis brushed off the lawsuit as "political" during a press conference.
After Disney opposed DeSantis' controversial Parental Rights in Education Act, colloquially known as the "Don't Say Gay" bill, DeSantis' administration has repeatedly targeted Disney Parks and Disney's flagship location in Orlando, calling the company "woke" and accusing Disney of "indoctrinating young children." The rhetoric and accompanying threats — which include DeSantis suggesting measures like putting a "state prison" next to Disney World — have caused a stir in the formerly apolitical world of Disney tourism.
The resulting conflict over Disney's property and land-use rights has left Disney bloggers and moderators of the largest Walt Disney World fan forums in the tricky position of enforcing family-friendly, civility and "no politics" rules in their online communities.
"People are free to say they disagree with policies and what's happening, but once they use adjectives and personal attacks and things like that, especially name-calling, we have pretty strict rules as a Disney World subreddit," one of the moderators for the largest Walt Disney World subreddit, with over 616,000 members, said in a phone interview.
"We remove a whole lot of stuff to be safe, and we get pushback from the left and the right," said the moderator, who asked that his name not be disclosed for his privacy. "We have folks saying, 'You guys are obviously a bunch of liberal shills' and then we have people saying, 'You guys are fascist enablers.'"
The lawsuit also follows DeSantis' move to dissolve the Reedy Creek Improvement District, the special governing district that was formed so Disney could maintain its own city-within-a-city, complete with its own infrastructure, roads, fire department and water district. DeSantis signed the bill in April 2022 and it will take effect in June 2023.
Travel and Disney Parks blogger Tom Bricker, who runs the Disney Tourist Blog, has been authoring blog updates as the political turmoil around DeSantis and Reedy Creek continues. Bricker's writing is largely nonpolitical and he moderates the comments with a similar mentality.
"For years, our comment policy was simply 'no politics,'" Bricker wrote in an emailed statement.
Things changed even before DeSantis turned against Disney, Bricker said, after the park shut down due to Covid-19 quarantine. Bricker and the Disney World subreddit moderator said that discussion about the theme park operations converged with political discourse, as vaccinations and the use of masks became politicized.
As someone who covers both Disney World and Disneyland, which is located in Anaheim, California, Bricker said he could apply the same moderation principles to the different approaches the two state governors took.
"Throughout that, we adopted a viewpoint-neutral attitude that encouraged readers to express their opinions and debate policies in a civil manner," Bricker wrote. "Basically, 'attack ideas, not people.'"
In a recent blog post, Bricker criticized DeSantis' tactics, calling them "political theater."
"These are not serious people with sincere motivations," he wrote.
While the Disney World subreddit moderator said this is the most political topic he's seen discussed in Disney fandom, he said there have been other heated debates in the forum's history, including when Disney banned smoking and vapingin 2019 and when it was rumored that Disney's President Donald Trump audio-animatronic in the Hall of Presidents attraction was originally supposed to be Hillary Clinton.
"I or another moderator will usually stick a comment at the top of the thread that says, 'Hey, remember this is a Disney World site, let's try to keep politics out of it,'" the moderator said.
Bricker said his blog is "fortunate to have a following of thoughtful people who express themselves respectfully even when disagreeing." Still, moderation isn't easy.
"It can be a tough needle to thread and unpleasant task, especially since the subject matter of Disney skews more toward fantasy and escapism — and all of this is decidedly not that," Bricker wrote."
Disney fans fight online after company sues Gov. Ron DeSantis