"Law enforcement may not only have to deal with the practicalities of potential mass gatherings at the courthouse, but also with threats against judges and prosecutors.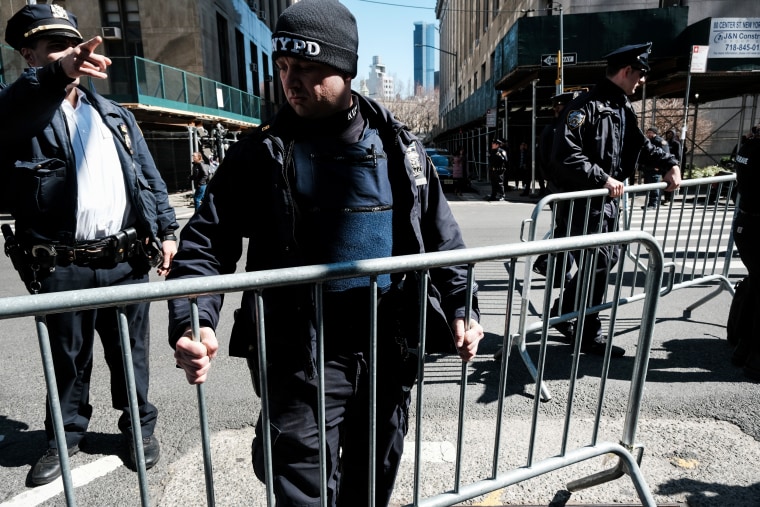 NEW YORK — A grand jury indictment of former President Donald Trump over the hush money payment made to Stormy Daniels could set off an unprecedented security challenge for law enforcement, according to law enforcement and security analysts.
There are the practical logistics, of course, involving security around the courthouse if Trump makes an appearance — an event that could draw crowds of supporters and detractors. An indictment would spark long-term issues, like responding to possible threats against law enforcement and judicial officials, as has occurred in other cases involving Trump.
The security challenges came into sharp view on Friday, as the FBI and the New York Police Department investigated a death threat and white powder sent to Manhattan District Attorney Alvin Bragg, whose office is leading the Trump hush money investigation. The DA's office said that the substance was not determined to be dangerous, but, according to law enforcement sources, it accompanied a letter that read, "ALVIN: I AM GOING TO KILL YOU!!!!!!!!!!!!!"
Police this week set up bike rack barricades — the same kind that a pro-Trump mob dispensed with in seconds on Jan. 6, 2021 — around the New York courthouse where a grand jury is deliberating and where the indictment could come down. Capitol Police, who were overwhelmed by the mob on Jan. 6, also said they are on the lookout for threats and told staffers that they may see an increased law enforcement presence, as NBC News previously reported.
NBC News reported last week that New York law enforcement officials had already begun preparing for a possible indictment and that security discussions included the NYPD, New York State Court Officers, the U.S. Secret Service, the FBI's Joint Terrorism Task Force and the Manhattan District Attorney's Office.
During those meetings, officials have discussed possible routes of arrival for the former president should he be flown to New York to face any charges.
Multiple law enforcement sources told NBC News that there have been discussions about additional security measures for the judge assigned to the Trump case as well as the prosecutors involved. There have been several hundred threats to Bragg, the DA's office and others in recent weeks, a senior New York law enforcement official said. A few dozen are considered directly threatening serious harm to Bragg.
Trump still has the ability to assemble large crowds at a given location. While Trump has called for supporters to "PROTEST, PROTEST, PROTEST," he has not yet given his followers a time and place to assemble. Security officials worry that if he does, that could spell trouble, just as it did on Jan. 6.
Researchers who monitor the online spaces where far-right groups organize say that while efforts to coordinate a large protest have largely fallen flat so far, users are still calling for the assassination or capture of Democratic political figures.
"I want every traitor hanging from a rope when all this ends. EVERY TRAITOR. They can all die," one person wrote in an online forum used by Trump supporters.
"Now it's time we Americans need to go in guns blazing I'm willing to risk my life to show biden crimes are far worse. Civill war is now if he arrested," a user wrote on Truth Social, the former president's social media platform.
Daniel J. Jones, head of the nonpartisan, nonprofit online tracking firm Advance Democracy, said that "Trump's calls to 'protest' in response to his reported impending arrest have led to threats of violence against government officials and law enforcement."
Jones noted that users on the Trump-owned Truth Social and the pro-Trump forum TheDonald, where users shared travel plans and pictures of weapons ahead of the Jan. 6 riot, were posting threats of violence targeting Bragg.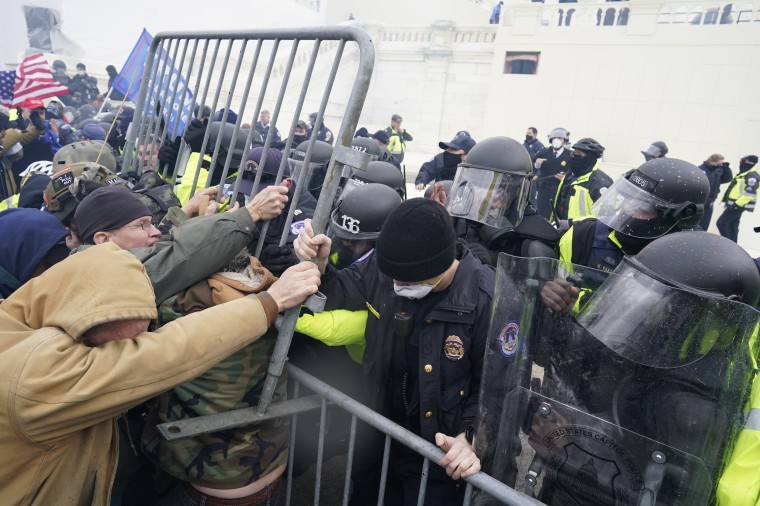 Users on TheDonald threatened to "blow up" the DA's office and "take out" Bragg. Others on Truth Social implored others to "take out [left-wing megadonor George] Soros" and "run [him] through a tree limb chipper," urging one another to "go in guns blazing" and start a "civil war now if [Trump] is arrested."
On Tuesday, a bomb threat was called into the New York State Supreme Court building ahead of proceedings in a separate case against Trump. The case, which is underway in lower Manhattan, is a $250 million lawsuit brought by New York Attorney General Letitia James against Trump.
Trump had posted about James on his Truth Social that afternoon.
"While Congress is at it, they should look at the Corrupt Attorney General of New York State, Letitia James, who got elected solely on a 'I WILL GET TRUMP' platform," he wrote.
Supporters have largely responded to the call for protests by arguing amongst themselves that federal law enforcement will infiltrate their demonstrations, dubbed "fed traps." Many of Trump's most strident supporters on Truth Social and TheDonald falsely believe that Jan. 6 itself was an elaborate scheme by Antifa and the FBI to entrap Trump supporters.
A planned protest outside of Manhattan Criminal Court on Monday organized by the New York Young Republicans Club drew around three dozen Trump supporters, who were quickly surrounded by national media.
Those seeking to gain information about the protest, including its location, had to sign up for an email list to receive it. The exact location of the protest wasn't publicly known until about an hour before it began, potentially dampening turnout.
Advance Democracy's Jones warned that his analysis shows considerably more threats of acts of violence by lone actors than large-scale groups.
"While we have not yet identified specific plans to engage in large-scale violence, we remain concerned about singular acts of political violence occurring in the days ahead," Jones said.
In August, a Truth Social user named Ricky Shiffer posted to his account shortly after attempting to shoot into an FBI field office in Ohio. Shiffer —who had been at the Capitol on Jan. 6 — had written in a post that "we must not tolerate this one" after federal agents raided Donald Trump's home in a separate federal investigation into the former president. Shiffer died after a manhunt by police.
One of the very first rioters to breach the Capitol on Jan. 6 — a man many Trump supporters believe was antifa — was Trump supporter Edward Kelley, who jumped through a broken window and then helped bust open a door for other rioters while he was wearing a sweatshirt for the Church at Planned Parenthood, an anti-abortion group, video shows. After his arrest, federal officials later alleged Kelley plotted to kill the FBI special agents who investigated him. He was picked up on those new charges in December and is currently being held awaiting trial.
The FBI currently has the identities of hundreds of additional Jan. 6 participantswho could face charges for their actions during the Capitol attack but who have not yet been arrested, including more than 100 who are seen on video engaged in violent activity. It is unclear if the bureau has sought to prioritize the arrests of those individuals who have already proven themselves willing to commit political violence on Trump's behalf. "
The FBI declined to comment on its preparations for a potential Trump indictment.
Jonathan Dienst and Ben Collins reported from New York, Reilly reported from Washington"