Atlanta's Black community raises voice against 'Cop City' police base
"Protesters ask 'Mayor Andre Dickens – is this enough Black folks for you?' in demonstration against $90m training center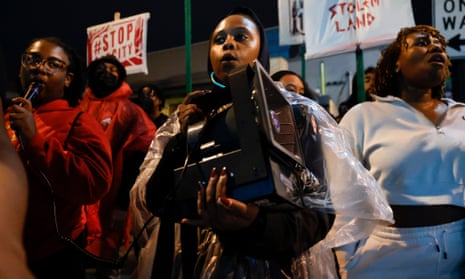 Kamau Franklin stood in midtown Atlanta on a recent chilly, drizzly night, held a microphone and addressed a crowd that had peacefully marched a mile to the headquarters of the Atlanta Police Foundation – the organization behind the $90m police and fire department training center known as "Cop City".
"[Atlanta] Mayor Andre Dickens – is this enough Black folks for you?" he began, with several dozen Atlanta police department officers standing behind him, most with riot helmets and some with long guns, guarding the entrance to the 50-story building.
"Mayor Andre Dickens – do we have enough people from Atlanta here for you?" he continued.
Franklin, founder of an Atlanta-based non-profit organization, Community Movement Builders, helped organize the event, the first Black-led protest against Cop City as part of ongoing opposition in its second year that has now sparked national and international headlines.
The optics of Black voices being added to the public conversation around Cop City is especially important in Atlanta, where nearly half the population is Black, and which is often referred to with terms such as "the birthplace of the civil rights movement" and "the Black Mecca".
The training center, planned for 85 acres in the South River Forest south-east of the city, has drawn increasing attention particularly since 18 January, when police shot and killed Manuel Paez Terán, or "Tortuguita", an activist who was camping in Intrenchment Creek Park, a part of the forest that is separated from the "Cop City" site by the creek that is its namesake.
Police said Paez Terán shot first, but there is no body cam or other video of the shooting. The park side is under threat from Ryan Millsap, a former film studio owner, but remains public while the developer's plans are the subject of a local environmental group's lawsuit.
About 400 Black, Latino, Native and white people, from Atlanta and elsewhere, marched on Thursday night through intermittent rain from the King Center in Sweet Auburn – the birthplace of Martin Luther King Jr – to the midtown office tower. Chants included "Stop Cop City" and "Viva Tortuguita".
The march came on the heels of an increasing number of public pronouncements in recent weeks by Atlanta-area, Black faith and community leaders and students at historically Black colleges, in opposition to the project. Their concerns include increasing police militarization and abuse of force, as well as the loss of part of a forest that was originally included in 2017 plans to create what would have been the city's largest park, in an area where longstanding, majority-Black neighborhoods have been overlooked for decades. These same neighborhoods were completely left out of the planning and decision-making process behind "Cop City".
The march also came after more than 100 activists drawn to the forest for a "Week of Action" had crossed from the public park during a music festival last Sunday, over to the training center construction site, where they set bulldozers and other equipment on fire. Police then entered the public park side, eventually arresting 23 people and charging them with "domestic terrorism" – indicating evidence on arrest records such as "muddy shoes".
In this context, Black organizers and participants at Thursday's march wanted to ensure that nothing would allow the dozens of police officers from various agencies following marchers on foot and in marked and unmarked vehicles to behave similarly and crack down on them.
"We didn't want to put a spotlight on our people – to subject them to further police repression," said the Rev Keyanna Jones, an Atlanta native who was at the march. Organizers in reflective vests ensured that marchers remained on city sidewalks and constantly monitored protester and police behavior alike.
Other recent events elevating Black voices included a meeting on the project at HBCU Morehouse College – Dr King's alma mater – where students called Mayor Dickens, who is also Black, a "sellout". Dickens voted yes on the project as a member of the Atlanta city council, before he was elected mayor in 2022. A machine projected a huge image of Dickens along with the word "sellout" on the side of a midtown building on Thursday night as marchers passed.
Last week, a number of Black faith and community leaders also attended a city council meeting and voiced opposition to Cop City during public comment. This included Jones, who told the council members, "I really want to understand how it is you ask people to vote for you and then ignore their voices?"
"We don't want Cop City," continued Jones, who lives less than a mile from the forest. "I have five Black children … I like breathing clean air … I want to drink clean water … I don't want Black Hawk helicopters landing around the corner from my house. I don't. My neighbors don't. My granny don't. She's been in her house for 50 years."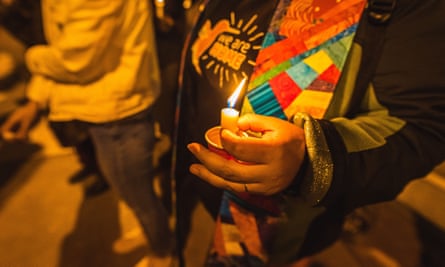 The police response to last Sunday's vandalism at the "Cop City" construction site – which included families with children running through the public park woods as the night grew dark, while police threatened to shoot whoever was in earshot, as well as the unprecedented state domestic terrorism charges – also kept some Black community members opposed to the project away from the march.
Gerald Griggs, state director of the NAACP, the nation's oldest civil rights organization, was on a bus ride from Selma, Alabama, last Sunday, coming home to Georgia, when images of burning construction equipment and police swarming the forest flashed across his phone.
He had gone with about 150 NAACP members to participate in an annual ceremony commemorating "Bloody Sunday" – the day in 1965 when marchers, including Georgia Congressman John Lewis, who died in 2020 – were met by horrific police violence.
Griggs said he was planning to help gather people for the march on Thursday, but decided not to, in concert with national NAACP leadership, out of concern for the safety of his members at the hands of potential police overreach.
"We support the underlying message – that the center should not be built," Griggs, who is a criminal and civil rights attorney, told the Guardian. "We know the training center will have a disproportionate impact on our community, in Atlanta and across Georgia.
"The eyes of the world are on Georgia," Griggs said. "And certain powers want to convey the message, 'This is about law and order.'
Atlanta's Black community raises voice against 'Cop City' police base | Atlanta | The Guardian