Russian foreign minister praises Fox News coverage of war in Ukraine
Fox News has always been a horrible antidemocratic propaganda purveyor"
Sergei Lavrov says only Fox is presenting an 'alternative point of view' rather than 'information terrorism'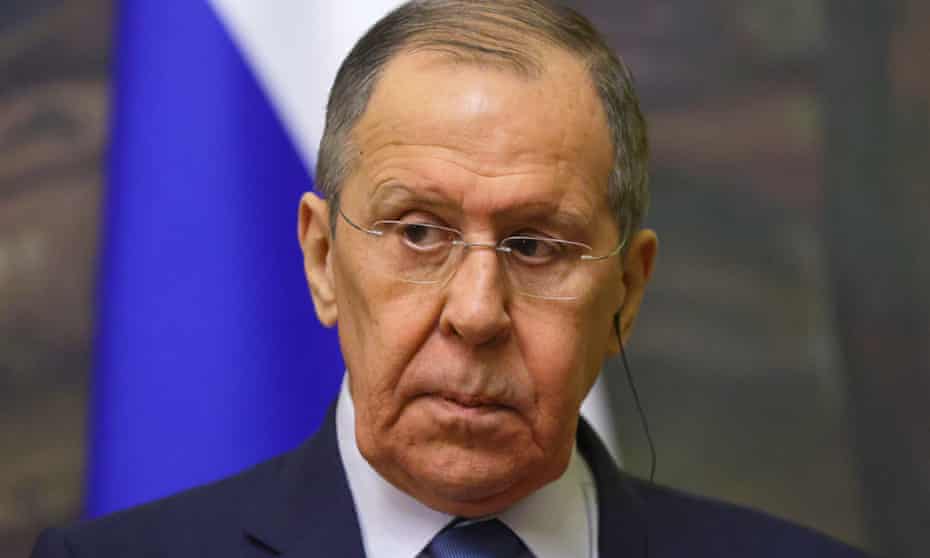 Russia's foreign minister, Sergei Lavrov, has praised Fox News for its coverage, appearing on the Russian state-controlled RT network to hail the right-leaning US cable channel, whose primetime host Tucker Carlson has played down the invasion.
"We know the manners and the tricks that are being used by the western countries to manipulate media, we understood long ago that there is no such thing as an independent western media," said Lavrov, speaking in English in a studio interview on Friday.
"If you take the United States, only Fox News is trying to present some alternative point of view," he said.
He also denounced the social media ban of former president Donald Trump and took exception to the description of January 6 rioters as terrorists.
"But when you watch other channels, read the social networks and internet platforms, when the acting president was blocked and this censorship continues in a very big way … Whenever something is happening by the way of mass protest, mass demonstrations – which they don't like – they immediately call it domestic terrorism.
"So it's a war, and it's a war which involves the methods of information terrorism," he said.
Russian media regularly play clips of Carlson criticising the US and Ukraine, and he was still praising President Vladimir Putin hours before Russia invaded Ukraine almost four weeks ago.
In contrast, as Moscow's bombardment escalated, Russian apologism by numerous Fox hosts, commentators and guests was being corrected on air by the network's own national security correspondent, Jennifer Griffin.
The mental split-screen effect only sharpened earlier this week when a Fox news team on the ground in Ukraine came under Russian fire on the frontline.
Cameraman Pierre Zakrzewski and producer Oleksandra Kuvshynova were both killed during a Russian attack outside the Ukrainian capital, Kyiv. Correspondent Benjamin Hall was badly wounded in the incident.
Lavrov's comments on Friday came as six western nations accused Moscow of using the UN security council to launder disinformation and spread propaganda, after Russian diplomats again raised allegations that the US was involved in biological weapons, which have been repeatedly denied by both Washington and Ukraine.
Western diplomats slammed the claims, with Britain's UN ambassador, Barbara Woodward, calling Russia's tactics the "disinformation of the desperate".
Russia's invasion of Ukraine has abruptly transformed the world. Millions have already fled. A new Iron Curtain is grinding into place. An economic war deepens, as the military conflict escalates and civilian casualties rise.
It's our job at the Guardian to decipher a rapidly changing landscape, particularly when it involves a mounting refugee crisis and the risk of unthinkable escalation. Our correspondents are on the ground in Ukraine covering the war, as well as throughout the world, delivering round-the-clock reporting and analysis during this perilous moment.
We know there is no substitute for being there – and we'll stay on the ground, as we did during the 1917 revolution, the Ukrainian famine of the 1930s, the collapse of 1991 and the first Russo-Ukrainian conflict in 2014. We have an illustrious, 200-year history reporting throughout Europe in times of upheaval, peace and everything in between. We won't let up now.
Tens of millions have placed their trust in the Guardian's fearless journalism since we started publishing 200 years ago, turning to us in moments of crisis, uncertainty, solidarity and hope. We'd like to invite you to join more than 1.5 million supporters, from 180 countries, who now power us financially – keeping us open to all, and fiercely independent.
Unlike many others, the Guardian has no shareholders and no billionaire owner. Just the determination and passion to deliver high-impact global reporting, always free from commercial or political influence. Reporting like this is vital to establish the facts, who is lying and who is telling the truth.
And we provide all this for free, for everyone to read. We do this because we believe in information equality. Greater numbers of people can keep track of the global events shaping our world, understand their impact on people and communities, and become inspired to take meaningful action. Millions can benefit from open access to quality, truthful news, regardless of their ability to pay for it.
If there were ever a time to join us, it is now. Every contribution, however big or small, powers our journalism and sustains our future."
Russian foreign minister praises Fox News coverage of war in Ukraine | Ukraine | The Guardian