Officers used flash-bang grenades, tear gas canisters, tanks and snipers and accused participants of 'terrorism'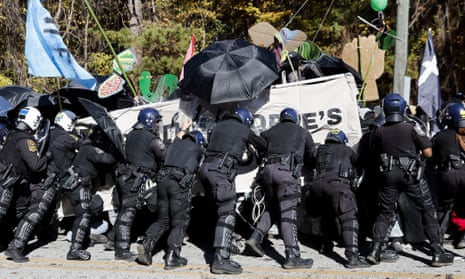 Police actions during a mass protest called "Block Cop City" that drew people from across the US to Atlanta this week have been condemned as heavy handed after they included flash-bang grenades, tear-gas canisters, tanks and a press conference full of demonstrably false or misleading descriptions of the event.
The Guardian also spoke with a protester who was detained, repeatedly called a "terrorist", handcuffed and threatened with arrest in a supermarket parking lot near the march – only to be released with no charges.
The actions are the latest hardline display against opposition to Cop City, a sign that Atlanta authorities are determined to combat dissent on the project.
The Block Cop City action didn't reach its stated goal of occupying the site of the controversial, $90m police and fire department center known as "Cop City", but did shut down work for a day at the 171-acre construction footprint in a forest south-east of Atlanta.
The event drew nearly 500 people from dozens of cities and included nonviolent direct action training and planning and a commitment to no property damage or weapons. Nonetheless, multiple jurisdictions deployed police to the project's construction site and streets in the surrounding area and Atlanta police chief Darin Schierbaum characterized the event as a threat to public safety, citing evidence such as gas masks.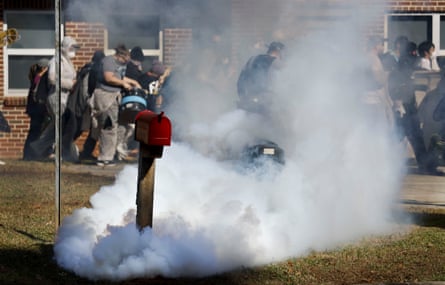 "It's absurdly hypocritical of the police", said Jamie Peck, an organizer who came from New York. "They're claiming we were the violent ones, when nonviolence was in the DNA of the action from the beginning. Trying to say we're violent when we brought protective gear is sort of Orwellian".
The march began early Monday morning at a park several miles from the Cop City site and included between 350 and 400 marchers as well as Carnaval-sized puppets and a marching band. Dozens wore spray-painted, white jumpsuits – in homage, organizers said, to European environmental activists.
Joel Paez and Belkis Terán warmed up the crowd – parents of Manuel Paez Terán, or "Tortuguita", who police shot and killed on 18 January, while the activist was camping in a forested public park about a mile from the construction site. Paez told the crowd he saw them all as "family". "I pray for the safety of everyone here", he said. "I pray for the generations fighting for a better world."
The march then wound its way through the park and toward another park that butts up against the Cop City site. Police blocked a tunnel connecting the two parks, so marchers turned into a nearby neighborhood and, eventually, onto a four-lane road leading to the site's entrance.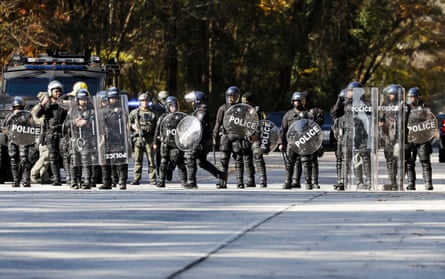 Soon after, marchers were met by a line of Dekalb county police. They had shields, tear-gas guns, a dog and a tank called "The Beast"; there were officers with automatic weapons whose uniforms read "sniper". As soon as the first line of marchers made contact with police, several officers aimed gas canisters and flash-bang grenades at the crowd. They also fired at a group of clearly-identified members of the press who were on the shoulder of the road.
About a dozen journalists were separated from the march. When one tried to return, an officer blocked him on the public road and said, "this is an active crime scene". Another officer later let him return to doing his job.
One protester who had come from Arizona to participate in the action had gone to a nearby supermarket with another protester. The activist, who uses they/them pronouns, didn't want the Guardian using their name.
The activists were sitting together in a car watching a live feed of the march when police approached. "What are you doing here? Commanding the action from your car?" asked one officer. Police repeatedly accused the activist about "inciting crimes", of being a "terrorist". Officers asked, "Why do you come to our town to mess things up?" One said, "you don't even know what this project is about – there's crime in this town, and you need us".
The officers also separated the two; the Arizonan later discovered their fellow protester had been arrested after supplying a false name and released on misdemeanor charges.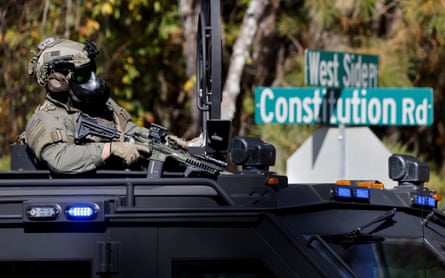 Meanwhile, officers eventually told the 39-year-old human resources professional they were free to go – until a plainclothes officer came behind them and said they were being arrested for "conspiracy to commit acts of terrorism". Another officer then asked them if they possessed incendiary devices. They were eventually released.
The language of terrorism echoes the state of Georgia's recent indictment and arraignment of 61 people in connection with Cop City under the state's Rico, or racketeering law, accusing them of forming a conspiracy.
At a later press conference Schierbaum, the police chief, told the public that police had kept the city safe from dangerous people who were "prepared to do harm, prepared to do destruction".
He displayed evidence of his claims such as tools used to plant trees by a roadside, gas masks and bolt cutters – presumably intended to cut through the fence surrounding the construction site. Ample video evidence exists of the peaceful roadside tree planting and it was police who used tear gas.
Atlanta police did not respond to the Guardian's request for comment.
The Arizonan activist decided to get away for awhile, and drove to the (Martin Luther) King Center in Atlanta. "I just cried for awhile. I thought, 'This isn't your legacy. This isn't what you dreamed of.'"