Robert F Kennedy Jr says he has 'conversations with dead people'
"Conspiracy theorist and challenger for Democratic presidential nomination makes comments in interview but backtracks later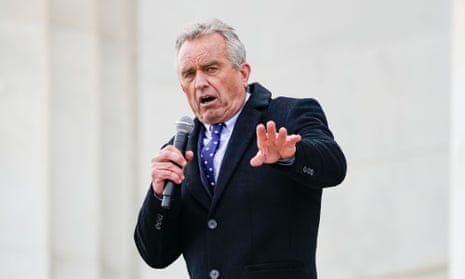 Robert F Kennedy Jr, the conspiracy theorist and vaccine skeptic challenging Joe Biden for the Democratic presidential nomination, told an interviewer he had "conversations with dead people" every day.
Kennedy's uncle, John F Kennedy, the 35th US president, was assassinated in Dallas in 1963. His father, Robert F Kennedy, the US attorney general and New York senator, was killed in Los Angeles five years later.
In an interview with the Free Press, Kennedy was asked how he thought his father and uncle would tackle challenges facing America today.
"I do meditations every day," Kennedy said. "That's kind of the nature of my meditations. I have a lot of conversations with dead people."
"In a follow-up text," the Free Press said, Kennedy clarified: "They are one-way prayers for strength and wisdom. I get no strategic advice from the dead."
The Free Press said its interviewer was greeted at Kennedy's Los Angeles home by a guard "with an earpiece and a nondisclosure agreement". After the interviewer refused to sign the document, Kennedy "came out, shrugged, and led me inside".
Describing Kennedy's gilded but tragic family story, the Free Press noted that he thinks his father was probably killed by the CIA, and his uncle definitely.
The site also detailed Kennedy's transformation from environmental campaigner to vaccine skeptic and conspiracy theorist, a process accelerated by the Covid pandemic.
Kennedy's sister, the human rights campaigner Kerry Kennedy, has said: "I love Bobby. I think he's just completely wrong on [Covid vaccines] and very dangerous."
Last year, Kennedy went so far as to compare the US under lockdown to Germany under the Nazis, telling a rally in Washington: "Even in Hitler's Germany, you could cross the Alps to Switzerland. You could hide in an attic like Anne Frank did."
Those remarks earned a rebuke from the Auschwitz Memorial, which accusedKennedy of "exploiting the tragedy of people who suffered, were humiliated, tortured and murdered … including children like Anne Frank".
Kennedy apologised. His wife, Cheryl Hines, publicly disowned his remarks but now supports his White House run.
Kennedy, 69, is one of two quixotic Democratic challengers to Biden, 80, who is widely expected to be nominated to seek a second White House term.
The other, the self-help author Marianne Williamson, 70, has been hit by claims of bullying and reports of campaign resignations.
Kennedy told the Free Press he was running in part to reclaim a party he said had become "a war party … the party of the neocons. It's become the party of Wall Street and the party of censorship, which, I think [is] antithetical to liberal values".
Saying "I've always liked Joe Biden", he said the president was "a function of a system that a growing majority of Americans don't trust".
Of his populist positioning, Kennedy said: "There are people who are angry, and they deserve to be angry, and either Trump is going to sign them up, Donald Trump, for a ride into the darkness, or we can try to capture that energy and turn it into something positive for our country, something that is reflective of the highest ideals of the American experience."
Quoting a great Democratic president, Franklin D Roosevelt, Kennedy added: "We're supposed to be the party that tells people that the only thing to fear is fear itself."
In a recent CNN poll of Democratic and Democratic-leaning voters, Kennedy received 20% support."
Robert F Kennedy Jr says he has 'conversations with dead people' | Democrats | The Guardian