Joe Biden rallies with union workers in Philadelphia: 'You built America'
"President enlists support of union members against GOP tax cuts for the wealthy at first political rally of 2024 re-election campaign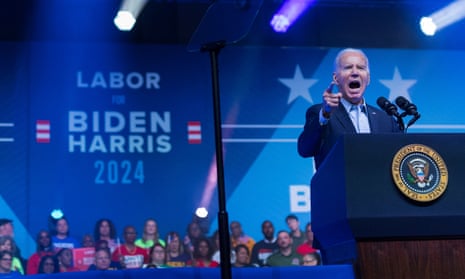 At his first political rally since announcing his re-election campaign for president in April, Joe Biden told a crowd of labor union supporters: "Wall Street didn't build America – you did."
"If the investment bankers of this country went on strike tomorrow, no one would notice," Biden said on Saturday during a speech which alluded to his blue-collar childhood roots in Scranton, Pennsylvania. Renewing his longstanding vocal support for labor unions, he continued: "If this room didn't show up to work tomorrow, the whole country would come to a grinding halt, so tell me – who matters more in America?"
Saturday's rally was hosted by the AFL-CIO, a federation of 60 labor unions representing 12.5 million workers in the US, which has endorsed Biden and the vice-president, Kamala Harris, for re-election in 2024.
Other unions that have endorsed Biden ahead of his rally included the American Federation of Teachers as well as the American Federation of State, County and Municipal Employees.
"President Joe Biden and Vice-President Kamala Harris are the most pro-labor, pro-public education leaders our country has seen in modern history," the teachers federation president, Randi Weingarten, said.
She added: "Joe and Kamala understand in their souls the challenges families face, and how important it is to their dignity to earn a decent living and have a shot at owning a home, or securing a retirement, or affording college. They know union membership can be transformative."
Lee Saunders, the state, county and municipal employees federation president, echoed similar sentiments, saying: "Joe Biden is the most pro-worker president of our lifetime. He respects and protects working people – especially front-line public service workers – and the essential work they do."
Saunders added, "Joe doesn't just thank us for keeping our communities running; he prioritizes our issues and defends our freedoms – the freedom to organize, to earn a living wage, to build thriving communities and to have a seat at the table. And he will help us solve the staffing crisis that is pushing millions of public service workers to their breaking point."
Biden began the rally by mentioning that his wife, Jill Biden, belongs to the National Education Association union and that she is from the Philadelphia-area community of Hammonton, New Jersey.
"There are a lot of politicians in this country who can't say the word 'union'," Biden said. But on Saturday he declared himself the most pro-union president in history.
Biden cited the jobs recovery under his administration and affirmed an end to trickle-down economics during his presidency.
"All it had done was hollow out the middle class, blow up the deficit, ship jobs overseas, strip the dignity and pride and hope out of community one after another all across America has factories shut down," Biden asserted.
He continued by outlining his efforts to oppose Republican legislative policies such as social security cuts and what he called unfair tax codes and loopholes utilized by the largest corporation and the wealthy, including tax rates for billionaires that are low when compared to those levied on other workers.
"Just pay your fair share man," Biden quipped. "It's about time the super wealthy start paying their fair share."
He concluded his appearance at the rally by enlisting the support of union members in his re-election campaign to fight against Republican efforts to reinstate tax cuts for the wealthy.
"They're coming for your jobs – they're coming for your future," he warned. "It's time for everyone, no matter how rich or powerful they are, to start paying their fair share, you've carried this country on your back long enough, it's time for millionaires and billionaires and big corporations to pay their fair share. I can get that done, but I need you badly."
Biden's address Saturday echoed September 2021 remarks in which he said: "I intend to be the most pro-union president leading the most pro-union administration in American history."
During his victorious 2020 presidential run, he had also said: "I'm a union man. Period."
In February, the Biden administration announced a new plan to encourage further union membership across the country. The plan includes 70 recommendations that would make it easier for federal employees to join unions and remove barriers for union organizers to talk with workers on federal property.
Biden's itinerary on Saturday included taking an aerial tour of the interstate 95 bridge collapse during the previous weekend in Philadelphia, according to reports. An elevated section of the bridge collapsed on 11 June after a vehicle caught on fire, prompting transportation officials to warn of extensive delays and street closures."
Joe Biden rallies with union workers in Philadelphia: 'You built America' | Joe Biden | The Guardian