Rightwing group pours millions in 'dark money' into US voter suppression bid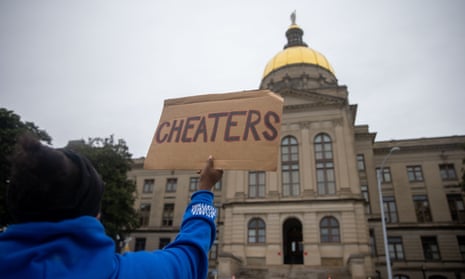 "The advocacy arm of the Heritage Foundation, the powerful conservative thinktank based in Washington, spent more than $5m on lobbying in 2021 as it worked to block federal voting rights legislation and advance an ambitious plan to spread its far-right agenda calling for aggressive voter suppression measures in battleground states.
Previously unreported 2021 tax filings from Heritage Action for America, which operates as the foundation's activist wing, shows that it spent $5.1m on contracting outside lobbying services. The outlay comes on top of $560,000 the group invested in its own in-house federal lobbying efforts that year, as well as registered lobbying by Heritage Action staffers in at least 24 states.
The 990 tax filing was obtained by the watchdog group Documented and shared with the Guardian. It points to the pivotal role that Heritage Action is increasingly playing in shaping the rules that govern US democracy.
The efforts help explain the unprecedented tidal wave of restrictive voting laws that spread across Republican-controlled states in the wake of the 2020 presidential election. The Brennan Center reported that more voter suppression laws were passed in 2021 than in any year since it began monitoring voting legislation more than a decade ago.
The expenditures also signal a dramatic increase in Heritage Action's advocacy activities. In 2020, Heritage Action had reported no spending at all on outside lobbying.
Heritage Action, whose board includes the Republican mega-donor Rebekah Mercer, is set up as a 501(c)4 under the US tax code which exempts it from paying federal taxes. It operates as a "dark money" group, avoiding disclosing the sources of its total annual revenue of over $18m.
In the past two years the organization through its public messaging has echoed Donald Trump's lie that US elections are marked by rampant fraud. A private plan prepared by Heritage Action last year set out a two-year, $24m "election integrity" strategy.
The plan, obtained by Documented, proposed a two-pronged approach that would work to block moves by Democrats in Congress to bolster voting rights while at the same time pressing Republican-controlled states to impose restrictions on access to the ballot box. It said: "Where Democrats hold power, we must defend against bad policy. Where conservatives and our allies are in power, we must advance changes that protect the lawful votes of Americans."
The Heritage Action plan, which was first reported by the New York Times, is being published by the Guardian for the first time.
Part of Heritage Action's two-year strategy is to promote what it calls "model election laws", focusing initially on eight battleground states: Arizona, Florida, Georgia, Iowa, Michigan, Nevada, Texas and Wisconsin. In a private meeting with donors in Tucson, Arizona, in 2021, the group's executive director, Jessica Anderson, boasted about the role Heritage Action had played in pressing Republican-controlled legislatures to impose strict restrictions on voting, including limits on mail-in voting and early voting days.
In a video of that meeting obtained by Documented, Anderson told the donorsthat the group acted "quickly and quietly", bragging that "honestly nobody noticed" their behind-the-scenes influence. Heritage Action staff have registered to lobby in at least two dozen states.
The laser-like focus on key swing states like Georgia appears to have had an impact. The New York Times found that one-third of the 68 voting bills filed in Georgia in 2021 contained policy measures and language that aligned closely with proposals from Heritage Action.
The group has publicly claimed that it had a hand in advancing 11 voting bills in at least eight states in 2021, though in some cases legislation was passed in only one chamber or went on to be vetoed by the state's governor.
Heritage Foundation, under the auspices of its elections supremo Hans von Spakovsky, curates an "election fraud database". It claims to expose the errors, omissions and mistakes made by election officials, but it presents incomplete and misleading information and underscores how exceptionally rare fraud is within the US system.
Its records stretch back 40 years, a period in which billions of votes have been cast. Yet the database records only 1,402 "proven instances of voter fraud" – a "molecular fraction" of votes cast nationwide, according to the Brennan Center for Justice.
The newly-disclosed tax filings also show that Heritage Action ramped up its spending on advertising as it sought to influence lawmakers and the public around its controversial voting agenda. In 2021, the organization reported paying $6.1m to outside contractors for "marketing and advertising" – a sharp rise from $1.8m the previous year.
Among the top contractors employed by Heritage Action was CRC Advisors, the consulting firm tied to Leonard Leo, a chairman of the Federalist Society who is best known for his decades-long campaign to pack federal courts with rightwing judges. CRC Advisors was paid over $797,000 for "marketing and advertising" in 2021.
Some of that ad spending was targeted in Georgia. After that state's 2021 restrictive voting law caused a backlash from businesses and led Major League Baseball to move the All-Star Game from Georgia to Colorado, Heritage Action spent nearly $1m on TV ads defending the law aired on CNBC and local TV stations.
The group also spent nearly $500,000 on Georgia TV and digital ads during the MLB All-Star Game, and spent at least $700,000 more on ads supporting the Georgia bill's passage.
On the federal level, Heritage Action also ran ads in West Virginia, Arizona, Montana and New Hampshire urging the Democratic senators in those states to oppose reforming the filibuster to pass democracy reform legislation with a simple majority. "It's an all-hands-on-deck moment," Anderson said of potential filibuster changes at the April 2021 donor summit.
Heritage Action was formed in 2010 out of the rightwing policy empire embodied in the Heritage Foundation, which dates back to 1973. The foundation was created by Paul Weyrich, a richly networked conservative who wanted to inculcate small government, anti-regulation ideology at both federal and state level.
From the start, restricting access to voting was a core part of Weyrich's mission. In 1980 he infamously articulated his thinking by saying: "I don't want everybody to vote … Our leverage in the elections quite candidly goes up as the voting populace goes down."
This article was produced in partnership with Documented, an investigative watchdog and journalism project. Brendan Fischer is a campaign finance specialist with Documented
You've read 5 articles in the last year
The year is 2033. Elon Musk is no longer one of the richest people in the world, having haemorrhaged away his fortune trying to make Twitter profitable. Which, alas, hasn't worked out too well: only 420 people are left on the platform. Everyone else was banned for not laughing at Musk's increasingly desperate jokes.
In other news, Pete Davidson is now dating Martha Stewart. Donald Trump is still threatening to run for president. And British tabloids are still churning out 100 articles a day about whether Meghan Markle eating lunch is an outrageous snub to the royal family.
Obviously I have no idea what the world is going to look like in a decade. But here's one prediction I feel very confident making: without a free and fearless press the future will be bleak. Without independent journalism, democracy is doomed. Without journalists who hold power to account, the future will be entirely shaped by the whims and wants of the 1%.
A lot of the 1% are not big fans of the Guardian, by the way. Donald Trump once praised a Montana congressman who body-slammed a Guardian reporter. Musk, meanwhile, has described the Guardian, as "the most insufferable newspaper on planet Earth." I'm not sure there is any greater compliment.
I am proud to write for the Guardian. But ethics can be expensive. Not having a paywall means that the Guardian has to regularly ask our readers to chip in. If you are able, please do consider supporting us. Only with your help can we continue to get on Elon Musk's nerves.
Arwa Mahdawi
Columnist, Guardian US"
Rightwing group pours millions in 'dark money' into US voter suppression bid | US political lobbying | The Guardian