House Speaker Kevin McCarthy's rationale for targeting Ilhan Omar isn't believable
"Rep. Ilhan Omar, a Black, Muslim immigrant woman, embodies much of what the GOP base hates rolled into one.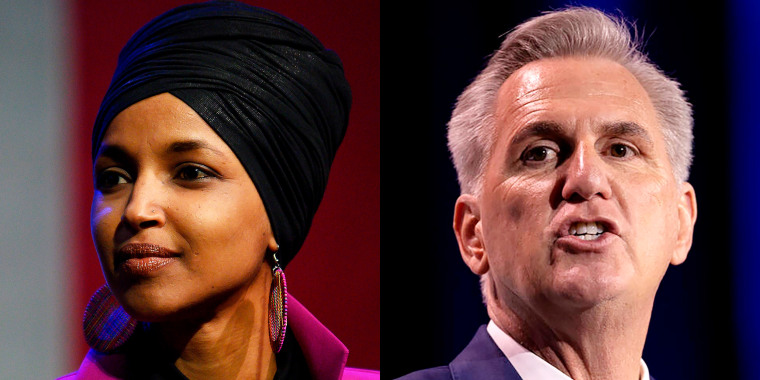 House Speaker Kevin McCarthy recently confirmed his campaign pledge to remove Democratic Reps. Ilhan Omar, Adam Schiff and Eric Swalwell from their respective committees. In all three cases, the ousters of these Democrats from Minnesota, California and California, respectively, aims to score political points with the GOP base.
The speaker has served up the cover story that he plans to remove Omar from the House Foreign Affairs Committee for her past "antisemitic comments."
Schiff and Swalwell were both vocal critics of Donald Trump and House managersin the Senate's impeachment trials of the former president. But Omar isn't being targeted for trying to remove Trump. Rather, this Black, Muslim immigrant woman embodies much of what the GOP base hates rolled into one.
McCarthy, R-Calif., would, of course, deny that is the reason. Instead, the speaker has served up the cover story that he plans to remove Omar from the Foreign Affairs Committee — where she has served since 2019 — for her past "antisemitic comments." In 2019, Omar did wrongly traffic in antisemitic tropes, but she did "unequivocally apologize" for doing so.
McCarthy's purported reason doesn't match the record. The first piece of evidence is a December statement by a coalition of Jewish groups in support of the first member of Congress to wear a hijab. The groups — including J Street and Bend the Arc — denounced "false accusations that she is antisemitic or anti-Israel." They also accused McCarthy of employing antisemitic tropes in the past, when he "posted (and later deleted) a tweet charging that George Soros and two other billionaires of Jewish descent were seeking to 'buy' an election."
Equally telling is that at the same time McCarthy went after Omar, he rewarded Rep. Marjorie Taylor Greene, R-Ga., with committee assignments. Greene had a long track record of bigoted statements even before coming to Congress, including being denounced by the Republican Jewish Coalition. She continued to spew bile — including antisemitic hate — once she arrived in Washington. That culminated in her being stripped of her committee assignments in 2021 in a bipartisan House vote for "spreading dangerous and racist conspiracy theories,"as NBC News reported at the time.
Not that the rebuke chastened her: Just last February, Greene spoke at a white nationalist conference organized by well-known Holocaust denier Nick Fuentes. "There's no place in our party for this," McCarthy said at the time. But now, after Greene voted 15 times for McCarthy to be speaker, he's rewarded her antisemitism, white nationalism and anti-Muslim hate.
Also rewarded was Rep. Paul Gosar, R-Ariz. — who spoke at the same white nationalist conference as Greene. Gosar, too, had been stripped of his committees in a bipartisan House vote in 2021 for sharing on social media an anime video in which he was depicted as literally murdering New York Democrat Alexandria Ocasio-Cortez. Apparently, to McCarthy, violence against women of color is acceptable but a Black woman like Omar must be silenced.
Apparently, to McCarthy, violence against women of color is acceptable but a Black woman like Omar must be silenced.
Omar responded to McCarthy's renewed pledge to strip her of her position on the House Foreign Affairs Committee by telling HuffPost: "I do not actually think that he has a reason outside of me being Muslim."
As a fellow Muslim, Omar's words ring true. For years I've covered how the GOP has weaponized anti-Muslim hate for political gain. The 2016 GOP presidential campaign, though, took attacks on Muslims to new levels, as candidates saw how the GOP base loved it. For example, when then-presidential candidate Ben Carson declared in September 2015 that a Muslim should not be permitted to serve as president of the United States, he saw a massive fundraising spike from GOP voters and began gaining in the polls on front-runner Trump.
More from MSNBC Daily
Must reads from Today's list
Trump responded to Carson's bump in the polls by candidly noting, "He's been getting a lot of ink on the Muslims…I guess people look at that and they probably like it." Unsurprisingly, Trump then began to demonize Muslims with comments soon after, such as vowing to "strongly consider" closing American mosques and lying that Muslims in New Jersey cheered 9/11. This built to Trump's December 2015 infamous proclamation calling for a "total and complete shutdown of Muslims entering the United States." Polls at the time showed that two-thirds of GOP voters supported Trump's call to ban anyone who was Muslim from entering the country.
As president, Trump continued serving up anti-Muslim hate knowing the GOP base would eat it up, including sharing on social media two videos made by an anti-Muslim group intended to stoke hate against Muslims. One of his favorite targets was Omar herself: Trump smeared her with irresponsible lies, including that she was pro-Al Qaeda. (His falsehoods sparked death threats against her.) At a campaign rally in July 2019, the crowd, at Trump's urging, gleefully chanted"Send her back" — as in sending a Black person back to Africa.
McCarthy knows how well anti-Muslim hate plays with the GOP base. Now add to that the fact that Omar is a Black woman and an immigrant. McCarthy knows that nothing could make the MAGA wing of the GOP happier than removing Omar from her committee.
With Schiff and Swalwell, McCarthy can unliterary block them from returning to the House Intelligence committee. Because Foreign Affairs is not a select committee, however, House rules require a majority of House members to vote to remove Omar. The hope is that Republican members of Congress will say no to McCarthy's despicable ploy of employing bigotry to make himself more popular with a swath of the GOP base. But when it comes to today's GOP, we can't expect House Republicans to do the right thing."
Kevin McCarthy's rationale for removing Ilhan Omar makes no sense