Supreme court Chief Justice John Roberts confirms leak of draft abortion ruling and orders investigation – live
"Biden 'not prepared' to support ending senate filibuster to pass abortion rights law
We've received the full transcript of Joe Biden's remarks to reporters at Joint Base Andrews, in which he appears to rule out ending the filibuster to get an abortion rights law through the senate.
Democrats need 60 votes in the chamber, 10 more than they currently have, although they would harbor hopes of persuading moderate Republicans Susan Collins and Lisa Murkowski over to their side.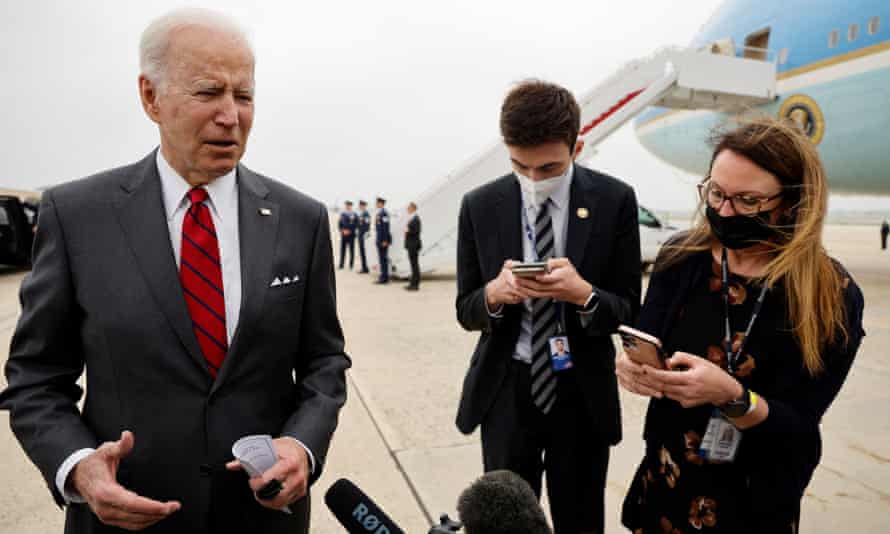 Overriding the procedural filibuster rule, seen as a nuclear option by congressional watchers, would reduce the requirement to 50 - but Biden says he's not on board. At least not yet.
"I'm not prepared to make those judgments now," Biden replied to a reporter's question asking him directly if the senate should do away with the filibuster to codify the Roe v Wade ruling that gives a constitutional right to abortion.
He did say, however, that such a law "makes a lot of sense":
Think what Roe says. Roe says what all basic mainstream religions have historically concluded, that the right, that the existence of a human life and being, is a question. Is it at the moment of conception? Is it six months? Is it six weeks?

So the idea that we're going to make a judgment, that no one can make the judgment to choose to abort a child based on a decision by the supreme court, I think, goes way overboard.
The Democratic senate majority leader Chuck Schumer has promised a vote in the wake of the supreme court's draft opinion, although he acknowledges he doesn't have the votes he needs for it to pass.
The purpose, he said, would ensure "every American is going to see which side every senator stands".
Biden said he was still looking at the draft ruling, but did not like what he was reading:
It basically says all the decisions related to your private life, who you marry, whether or not you decide to conceive a child, whether or not you can have an abortion, a range of other decisions, how you raise your child... what does this do?

Does this mean that in Florida they can decide they're going to pass a law saying that same-sex marriage is not permissible, that it's against the law in Florida?

It's a fundamental shift in American jurisprudence if it were to hold.
Kamala Harris: Roe opponents 'want to punish women'
Here's the vice-president's statement, published just now to the White House website:
The United States Supreme Court has now confirmed that the draft opinion that would overturn Roe v Wade is genuine.

Roe ensures a woman's right to choose to have an abortion. It also, at its root, protects the fundamental right to privacy. What is clear is that opponents of Roe want to punish women and take away their rights to make decisions about their own bodies. Republican legislators in states across the country are weaponizing the use of the law against women.

The rights of all Americans are at risk. If the right to privacy is weakened, every person could face a future in which the government can potentially interfere in the personal decisions you make about your life. This is the time to fight for women and for our country with everything we have.
Harris is scheduled to speak tonight at the We Are Emily conference and gala in Washington DC, an event celebrating "women taking the lead in defending our democracy and our right to reproductive freedom".
John Roberts, the US chief justice, has announced an investigation into a leak showing that the supreme court provisionally voted to overturn the landmark 1973 Roe v Wade case that legalised abortion nationwide.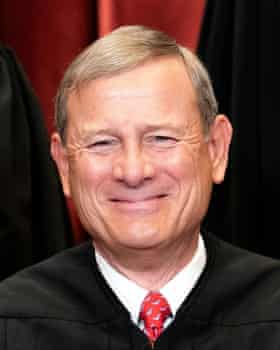 Publication of the draft opinion by the Politico website on Monday night sparked demonstrations outside America's highest court, condemnation from Joe Biden and fears that the judiciary has suffered profound damage to its reputation for independence.
In a statement on Tuesday, Roberts confirmed the authenticityof the document written in February and said: "To the extent this betrayal of the confidences of the court was intended to undermine the integrity of our operations, it will not succeed."
He added: "I have directed the marshal of the court to launch an investigation into the source of the leak."
Washington was sent into a whirl of speculation over who was responsible for the biggest leak in the modern history of the court – the judicial equivalent of "Deep Throat", the FBI source that disclosed secrets about the Watergate scandal – and whether they should be considered a leaker or a whistleblower.
Some said it was probably a law clerk for one of the court's liberal justices who wants to put Justice Samuel Alito's majority opinion in the public domain in the hope that, witnessing the fierce backlash, one of the conservatives on the court might change his or her vote.
Others guessed it might be a source on the conservative side wanting the justices to be on record so they will feel locked in and unwilling to change in case they been seen as caving in. A third possible motive was floating the decision early to take the sting out of the final, incendiary announcement expected next month.
Edward Fallone, an associate professor at Marquette University Law School in Milwaukee, Wisconsin, said: "It's unprecedented. Even those few instances where a law clerk, after leaving the court, wrote a 'tell-all' book was viewed as unprecedented then, but for a draft opinion in the midst of the process to come out, I can't think of any single example."
The source remains a mystery, but Fallone suggested a law clerk is most likely. "They tend to be younger and more passionate. I would assume other staff with access to draft opinions are a little more professional and discreet. But we just don't know yet."
Read the full story:
Here's another look at my colleague Archie Bland's useful explainer about the supreme court's leaked draft ruling on abortion rights, specifically what happened, and why it matters:
Time to catch our breath and take stock of where we are on a hugely busy day focused on the supreme court's draft ruling, which if confirmed would end almost half a century of abortion rights in the US.
A maelstrom of furious reaction has followed Politico's scoop, published on Monday night:
Chief justice

John Roberts

wants to know who leaked Justice

Samuel Alito's draft ruling overturning

Roe v Wade, branding the act as a "betrayal" and promising a full inquiry.
Speaking to reporters on his way to Alabama,

Joe Biden

said the draft ruling is "really quite a radical decision ... a fundamental shift" in the supreme court's previous position on abortion.
Susan Collins, the Republican senator who voted to confirm two of

Donald Trump's three picks to the supreme court because they promised her abortion rights were settled law, says the justices' new stance is "inconsistent" with what they previously said.

In an earlier

White House statement, Biden said the government must protect a woman's right to abortion.
But any attempt in the US Senate to codify abortion rights looks doomed to failure because Democrats cannot muster the 60 votes they need. Senate majority leader

Chuck Schumer

is promising a vote anyway: "Every American is going to see which side every senator stands".
We've plenty more coming up, including Biden speaking this afternoon at a missile production factory in Alabama.
Lisa Murkowski, the Republican Alaska senator who voted against confirming Brett Kavanaugh to the supreme court, but supported the other Trump picks Neil Gorsuch and Amy Coney Barrett, told reporters she was "shaken" by the panel's draft ruling on abortion.
In a huddle with reporters in the Capitol building, Murkowski, who along with fellow Republican senator Susan Collins of Maine has expressed support for women's rights, said:
I really find it shocking that this would happen. I understand it is unprecedented.

The second point is Roe is still the law of the land. We don't know the direction that this decision may ultimately take but yes, it goes in the direction that this leaked copy has has indicated, I will just tell you that it rocks my confidence in the court right now.
Murkowski and Collins would be the main two senate Republicans that Democrats would attempt to court when, as the majority leader Chuck Schumer has promised, abortion rights comes up for a legislative vote.
But with almost certainly no other Republicans on board, the move is doomed to failure. Especially since Joe Biden appears to have ruled out busting the filibuster (more on that in a moment...)
"I am angry, upset and determined," said Massachusetts Democratic Senator and previous presidential hopeful Elizabeth Warren in Washington DC, a little earlier, in the vicinity of the supreme court, as she vibrated with controlled rage.
She said: "The United States Congress can keep Roe vs Wade the law of the land, they just need to do it."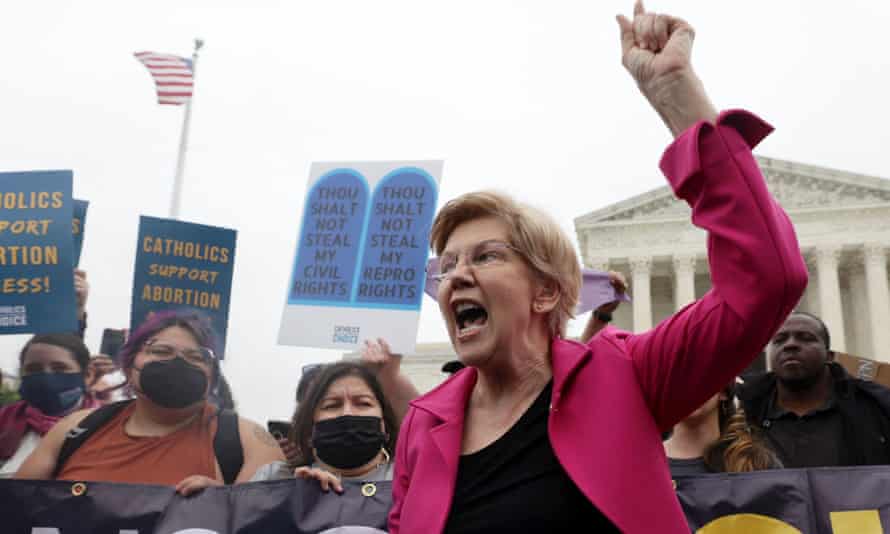 She's referring to the Women's Health Protection Act, which fell down in the Senate in March because of zero Republican support and, even, one Democrat (guess which one), opposing.
A reporter intercepts Warren and says they have never seen her so angry.
Warren, clearly struggling to contain her fury, goes on: "The Republicans have been working towards this day for decades. They have been out there plotting, carefully cultivating these supreme court justices so that they could have a majority on the bench who would accomplish something that a majority of Americans do not want.
"Sixty-nine percent of people across this country, across this country, red states and blue states, old and young, want Roe vs Wade to remain the law of the land. We need to do that and we have a right."
At this point a man can be heard trying to shout over her, but it's not clear if he's media or a protester. Nevertheless, she persisted.
"Extremists? We've heard enough from the extremists. And we're tired of it," she said.
Furious women surged to the steps of the US supreme court to decry news in a leaked document indicating that the conservative-controlled court intends to overturn abortion rights provided nationally under the 1973 Roe vs Wade ruling.
Protesters rushed to demonstrate outside the building's majestic marble columns in Washington DC just minutes after the news broke late on Monday night, and more were there on Tuesday, with larger protests planned.
Anti-abortion demonstrators prayed and celebrated but pro-choice protesters lit candles, chanted in support of reproductive rights and shouted expletives about Samuel Alito, the rightwing justice on the court who wrote the opinion that was leaked to Politico.
Under cloudy skies that threatened rain on Tuesday, Haley Lund, from Woodbridge, Virginia, held a sign, standing in front of a metal gate guarding the last step in front of the court, which said: "Abortion is healthcare."
"This terrifies me. I could not sleep, so I figured I should be here, where it could possibly make a difference or at least make someone aware," she told the Guardian.
"It's an important issue for me because of women's reproductive rights, but this opens a floodgate for everyone … like the right to privacy, to due process, the right that we're innocent until proven guilty. All of that can go away if this goes away," she added.
Anti-abortion activists chanted: "Hey, hey, ho, ho, Roe v Wade has got to go", leading to tense exchanges between the two groups.
Barriers were erected in front of the court shortly after the leaked report was made public.
Robin Galbraith, of Maryland, told the Guardian on Tuesday: "I'm the mother of two twentysomething children, and I've been fighting for healthcare rights, abortion rights, since I was 20 and I did not bring my children into this world to have their rights taken away."
She added that she was retired and could normally sleep in but on Tuesday launched herself out of bed at 5am to get to the court to protest, she was so motivated, and if the final decision – expected from the court in June when they announce the main decisions from their previous term – overturns Roe that she would be out campaigning to help the Democrats keep and increase their hold of the US Senate.
The size and vociferousness of the crowds are more usual just before or just after a major supreme court decision.
The Guardian's protests picture gallery.
White House press secretary Jen Psaki is talking to reporters now on Air Force One as she accompanies Joe Biden to Alabama, where the US president is visiting a Lockheed Martin facility that is manufacturing weapons that are currently being supplied to Ukraine in its efforts to repel the Russian advance after its neighbor invaded in February.
By the way, for full coverage of the war in Ukraine, please click on our global live blog, which Guardian teams are running around the clock.
Of course Psaki is immediately asked by reporters aboard today's flight about more on Biden's reaction to the Roe news, and his noting, when he spoke on the tarmac near Washington earlier, that there has been much riding on the US Congress to pass legislation entrenching the right to an abortion in federal legislation.
Psaki pointed out that there has only very recently been a vote in congress on the relevant legislation - the Women's Health Protection Act (WHPA).
"There has been a vote on this, it failed," she said.
In March, West Virginia Democratic Senator Joe Manchin sided with Republicans to vote down the bill.
So Psaki said that even if Democrats acted to change the filibuster, which requires a 60-vote majority in the Senate to pass most legislation, with Manchin opposed they would not even have had a simple majority to pass the WHPA. The US Senate is currently split 50-50 between Democrat and Republican seats (with Dems having the edge in situations where a simple majority is fine, such as a supreme court nomination or certain types of financial legislation, via the swing vote of the president of the Senate, vice president Kamala Harris).
Nevertheless, Senate majority leader Chuck Schumer has just announced that he will bring the bill up for another vote. It will fail, especially without a change in the filibuster rule, but Democrats are now keen to get lawmakers on the record on where they stand in relation to abortion rights.
Psaki said that Biden would be very happy to sign the bill into law if it could get through congress. She emphasized that the burden of abortion bans in US states primarily falls on low wealth women of color.
Health and human services secretary Xavier Becerra has condemned as "dangerous" the supreme court's draft ruling and attacks nationwide on abortion rights.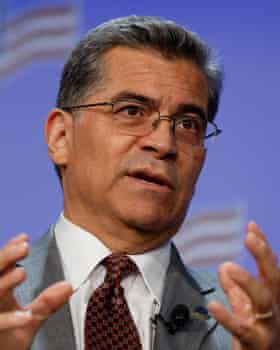 In statement posted to the HHS website, Becerra listed the steps the Biden administration had taken to support women and preserve their reproductive rights:
Patients make their own decisions about their own bodies. That's their right.

I strongly believe in protecting and promoting access to health care - that includes sexual and reproductive health care, and that includes safe and legal abortion care.

Abortion remains legal today and patients can access care. The laws we have seen coming out of states that deny care are dangerous.
Becerra noted the health and human services department had launched a task force on reproductive health care and committed more than $250m for equitable family planning services.
The leaked US supreme court draft ruling is making waves overseas. My colleague Libby Brooks in Glasgow writes:
The leaked Roe document has sharpened calls for buffer zones around abortion providers in Scotland, as first minister Nicola Sturgeon stated that "the right of women to decide what happens to our own bodies is a human right".
Sturgeon tweeted: "Experience tells us that removing the legal right to abortion doesn't stop abortions happening - it just makes them unsafe and puts the lives of women at much greater risk.
Campaigners and opposition politicians have called on Sturgeon's government to act immediately to create buffer zones to protect women seeking abortions targeted by anti-choice protesters. Back Off Scotland co-founder Lucy Grievesaid that Sturgeon's outrage "goes only so far".
"There are real, tangible threats to abortion access in Scotland that are going unchallenged by her government," she said.
"The women's health minister, Maree Todd, claims that she wants Scotland to be world leading on women's healthcare, yet her inaction is emboldening these protestors. If she cannot show courage and legislate on this issue, then she must step aside for somebody that will."
Chuck Schumer and Mitch McConnell, the rival party leaders in the US Senate, gave their contrasting opinions about the supreme court abortion leak on the chamber floor this morning.
Schumer, the Democratic majority leader, promised to bring a vote on abortion rights to the senate floor:
This is as urgent and real as it gets. We will vote to protect a woman's right to choose and every American is going to see which side every senator stands.
McConnell, the Republican minority leader, echoed his statement from earlier in the day, and was more interested in talking about the impact of the leak, urging justices to ignore the Democratic outcry:
The court should tune out the bad faith noise and feel completely free to do their job.
The California Democrat Adam Schiff has added his voice to those condemning the supreme court's draft ruling on abortion.
In comments to the Guardian contributor Charles Kaiser, Schiff, a prominent congressman, said:
In abandoning decades of precedent, the draft opinion exposes the supreme court as no longer conservative, but now merely a partisan institution bent on imposing its anti-choice views on the rest of the country.

This decision, if made final, will be devastating for the healthcare of millions of women, even as it is destroys any semblance of devotion by the court to the law.
In a subsequent tweet, Schiff called on the Senate to act to enshrine women's right to abortion into law.
Kaiser, author of The Gay Metropolis, a history of gay life in the US, blasted Samuel Alito, the supreme court justice who authored the now-confirmed draft ruling:
Alito's opinion so blithely disregards past precedents, it could suggest a willingness to overturn previous court decisions enshrining certain fundamental rights for LGBTQ+ people.

One passage in particular sets off alarm bells for activists who think its reasoning could jeopardize the court's decisions legalising sodomy and the right of members of the same sex to marry.

Alito cited those decisions - Lawrence v Texas and Obergefell v Hodges - and denigrated by saying that they used criteria 'which at a higher level of generality could license fundamental rights to rights to illicit drug use, prostitution, and the like."
Supreme court Chief Justice John Roberts confirms leak of draft abortion ruling and orders investigation – live