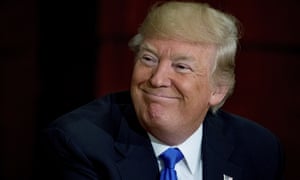 "At a roundtable discussion with state transportation officials on Friday, Donald Trump said America's ageing roads, bridges, railways, and water systems were being "scoffed at and laughed" at. He pledged that they "will once again be the envy of the world".
This seems to be a core theme for Trump: America's greatness depends on others envying us rather than scoffing and laughing at us.
He said much the same thing last week when he announced his decision to withdraw from the Paris climate agreement. "At what point does America get demeaned? At what point do they start laughing at us, as a country? We don't want other leaders and other countries laughing at us any more. And they won't be. They won't be."
The thing about Trump's infrastructure plan is: it doesn't really exist."
James K Galbraith
Scam alert: Trump's $1tn 'infrastructure plan' is a giveaway to the rich | Robert Reich | Opinion | The Guardian