'This is about saving lives': the Texas Democrat fighting for gun control and abortion rights
"Congresswoman Jasmine Crockett tells why she's backing an assault weapons ban – and why Republicans are 'cowards'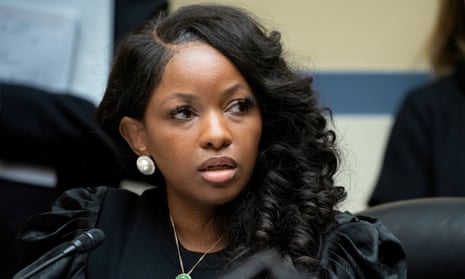 Congresswoman Jasmine Crockett was in Dallas when the shocking news broke. At a shopping mall in the suburb of Allen, a gunman shot and killed eight people, including three children. He was later revealed to have posted photos online displaying Nazi tattoos on his arm and torso.
"I was texting my mom to see where she was, because it's a suburb 30 miles north of my district, and on the weekends she usually goes shopping," Crockett, 42, recalls in an interview at her office in Washington. "She texted me: 'I'm at my friend's house. Why?' 'Because of Allen.' 'What's going on in Allen?' And I'm like, 'There's a shooting at the mall."
Crockett was already scheduled for an interview on the MSNBC network, and spent the next hours responding on air to a developing story that now has a sickening deja vu quality in America, with the nation's political class seemingly paralysed.
The Democrat reflects: "It's heartbreaking. At the end of the day, as we saw the carnage, I wasn't thinking or wondering, well, is that a Democrat or Republican or independent? I was thinking, 'We've got to do better,' and honestly, those bullets didn't have R, D or I on them, either."
Crockett can see the failings and follies of Washington on this and other issues through fresh eyes.
The former lawyer and Texas state representative was sworn in last January to represent Texas's 30th congressional district, which is home to 750,000 people and includes portions of Dallas and Tarrant counties. She is the first Black woman to serve as freshman leadership representative.
After the mass shooting in Allen, she saw firsthand Republicans' refusal to budge on gun safety. Ted Cruz, senator for Texas, and Keith Self, a freshman congressman who represents Allen, both offered prayers for the families but offered no meaningful solutions.
Crockett adds: "No one seemingly wants to take up the conversation about the far-right extremism that he had. No one wants to accept that part of the chaos and carnage is actually being stoked by the rhetoric that is being spewed by the Republican party."
If Congress took responsibility, she argues, it could pass smart gun legislation instead of staging yet another partisan brawl. "I myself am a Texan. I own a gun – or a couple. I am licensed to carry. I am all the things. But it's all or nothing, 'Oh, well, Democrats just want to take your guns away.' No."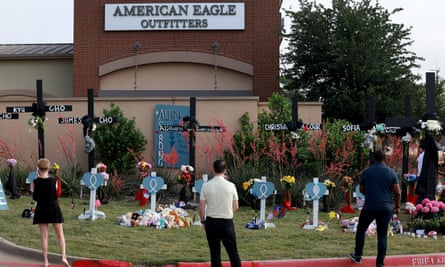 She does support Joe Biden's call for an assault weapons ban. "There are definitely guns that we want to take away because it's the equivalent of some of these people having cannon; I'm sorry, but it's not OK for my next-door neighbor to have a cannon.
"If we want to minimise the carnage and damage that is done when someone is evil and is just going to do what they do, this is about mitigation, this is about saving lives. People literally have almost no chance of surviving when some of these weapons are used. I don't understand why we need them."
She describes Republicans as "cowards" on the issue and believes that their stance can be explained by a primary election system that rewards extremism and discourages moderation. This, in turn, flows from gerrymandering – the manipulation of district boundaries to favor one party – made easier by erosion of the Voting Rights Act.
"People have told me, 'I'll lose my primary if I don't do this,' even if it's completely against what even the majority of their district wants because of who's going to show up in that primary."
Two years ago, Crockett was among Democrats in the Texas legislature who fled Austin for Washington to deny a quorum to Republicans seeking to overhaul elections and impose new voting restrictions. The standoff lasted for 38 consecutive days and remains one of the dramatic showdowns over voting rights in America. Crockett believes there was a lesson for national Democrats: sometimes you have to fight fire with fire.
"I've been all over the state of Texas for various campaigns and I talk to people and ask them, why is it that you don't want to vote? Honestly, I have heard more than once that Democrats are weak. We are not weak, but there is this perception."
She added: "I was only the 22nd black woman ever elected to the Texas House, and I wouldn't be here but for people having courage. At some point in time we can't just rely on the traditions and sit here because it doesn't work if both sides aren't in and, at this point in time, I've decided that the Republicans are not in for democracy. So we have to be in."
Republicans are determined to retain power by any means necessary, she argues, because they know their policies do not align with the majority of Americans. She cites examples such as abortion bans, firmly rejected by voters in Kansas, and student loan forgiveness, popular in opinion polls, as evidence that Democrats are more in touch with public sentiment.
Yet this does not always translate at the ballot box as Republican tout themselves as the party of middle America and Democrats as the party of coastal elites. "It's hard to understand how we are failing at communicating that, no matter if you're in urban America or if you're in rural America, we're fighting for you."
Is it lonely to be a Democrat in Texas? The Lone Star State has gone red in 11 consecutive presidential elections from Ronald Reagan in 1980 to Donald Trump in 2020. Both its senators and its governor are Republicans. Counterintuitively, however, Crockett contends that Texas is already a blue state.
"People think I'm crazy because it's so extreme and all we get is the extreme stories. But I believe my state is blue because we're probably the only majority-minority state that is 'red'; most majority-minority states are blue. So demographically it's there."
But despite record turnout in 2020, Texas ranked 44th out of 50 states in terms of ballots counted as a proportion of the total voting-eligible population, according to the United States Elections Project.
Crockett said: "We continually have one of the lowest voter turnouts in the entire country. If you make it difficult to access the ballot box, then you can have this minority rule."
Another opportunity to change the narrative of Texas politics will come in next year's presidential election. When Crockett speaks to young people, she finds that their first concern is guns and their second is voting rights. Since the overturning of Roe v Wade by the supreme court, Republicans have been struggling to defendunpopular restrictions on abortion or even a potential national ban.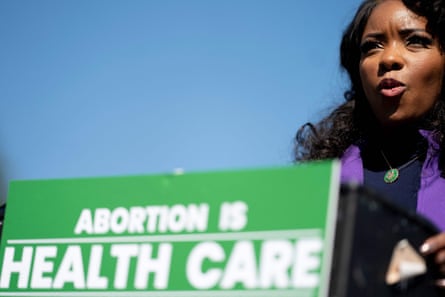 "As a criminal defence attorney, I have had to deal with cases where fathers were raping their little girls. This is the reality of some of the things that happen and then telling that little girl you can't do anything about it? There are people that aren't necessarily for abortion for whatever reasons but they understand that you can't just say under no circumstances, we're not doing this, period, ever.
"Honestly, the Republicans have thrown us a bone, and it is going to be moms and young people."
Biden was elected on a vow to heal the soul of the nation after the horror of white supremacists and neo-Nazis marching in Charlottesville, Virginia. But the president's efforts to pursue racial justice through police reform and voting rights stalled in the Senate while Trump still looms large in the political landscape. The government has warned racially motivated extremists pose a bigger terrorism threat than potential attacks from overseas.
Crockett admits: "We've got an affirmative action case in the supreme court and I'm sure the darkest one [Justice Clarence Thomas] on the supreme court is probably gonna lead the charge in getting rid of it. Then it's like, 'Oh, see? The Black man on the supreme court said it.' It's ridiculous. We also know, especially in the state of Texas, that our governor is going after DEI [diversity, equity and inclusion]."
But, if Biden faces Trump in the race for the White House again, Crockett believes the Democrat will repeat his 2020 victory, in part because of LGBTQ+ voters and young voters who feel they are under attack. But what of the Black voters who were so fundamental to Biden's success?
"It's always complicated for the African American community but, if we make the investments, then we're fine. Black people for the longest have felt like they have carried this country, whether it is building literally these houses that I sit in right now, or showing up and being the backbone of the Democratic vote. It is a tough conversation to have with Black folk."
This was a crucial motivation for Crockett to become the freshman representative to leadership. "I thought, golly, I have enough on my plate trying to figure out how to be a member of Congress but it was time that we are at the table. There had not been a Black woman elected to leadership in the Democratic caucus since Shirley Chisholm, the first Black woman in Congress.
"It is important I make it clear that we are making strides, ever so slightly. It's even a fight within our party. A lot of times there's this idea that we should paint everything as if it's perfect and I don't subscribe to it. I subscribe to being real and most people respect when they feel like you're being honest and real."
Crockett has to head off to the House chamber to cast a vote. But first she shares another thought. "Nothing in this world is perfect, but at least the Democrats are fighting for a more perfect union. The Republicans are not.
"I am in leadership because I think a Black woman's voice needs to be at the table as we are crafting our messages, as we are prioritising our voters. That's necessary, and so that's the role that I intend to continue to play – fight for the courting of Black voters, fight for listening to what their priorities are, fight for them to truly believe that they will be heard if they show up."
'This is about saving lives': the Texas Democrat fighting for gun control and abortion rights | Texas | The Guardian