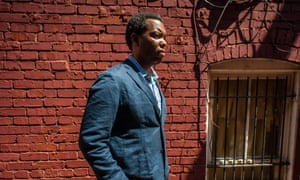 Like so many writers, Daniel Steinmetz-Jenkins, is ignorant of much of the intellectual tradition that Coates arises from. Coates pessimism on race come directly from the writings of Derrick amd and other "Critical Race Scholars. Read "And We Are Not Saved" and "We Are Not Saved: The Elusive Quest for Racial Justice" dating from the 1980s to see the roots of this well trod tradition of thought. Intellectual laziness reeks when it come to the African American intellectual tradition even in the halls of Yale where Daniel Steinmetz-Jenkins teaches religious studies.
"Coates's belief that white supremacy is fundamentally woven into the fabric of the United States is built on a larger metaphysical assumption that without the existence of God the entire world bends towards injustice. He points to the egregious history of racial injustice in this country, and the atrocities committed by the Nazis and Soviets, through the books of Judt and Snyder, to prove his point.
The real problem for Coates, then, might ultimately not be white supremacy, but rather the non-existence of God. It is the non-existence of God, according to his argument, that rules out the possibility of any collective redemption not just in the United States, but the world writ large.
Strangely, Coates echoes the atheistic outlook of libertarians like Ayn Rand who denied the possibility of collective redemption since people were fundamentally driven by self-interest.
Yet despite all the horrors he locates in history, atheism entails no necessary ethics or politics. In fact, as Coates is more than aware, atheism and the absence of a moral arc is, for many, what makes collective hope and national redemption possible. Religion is often by its very nature exclusionary. Atheism can, for some, allow for a real coming together.
If Coates has accused his leftist critics of stressing class over race an equal argument can be made that he prioritizes a rather conservative atheistic philosophy over both. A theology of global chaos and not white supremacy accounts for his pessimistic political outlook."
Is atheism the reason for Ta-Nehisi Coates' pessimism on race relations? | Daniel Steinmetz-Jenkins | Opinion | The Guardian