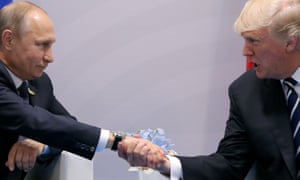 "...There was no one else with earshot, Bremmer added, and it is not known what the men discussed. Trump was not joined in the conversation by his own translator, which is thought to be a breach of national security protocol.
Bremmer added: "It's very clear that Trump's best single relationship in the G20 is with Putin. US allies were surprised, flummoxed, disheartened. You've got Trump in the room with all these allies and who's the one he spends time with?"
Such was the level of concern that someone decided to bring it to Bremmer's attention. He said he had expected the White House to go public. "I sat on this for days hoping they would talk about it. I knew last week. It didn't happen. I'm an analyst; I'm not in the business of breaking news," he said....
Trump and Putin had undisclosed second meeting, White House confirms | US news | The Guardian