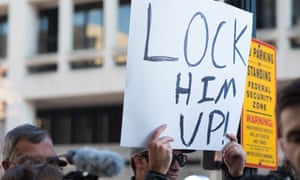 "Court documents made it clear that special counsel Robert Mueller is zeroing in on people very close to Trump, who are identified as a "senior official of the presidential transition team" and a "very senior member of the presidential transition team".
Those two people – unless they are in fact one person – directed Flynn to hold conversations with the then Russian ambassador Sergey Kislyak about sanctions and about a United Nations resolution on Israel, Flynn admitted to prosecutors after initially lying about the matter.
Those conversations not only give the lie to repeated statements by the president that his team had no contact with the Russians, but they also raise the possibility of serious criminal exposure among members of Trump's inner circle for breaking laws banning communications with foreign entities that undercut US policy.
Senior members of the transition team included Vice-President Mike Pence; son-in-law Jared Kushner; Reince Priebus, then chairman of the Republican National Committee, later Trump's chief of staff; Jeff Sessions, then a senator, now the attorney general; and Trump himself."
Flynn plea deal increases exposure of senior Trump transition team members | US news | The Guardian