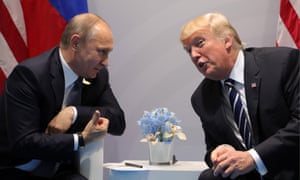 "Vladimir Putin is likely to count the format and tone of his long meeting with Donald Trump as a win – even if nothing much of substance was discussed.
Russia's election hacking was raised during the meeting, but it does not appear to have taken top billing. US secretary of state Rex Tillerson said Trump was "rightly focused on how we move forward", while Russian foreign minister Sergei Lavrov even claimed Trump had told Putin he accepted the Russian leader's denials of involvement.
Setting up a working group on non-interference in future elections – as Tillerson said had been agreed – is hardly likely to reassure those in Washington worried about Russia's actions."
Whatever was said, Putin will claim a win from his long talk with Trump | World news | The Guardian