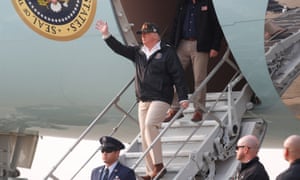 "
With disorienting speed over the past two weeks, the US has spun from facing a fake migrant invasion, to a blue-wave election, to an attack on that election by the president. Then it was on to the appointment of a lackey attorney general, a fiasco at a first world war memorial event in Paris, and the White House disseminating a doctored video to justify silencing a CNN reporter.
In one sense, it does not matter what political ideology
Donald Trump
partakes in – which label is applied to it, what historians later might call it. To summarize the views of philosophers, historians and analysts: the currents of history are flowing, and all of America is paddling; we can debate what all that was about when, and if, we make shore..."
Is Donald Trump an authoritarian? Experts examine telltale signs