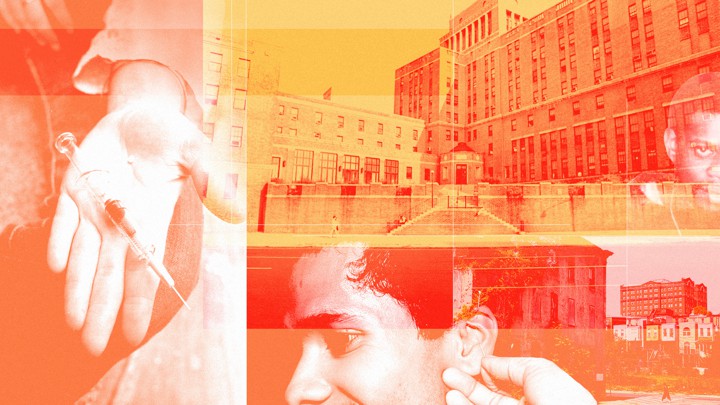 "...Acupuncture for addiction treatment spread to the United States through the Bronx in the 1970s. As a young man growing up in the South Bronx at the time, Carlos Alvarez remembers stepping over addicts nodding out with needles in their arms in the street. His neighborhood was a few square miles "menaced" by 20,000 drug addicts and 9,500 gang members, The New York Times reported back then. The article describes an utter breakdown of services, in which homes had no heat and people gathered at fire hydrants for clean water in the dead of winter. The borough's primarily black and Hispanic residents faced long waits and commutes for drug treatment, despite having one of the highest drug-addiction rates in the city. In a story about the Hunts Point neighborhood of the South Bronx in 1970, an AP reporter described a room with "a cot with a rumpled cover … where escape from the ugliness of Hunt's Point is sought with a needle and a packet of heroin." A local doctor complained to visiting congressmen that she was turning away child addicts from her treatment facility because of a lack of space.
Community groups reacted by staging sit-ins at several hospitals in the poor areas of New York City to call for better medical care. In the South Bronx, the Young Lords, a Puerto Rican group, took over an administrative building at Lincoln Hospital shortly before dawn on July 14, 1970, nailing the door shut. They demanded more funds for the hospital, a grievance staff, a day-care center, and better pay for hospital workers. But after 12 hours, negotiations between the Lords and the hospital's administrators broke down. Another sit-in a few months later, aimed at getting the doctors to stop practicing abortions, lasted three days.
Finally, that November, a five-hour protest by the Young Lords, Black Panthers, and their white supporters forced the administrators of Lincoln Hospital to agree to set up an inpatient drug-treatment program. The protesters wanted it to be run by former addicts. Alvarez, who was then in his mid-20s, and his friends made banners out of bedsheets and took to the nearby shooting galleries to recruit patients. lincoln detox is open the banners read, referring to the process of getting off heroin.
The first day of Lincoln Detox, a line of about 200 addicts formed at the doors of the hospital. The volunteers told everyone to place their weapons in a box, then gave them methadone, a drug that helps curb heroin cravings. Alvarez became the security guard, and gradually Lincoln Detox built up a staff of counselors and doctors.
Even though they dispensed methadone, the Lincoln Detox staffers and their allies seemed ambivalent about the drug. "The armies of slum-lords, script doctors, organized crime, greedy drug companies, methadone pushers, corrupt cops, and producers of rot-gut wine are plundering our communities," wrote the activist publication White Lightning, which was allied with Lincoln Detox, in 1974. In the same issue, they warned of the dangers of methadone, saying the medication could cause "brainwave changes" in babies and "crib death." Some Lincoln Detox patients complained about methadone's side effects, as well as the hassle of picking up their dose each day. Others distrusted methadone, seeing it as just another drug.
"Methadone was highly regulated—it's run by white doctors, in white coats, in white hospitals," Samuel Roberts, a professor of history and sociomedical sciences at Columbia University, told me.
The dissatisfaction with methadone created an opening for a more homegrown, drug-free treatment: acupuncture. Around the same time, several prominent newspapers wrote trend stories about this foreign practice. In 1973, The New York Times reported that a doctor in Hong Kong had been able to relieve the withdrawal symptoms of 70 addicts by inserting electrified needles in their ears. While on tour in China, several members of the Philadelphia Orchestra received acupuncture for aches and pains in their hotel rooms and raved about the results...."
Why Some People Turn to Acupuncture for Drug Addiction - The Atlantic