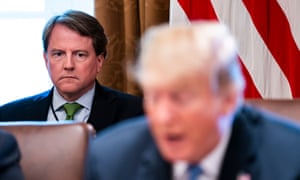 "Donald Trump repeatedly attacked the New York Times on Sunday, over a bombshell report which said White House counsel Don McGahn has cooperated extensively with special counsel Robert Mueller in his investigation of Russian election interference, links between Trump aides and Moscow and potential obstruction of justice.
The president both called the report "fake" and confirmed its substance.
Repeating a spelling mistake made in his initial response on Saturday, when the report was published online, Trump wrote: "The failing [New York Times] wrote a Fake piece today implying that because White House Councel [sic] Don McGahn was giving hours of testimony to the Special Councel [sic], he must be a John Dean type 'RAT.'"
Dean was White House counsel to Richard Nixon during Watergate. He testified against the president, pled guilty to obstruction of justice and was held at an army base. Now an author and CNN contributor, he told Slate on Saturday: "Don McGahn is doing exactly the right thing, not merely to protect himself, but to protect his client. And his client is not Donald Trump; his client is the office of the president."
The Times said McGahn had spoken to Mueller's team for a total of 30 hours, on the advice of Trump's first lawyers in the Russia investigation. McGahn shared some information investigators would not otherwise have known, the Times said, about events including Trump's attempts to fire Mueller...."
Trump blasts New York Times over White House counsel report | US news | The Guardian