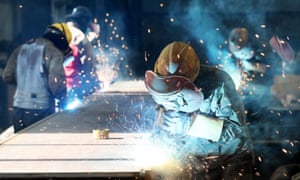 "A long-threatened trade war between the US and China has got underway after the world's two largest economies imposed tariffs on each other. The US implemented tariffs on $34bn in Chinese goods, to which responded with levies on a similar quantity of US imports.
Minutes after the US tariffs went into effect at 12.01am on Friday US time, a spokesperson for China's ministry of commerce said, "China promised not to fire the first shot, but in order to safeguard the country's core interests as well as that of the people, it is forced to fight back," according to Xinhua. The ministry stopped short of saying China had implemented its retaliatory duties.
Later on Friday, a spokesman for the ministry of foreign affairs said after the US tariffs kicked in, Chinese tariffs on US goods had immediately gone into effect.
Ahead of the tariffs, Chinese state media published a series of editorials criticising the US and emphasising the country's readiness for a trade war. Chinese companies and investors girded for the worst, while economists cautioned any impact on the economy would be minimal."
China retaliates with tariffs after US begins trade war | World news | The Guardian