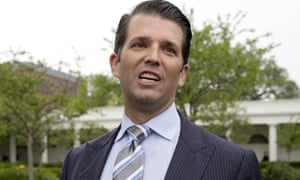 "Collusion anyone? "The Trump Organization coordinated with Russians involved in a notorious 2016 meeting at Trump Tower on what to tell the public about the discussions, according to emails published by Congress.
The documents show that attorneys for the Trump family's corporation contacted attendees of the meeting before and after it was revealed by the media, in an attempt to manage the response.
One of the attorneys gave an entire prepared statement to a publicist for the Russian businessman who requested the meeting, and said it "would be our preference" if he did not say anything else to the press.
Donald Trump Jr agreed to the meeting after being told the businessman would supply damaging information from the Russian government about Hillary Clinton, his father's opponent in the 2016 presidential campaign.
The new information was included among 2,500 documents published on Wednesday by the Senate judiciary committee, which has been investigating possible collusion between Donald Trump's 2016 presidential campaign and Russia."
Trump attorney fed statement to publicist for Russians about Trump Tower meeting | US news | The Guardian