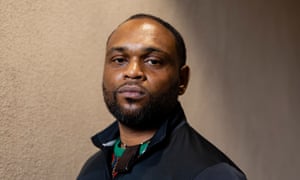 "Cedric O'Bannon tried to ignore the sharp pain in his side and continue filming. The independent journalist, who was documenting a white supremacist rally in Sacramento, said he wanted to capture the neo-Nazi violence against counter-protesters with his GoPro camera.
But the pain soon became overwhelming. He lifted up his blood-soaked shirt and realized that one of the men carrying a pole with a blade on the end of it had stabbed him in the stomach, puncturing him nearly two inches deep. He limped his way to an ambulance.
But the police did not treat O'Bannon like a victim. Records obtained by the Guardian reveal that officers instead monitored his Facebook page and sought to bring six charges against him, including conspiracy, rioting, assault and unlawful assembly. His presence at the protest – along with his use of the black power fist and "social media posts expressing his ideals" – were proof that he had violated the rights of neo-Nazis at the 26 June 2016 protests, police wrote in a report."
Stabbed at a neo-Nazi rally, called a criminal: how police targeted a black activist | World news | The Guardian