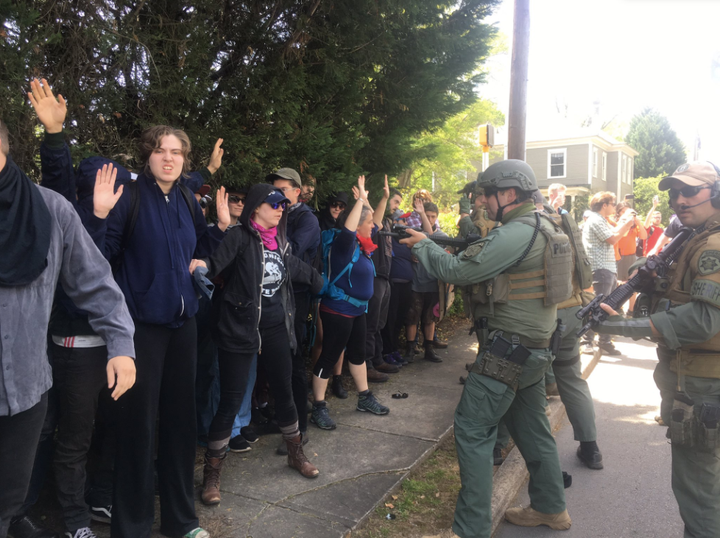 "NEWNAN, Ga. — A heavily militarized police force of some 400 officers aggressively patrolled a small neo-Nazi rally in this city 40 miles southwest of Atlanta on Saturday and arrested about 10 counterprotesters, many for the crime of wearing a mask.
Police officers arrived before the rally began and approached a group of about 50 anti-fascist protesters. They demanded the protesters remove their masks or face arrest. The officers — who wore bulletproof vests and helmets, and carried semi-automatic rifles — cornered the anti-fascist protesters, then grabbed those who were still masked, tossing them to the ground and handcuffing them.
At one point, an officer pointed what seemed to be a modified AR-15 at the faces of counterprotesters, none of whom appeared to be armed.
The lead officer in the arrests said the counterprotesters were breaking a state law regarding masks, likely referring to a seldom-enforced 1951 law originally aimed at combating hooded Ku Klux Klan members. Anti-fascist protesters ― many belonging to chapters of antifa groups, known for sometimes violently confronting white supremacists ― often wear masks to avoid being identified by both law enforcement and neo-Nazis...."
Militarized Cops At Tiny Georgia Neo-Nazi Rally Arrest Counterprotesters For Wearing Masks | HuffPost