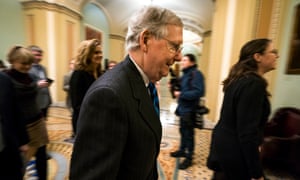 "I don't believe he made any commitment whatsoever," Kamala Harris, a senator from California who opposed the bill, said after the Senate advanced the measure. "And I think it would be foolhardy to believe that he made a commitment."
Harris was among several progressive lawmakers and potential 2020 Democratic presidential candidates who rejected the bill, including senators Cory Booker, Kirsten Gillibrand, Bernie Sanders and Elizabeth Warren.
Democrats went into the weekend confident that voters were on their side. Public polling indicated that Republicans, who control both chambers of Congress and the White House, would be held responsible."
Compromise or cave-in? Democrats' deal to end shutdown sows division | US news | The Guardian