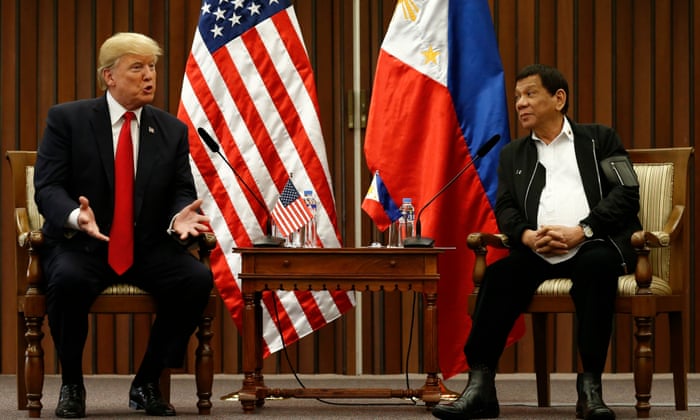 "Donald Trump has hailed his "great relationship" with the Philippines' president, Rodrigo Duterte, who stands accused of acting with impunity over a brutal war on drugs that has left thousands dead.
The US president made no mention of human rights during brief remarks to reporters prior to a meeting with his counterpart, and both leaders ignored shouted questions about the drugs crackdown.
Trump is in the country with leaders of 18 other nations for two days of summits on the final leg of a headline-grabbing tour of Asia dominated by the North Korean nuclear crisis.
According to a spokesman for Duterte, human rights issues were not raised during the meeting, although the pair did discuss their mutual distaste for Barack Obama.
"The issue of human rights did not arise. It was not brought up," Harry Roque said of a 40-minute conversation in Manila. "It was President Duterte who brought up with President Trump the drug menace in the Philippines, and the US president appeared sympathetic and did not have any official position on the matter but was merely nodding his head," he said."
Trump hails 'great relationship' with Philippines' Duterte | US news | The Guardian