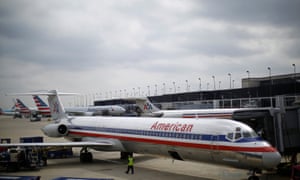 "We do not and will not tolerate discrimination of any kind," CEO Doug Parker wrote in a memo to employees. "We have reached out to the NAACP and are eager to meet with them to listen to their issues and concerns."
The first of the four cases cited by the NAACP appears to involve a flight boarded by the Rev Dr William Barber, a civil rights activist and president of the NAACP's North Carolina branch. The Barber case is already the subject of a pending lawsuit.
Barber says he was kicked off an AA flight in 2016 after responding to two verbally abusive white passengers, who were allowed to remain on the flight.
"This differential treatment was based on race, as other passengers noted and stated to American Airlines employees," the lawsuit says. "Reverend Barber was calm, complied with all directives from the flight crew, and did nothing that remotely warranted being ejected from the airplane."
According to the lawsuit, a black airline employee at the gate told Barber that "this tends to happen a lot". She said she was "sick of American Airlines doing this".
NAACP warns black passengers of flying American Airlines after 'disturbing incidents' | US news | The Guardian